Paralympics Ireland chief executive Liam Harbison has hailed the "phenomenal achievements" of Team Ireland in Rio, but warned future successes could be scarce if investment in sport is not increased.
Irish athletes are returning home with a total of 11 medals, including golds for track stars Jason Smyth and Michael McKillop and cyclists Eoghan Clifford and the tandem of Katie-George Dunlevy and Eve McCrystal.
That compares favourably to the 16 medals won in London four years ago, given that McKillop and Smyth were unable to defend second titles when their other events were removed from the 2016 programme.
"Our target for these Games was eight medals and when we'd agreed that with government at the start of the year I was apprehensive and thought it might have been a bit of a stretch," Harbison told RTÉ Sport.
We need your consent to load this SoundCloud contentWe use SoundCloud to manage extra content that can set cookies on your device and collect data about your activity. Please review their details and accept them to load the content.Manage Preferences
"We did struggle in the early part of the Games and there were a couple of days when things weren't going our way, but then we had 'Wonderful Wednesday', four medals including two golds, and that really rebuilt the momentum in the team and from then we won a further four medals.
"To finish with 11 is really outstanding."
But after two fine Games in-a-row, Harbison fears that the difference in resources given to sport here in relation to other countries means that Ireland will struggle to hit these heights again in future Paralympics.
"On a realistic point, going forward, I'm not so sure this level of performance and achievement and medal-winning success is sustainable," he said.
"In Paralympics Ireland we have a finite resource, both in terms of finance and human resource, and we do get great support from government, but the wider investment in high performance sport in Ireland really needs to be looked at.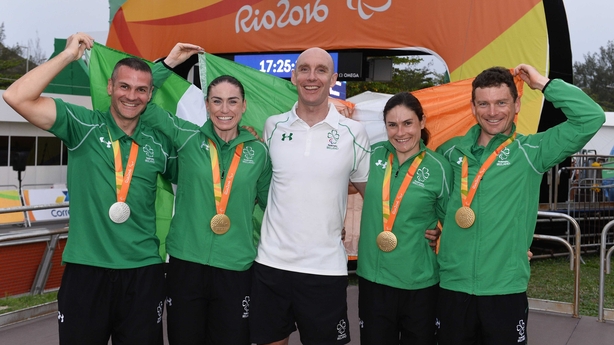 "It's been very evident here at the Games that the big nations are just pumping so much resource into their programmes that when you look at the medal table there's a huge divergence between the top five or six and the rest.
"Smaller nations are really just scurrying around trying to pick up a medal here and there."
For now though, Paralympics Ireland can rightly bask in their Rio efforts, with Harbison going so far as to suggest these Games should be viewed positively when set against London's record-breaking results. 
"I think what we've done, to finish 28th on the medal table, is an absolutely phenomenal achievement," he added.
"On the back of London, we thought it would be very difficult to get near those heights (19th), but I actually think this performance, in light of the improvements in standards and some of the events we've lost for Michael and Jason, is on a par with, if not better than, the London 2012 success."