Ireland's Katie-George Dunlevy and pilot Eve McCrystal left their rivals toiling in their wake as they triumphed in cycling's B tandem time trial at the Rio 2016 Paralympic Games.
Dunlevy recorded a number of fifth place finishes at London 2012, but has found signaifcant improvement since teaming up with McCrystal.
Dunlevy and McCrystal blazed to victory in the 30km race in 38 minutes 59.22 seconds.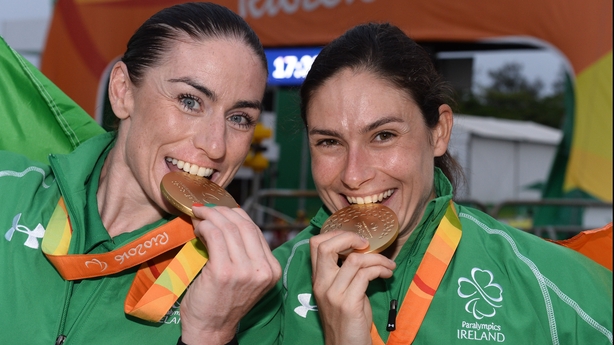 Nearest rivals Japan were scarcely worthy of the tag as Yurie Kanuma and Mai Tanaka trailed in almost 34 seconds behind the Irish duo.
Lora Turnham and Corrine Hall were third for Britain.
Eoghan Clifford, Eva McCrystal and Katie-George Dunlevy react to becoming Paralympic champions. https://t.co/88sHWSSTti

— RTÉ Sport (@RTEsport) September 14, 2016
"We're both delighted," McCrystal told RTÉ Sport after the medal ceremony.
"There was pressure on us for today because we didn't medal in the pursuit so to come out with a gold medal, we can't believe it, we're just ecstatic."
"It's hard to describe," Dunlevy concurred.
"Like Eve said, it's been a long road to get here and we've both worked really hard."