Irish swimmer Nicole Turner has finished seventh in the final of the S6 200m individual medley, her third final of the Rio Paralympics.
The 14-year-old made a bright start to the butterfly leg of the four discipline race, but was soon distanced by some powerful rivals, including Ellie Simmonds, who set a Paralympic record in the heats.
The British swimmer went even faster in the final, becoming the first person to break three minutes in the event, winning gold in 2:59.81. 
Turner came home in eighth place but was later upgraded to seventh after the disqualification of Ukrainian Yelyzaveta Mereshko.
Turner's time of 3:18.18 was a second slower than her fourth place in the heats, but she was pleased with her performance having already reached finals in the 50m freestyle and 50m butterfly in recent days.
"I'm really happy with that swim," she said. "It was a bit off my PB but I tried my hardest and that was all I could give.
"To think I've finished the last three days in the top 10 in the world, it's hard to believe.
"I used to look up to Ellie and it's kind of freaky now that I'm competing against her."
Did fatigue catch up with the busy Nicole Turner? https://t.co/70tbCCeY0M

— RTÉ Sport (@RTEsport) September 12, 2016
James Scully missed out on a place in the men's 50m freestyle final after finishing 10th in the heats.
However, he recorded a personal best of 37.38 seconds at the distance, which he is using as a warm-up for the 100m freestyle.
"I'm very happy with that. I took .6 of a second off (his PB) so in a 50 freestyle to take anything more than half a second is brilliant," he told RTÉ Sport.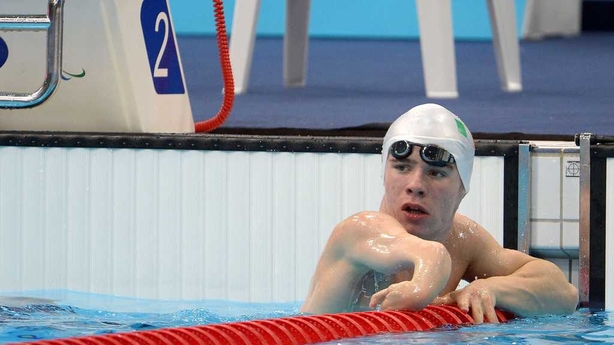 "This sets me up very nicely for Saturday and the 100 freestyle."
The Meath man finished sixth in Thursday's 200m final.
"The 200 is best suited to my physiology. All of our training is geared toward to the 200, that will transfer into the 100 but not the 50."
"Now I'm going to go back and prepare for the weekend."
Scully also revealed how proud he was to represent Ireland at the Games.
"It doesn't get any better than this. Every time I put on the green, white and orange hat, I put on my pride face and my A game.
"I'm honoured and it's brilliant to be able to do it."