Katie-George Dunlevy missed out on a place in the bronze medal race of the women's individual pursuit at the Rio Paralympics by an agonising two tenths of a second.
Dunlevy, with her pilot Eve McCrystal, finished in a fifth place in a time of 3:33.471, but just outside the fourth place that would have seen through to a medal race.
The Irish duo got off to a slow start and were in 7th place by the 1km mark, but they ramped up the pace to improve to 5th at the halfway stage.
Unfortunately that was as high as Dunlevy would reach but she still has the road race and time trial to look forward to later this week where hopes will be high.
Dunlevy and McCrystal claimed gold in the 2016 UCI Para-Cycling Road World Cup time trial and the road race events and will be optimistic of their chances to push for a medal.
An emotional Katie-George Dunlevy and Eve McCrystal vow to battle back after their agonising individual pursuit 5th https://t.co/PyNoteDxID

— RTÉ Sport (@RTEsport) September 11, 2016
Dunlevy admitted that it was tough to lose out on a medal race by such a small margin, but she believes that they'll be able to move on from it ahead of the time trial event.
"I'm disappointed, even though it was a personal best," she said. "For us the ride went very well, to be so close is just hard to take.
"We said at the start that if we got out what we knew we could, we'd be happy. When we go back and look at it, I know what lap we'll be disappointed with.
"There's no going back, we are disappointed but when we wake up in the morning it will be about the time trial and we'll put this behind us."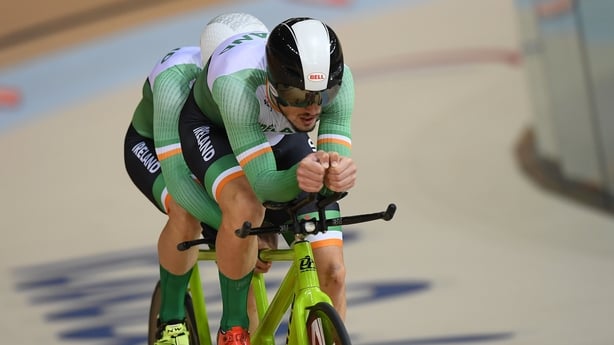 There was also disappointment for Damien Vereker, who finished eighth in the men's individual time trial.
The Waterford man was first on the track alongside pilot Sean Hahessy and set the benchmark for the rest at one minute, 6.37 seconds.
But while the 36-year-old stayed atop the pile briefly, his time was soon being bettered and he began to drop down the rankings.
The event was won by Tristan Bangma of the Netherlands in a new Paralympic record of 59.822secs.
The Irish duo now turn their attentions to the road, where they will compete in both the road race and time trial later this week.
"The time trial is a big focus," Vereker said. "We put a lot of work into the TT, the course suits the two of us, it's straight out and back.
"We are a new pair but we are on the bike every day for four and five hours; we are improving the whole time and we know each other pretty well now, so I don't think it will make a difference that we are only new."