After our training camp in Coimbra, Portugal, Team Ireland, and family Ireland, arrived in the London 2012 Paralympic Village last Friday, and even just typing, that sends a shiver through my bones, especially as so few of your fellow country men and women can ever say they will have such an experience.
The first thing you have to go through prior to entering the Village is security. A most necessary aspect of Village life is that safety of the athletes and staff is of paramount importance.
The security, police men and women, and even the armed police are all very friendly and have had no problem posing for pictures. This makes their presence here less daunting.
My first view of the Village was at nighttime in the rain, and all I wanted was to drop my bags and eat. The food hall is like your biggest dream and nightmare rolled into one.
Seating for 5,000 people, open 24-hours a day, loads of different food from around the world to enjoy, and McDonalds: a dream for us; a nightmare for our nutritionists.
We are all so well used to watching our diets that you chose the healthy food rather than the naughty choices, but after my event, I might just have a treat, after four years' hard work, I think I may have earned it.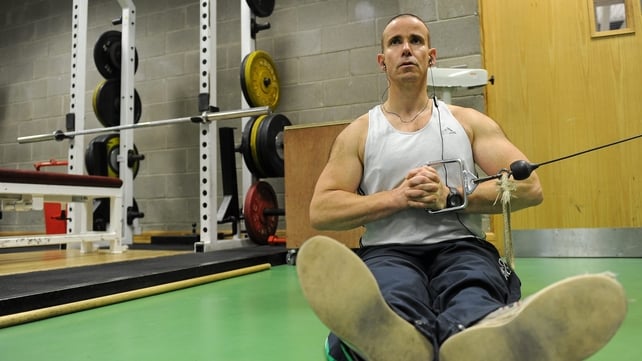 When I woke the next morning, I got an idea of the size of the park. But my sights quickly were transfixed on our apartment block and all 49 athletes' pictures hanging outside on the walls. It's truly fabulous and the envy of every other team here, including our hosts.
Although one warning: when looking up at your own picture, mind the trees, they tend to give you a bit of a thud. Lesson learnt - it won't get me again.
I just went around the Village to get in all the sights and get the wow factor dispensed with quickly. After all, I'm here to do a job.
The Village has everything: various coffee shops; a hairdresser; bank; post office; general store; places of worship or reflection for the many different religions; in fact everything you would expect to find in your own town or village - except a pub. Although we have one, but it does not have alcohol, but with the buzz around here, who needs alcohol.
From the Village, I can view the Olympic Stadium, velodrome, aquatic centre and lots of the other venues that I was only looking at on the TV a few short weeks ago.
In the distance you can also see the Shard - Europe's tallest building. Everything is just so wonderfully designed and fits in so perfectly around here like a big concrete, steel and glass jigsaw.
Transport is good with buses taking you to and from your training grounds.
Training is short and sharp at the moment, after all I am here to perfect, not to learn how to put my shot.
Training next to the Olympic Stadium is in itself a shiver-inducing moment, knowing very soon that I will be competing in there in front of possibly 81,000 people in my national jersey – OMG! As my young team-mates might say.
It's nice to just chill out around the park, maybe shoot some pool and have a coffee with some of your rivals, although as we know each other so well, they are also friends. There will be time enough for the game face on 4 September.
Tonight is the opening ceremony. I'll give you a taste of what that was like in my next blog, but for now, happy viewing of the Paralympics: it's going to be massive.
*James McCarthy will shot put for Team Ireland at London 2012