Ireland's world champion gymnast Rhys McClenaghan said an Olympic gold medal was "the only thing missing from my collection" upon returning to Dublin Airport after his stunning performance in Liverpool at the weekend.
The Newtownards native became Ireland's first world champion in gymnastics after a clean and impressive pommel horse routine, setting a score of 15.300 and eclipsing the rest of the field.
Overcome with emotion and finding it difficult to speak in the immediate aftermath of victory on Saturday, Ireland's new world champion was in more loquacious mood on arriving back in Dublin airport on Monday afternoon.
"It feels like the start of a new chapter," McClenaghan told RTÉ Sport at the airport.
"I'm now the world champion. It sets a really exciting precedent for the future.
"That Olympic gold medal is the only thing missing from my collection now. My eyes are on that.
"I'll cope with [the pressure] like any other competition. I put a huge amount of pressure on myself in training and competition so I'm used to it. I feel like I'm almost maxed out in the amount of pressure I can put on my shoulders.
"That's certainly my target and I'll make sure I do everything I can to meet that target."
The 23-year-old said he was particularly conscious of the support from back home in the arena in Liverpool.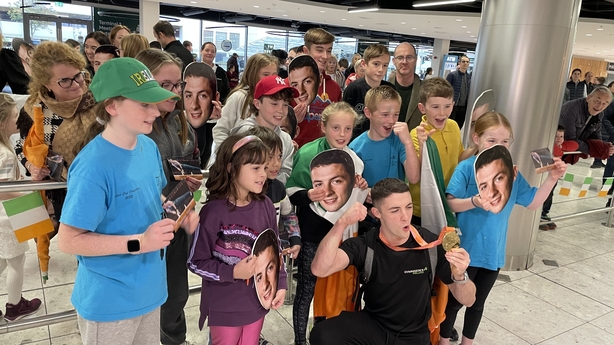 "To have the Irish support out there in Liverpool and coming back home of course, it means the world to me," he said.
"I was very aware of the Irish support. It's hard not to pay attention to it. It's absolutely amazing. To see all those Irish flags around that arena in Liverpool was an incredible experience.
"When I hear my name next to the title world champion, it's still hard to fathom."
McClenaghan suffered heartache at the Tokyo Olympics, slipping in his pommel horse routine in the final and finishing in seventh place, having been tipped for a medal beforehand.
"That's sport, that's life. You get knocked down, you get kicked while you're down. It felt like that to me! But then you rise to the challenge.
"You learn from your failure and you come back. You perform to the best of your ability and that's what I did in Liverpool."
There was no shortage of praise in Terminal One for the man who's become the face of Irish gymnastics. A feeling reciprocated: "It's great to be home, back in the Emerald Isle" the young star said.
"The support of the Irish fans has just been incredible, the support out there in Liverpool was also incredible, seeing all the Irish flags around the arena was amazing."
Ciaran Gallagher, Irish Gymnastics CEO, is expecting "the Rhys factor" to reap big rewards.
"The kids idolise him, they see him in the gym and they see him at our events. Also we see how many have turned up today. The mums and dads have obviously let them skip school – hopefully nobody gets in trouble!
"They grew up with him, now they see what he achieves. For future generations this is not something that's out of reach for an Irish gymnast – this is something that can be done."
"We have everything right in the system, the right people in the right places" Gallagher says.
"I'm just incredibly excited about the future."
Now Rhys rules the world, the future is bright for Irish gymnastics.