This is wrestling, but not as many of us know it. This is not the wrestling of Big Daddy, Giant Haystacks, Ric Flair or Hulk Hogan, but rather the Irish Open Freestyle Championships.
More than 160 wrestlers, representing 33 clubs were in action at the Sports Campus Ireland National Indoor Arena in Blanchardstown.
Ten-year-old Savanna Miller, from the SBG Club in Dublin, has been involved in the sport since she was four and a half.
"I love it and I'm very happy to be here as well, it's very exciting to have fights going," she says. "It shows you self-defence and if you were getting bullied you could stick up for yourself".
Score notifications, live streaming and instant highlights have transformed access to sports information. Those of my generation may recall a very different time.
As we awaited on-screen score updates from the old English First Division, many of those that could watch it were drawn to ITV's World of Sport. With the great Dickie Davies in the hot seat, the programme lived up to its title. Variety was the key but one staple was Saturday afternoon wrestling. The likes of Big Daddy, Giant Haystacks and Mick McManus were effectively sporting pantomime characters, and we were hooked.
The WWE Superstars of the 1980s and 90s took this particular brand of wresting/entertainment to a different level. From Hulk Hogan to Stone Cold Steve Austin, from Dwayne 'The Rock' Johnson to The Undertaker, and from Randy Savage to Ric Flair, wrestling's profile sky rocketed, and the cash came rolling in. Fast forward to 2022 and Dubliners Sheamus and Becky Lynch are among the big names and big earners in the WWE.
All those I met were keen to stress that freestyle is a World apart from that traditional, and perhaps blinkered view, of wrestling.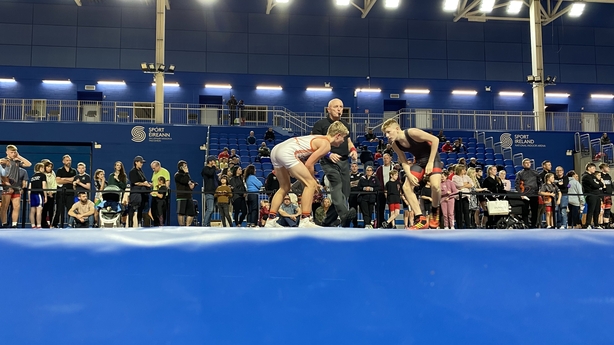 "It's a lot tougher than people think", according to Dillon Manning, of Cork's Nomad Wrestling Club. "It's not set up in any way and is very physical and very competitive".
Nullifying an opponent is key. "The self -defence aspect is there, you're not attacking, there's a lot of nullifying instead of being an aggressor or an attacker, you really learn how to defend yourself".
Apart from actual wrestling training sessions elite level competitors have three to four strength and conditioning sessions per week.
The prospect of Irish wrestling representation at future Olympics is realistic, with investment. The development of an Irish wrestling academy could be a game changer, according to Daniel Kennedy, president of the Irish Amateur Wrestling Association.
"At the moment, wrestling is centred in a small number of clubs, we're looking for a home for wrestling. We need to establish an academy similar to what they have in the UK. That's the only way we're going to grow the sport, by concentrating on developing our own wrestlers."
Like other minority sports, increasing participations levels is a priority. Kennedy is encouraging more parents to get their children involved.
"Freestyle wrestling is primarily about technique, it's not about hurting your opponent, considering the type of sport it is, there are very few injuries, it's quite safe"
Social media is helping to grow the sport: the 2023 Irish Open Championships has already attracted interest from Canada and Eastern Europe.
The Paris games of 2024 will come too soon for any Irish involvement but Los Angeles in 2028 could be a realistic target.