Minister for Health Stephen Donnelly is hopeful that capacity restrictions at sporting venues will be removed after NPHET makes its latest range of recommendations later this week.
On Thursday NPHET will make recommendations where it is expected an easing of restrictions will see changes to 8pm closing times for bars and restaurants and an increase in the number of people allowed to attend both indoor and outdoor events.
Currently a maximum of 5,000 fans can attend outdoor sporting events. The end date for restrictions is 30 January, but with the GAA Allianz Leagues set to commence the day before and Ireland due to host Wales in the opening round of the 2022 Six Nations a week later, a decision will need to be made soon if there are to be changes to the attendance numbers.
Speaking on RTÉ's News at One, Donnelly said it is about striking a balance between moving forward, yet remaining sensible.
"If advance warning could be given for people to plan, I think that would be fantastic, but I just don't want to raise hopes in an unhelpful way," he said when asked if capacity crowds will return after NPHET's meeting on Thursday.
There is nothing I would like more than to hear the roar of 50,000 people at the start of February
"I bumped into a hero of mine, Johnny Sexton, earlier this week. He, very understandably, said, 'can we get back to a full crowd at Lansdowne Road for the Wales game? As we did for the autumn internationals.'
"I can tell you there is nothing I would like more than to hear the roar of 50,000 people at the start of February.
"We have to get the balance right. We need to move forward, and put Omicron behind us, but not be foolish and move too quickly that causes risks we don't need to deal with."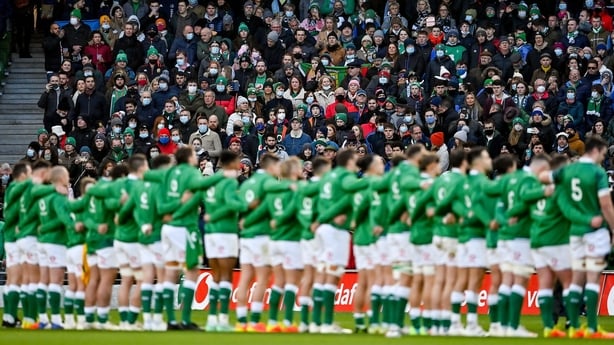 The Stadium group that represents the GAA, IRFU and FAI has been in regular contact with the Department of Sport and yesterday met with Minister for Sport Jack Chambers to recommend a return to full capacity stadiums.
Martin Murphy, chair of the group and Aviva Stadium director, outlined their argument to the minister.
"We quoted the situation in Wales and Scotland where Wales were behind closed doors, and Scotland had a capacity of 500, and they both decided to go ahead with full houses.
"France are due to make a decision this week and we are hopeful we'll follow suit.
"Anything short of 100% [capacity] is quite problematic in terms of mobilising staff and issuing tickets."
With a little over two weeks until Wales arrive in Dublin for the opening round of the Six Nations, Murphy says time is of the essence if restrictions are to be eased, or indeed lifted.
"We are really up against the wire and really need a decision this weekend to get things working smoothly."