Conor Stakelum has been selected by the Ice Skating Association of Ireland to represent the country at this season's Nebelhorn Trophy in Oberstdorf, Germany.
The event, from 22-25 September, is the final qualifying competition in figure skating for the 2022 Beijing Olympic Winter Games.
Stakelum last competed internationally at the European Figure Skating Championships held pre-pandemic in January 2020 and is relishing the opportunity to get back out onto the ice.
"I am very happy to have been selected to compete at the Nebelhorn Trophy," he said.
"I have worked very hard in the absence of competitions over the last year to improve my skating, increase the difficulty of my programmes and to be ready to compete when the chance came. I'm glad that the ISAI board have recognised this and I'm excited to have to opportunity to compete again."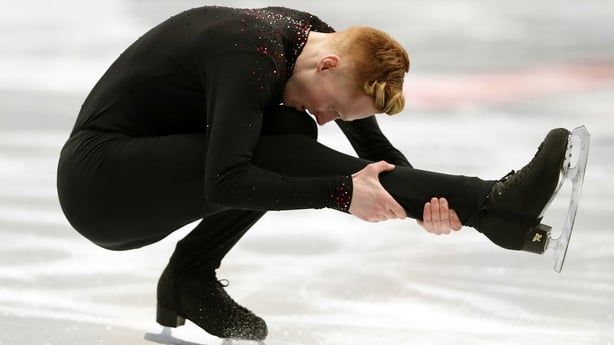 This will be the Dubliner's third attempt at Olympic qualification. His two previous tries in 2013 and 2017 provided him with invaluable experience that he hopes to put to good use this time round.
"I learn from every competition I have competed in," Stakelum said.
"The most important thing I remind myself of at these types of events is to focus on my own performances which is all I can control and to enjoy the opportunity."
The five-time Irish national champion will also be debuting two new programmes in Germany, one of which will have a particularly Irish flavour.
"My short programme is set to a piece of music called 'Soulseeker' by Thomas Bergersen. It is a powerful cinematic piece of music which I think suits my style of skating well.
"My free programme is to Riverdance. Obviously, this is a very well-known piece of music which many people enjoy. I have always wanted to do a programme with an Irish theme so I am glad to be doing so this season."
Stakelum will be competing in Germany against competitors from 25 other countries to secure one of the seven remaining places in the event at the Beijing Olympics.