Emma Slevin and her twin sister Kate grew up sports-mad in a sports-mad family.
Until they were seven, the Slevins - plus older Mark - could be spotted toiling away on the GAA and soccer pitches around Claregalway. Then, their paths diverged.
While Kate - who has gone on to represent Galway United and the Galway footballers - and Mark stuck to teams sports, Emma got bitten by the gymnastics bug.
"For me, it took over," she told RTÉ Sport.
Although a relative latecomer to the discipline, Emma proved a natural. Her progress was sharp and swift. By 10 she was being singled out by coaches as one to watch, by 11 she was being picked for national squads and, soon after that, Slevin was heading to international events.
The real breakthrough came at the 2018 World Youth Games in Argentina where she earned a historic sixth place in the All-Around final.
And if that performance signalled her massive potential, last weekend's brilliant 19th at the European Gymnastics Championships in Switzerland confirmed it. It was Slevin's first taste of competition in 18 months and she excelled.
"It's been so long that I was in competition," the 17-year-old said from the family home where she's quarantining before returning to school.
"I went there just hoping to get back out onto a competition stage and to regain my confidence a little bit. I definitely did that, and more. I was delighted with it.
"Going there I didn't expect to be that high up in the ranks. To know I can do it is very motivating for me, to know going to these competitions that I'm not just going to participate anymore. I'm going to make finals. It's really nice to know that Ireland is one of those nations that isn't just there to participate."
"They're very brave to do such a thing, especially in a sport like gymnastics where anything different is kind of looked down on."
Attracted by the individualistic nature of gymnastics, Slevin found something in the discipline she couldn't get out of other games.
"It was all football, camogie and soccer initially. I tried gymnastics for something different and it just seemed to be my sport. My brother plays hurling as well. We kind of evolved and picked our own sports.
"We're all different. We are overall a very sporty family - it's always a bit hectic in this house.
"Kate just never really liked it like I did. She stuck with the football and the soccer. For me gymnastics took over. I really liked the satisfaction of getting a new skill. I liked the feeling of being in control I guess. A lot of gymnastics, it's your decision... you can control your progress. I really like that."
Good things are happening in Irish gymnastics right now. Adam Steele also broke ground at the Europeans, becoming the first Irish male Irish gymnast to make a senior All-Around final, while Meg Ryan is a first reserve for the Tokyo Games where the outstanding Rhys McCleneghan will hold genuine ambitions of medalling.
"We have a great little group," added Slevin. "It's really nice to know that we have each other to talk to. We're such a tight group like that.
"Me and Adam made history last weekend with the two of us making finals, and then there's Rhys in recent years coming up winning his medals, and Meg as well. You can notice a pattern that the pathways in gymnastics are working. We're coming up and making history."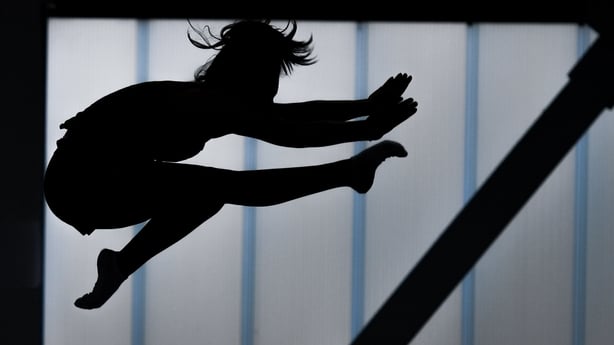 Aside from the action itself one of the big talking points from the Europeans was the decision of German gymnast Sarah Voss to wear a full body suit in competition. Previously, female competitors had only covered their legs in international events for religious reasons.
Two of Voss's teammates, Kim Bui and Elisabeth Seitz, later followed suit with the German federation (DTB) saying its gymnasts were taking a stand against "sexualisation in gymnastics", stressing that sportswomen should always feel comfortable when competing.
"I think it sends a great message and I really like the idea behind it," Levins said of the Germans' decision.
"They're very brave to do such a thing, especially in a sport like gymnastics where anything different is kind of looked down on, but they seemed to get a great reaction from it and I'm really glad they did. I love the idea of it.
"It's a nice idea and the message behind it is good."
As she returns to normality after a crazy seven days, Levins has been able to take stock of where she is and where she's going. Tokyo comes too soon for her but the Worlds, and then the Paris Games in three years' time, are absolutely on the agenda.
"My phone was going a bit nuts for a few days but it's calmed down a bit now!" she laughs.
"I have really good friends and team-mates who are behind me all the time. I'm so grateful to have people like that. The nearest competition for me now would be the World Championships at the end of the year. That's the one I'm focusing on at the minute.
"Paris 2024 has been my goal. It's only three years away now, not long. That's going to be my end goal I think.
"It's only starting to sink in that it all happened [at the Europeans]. It gives you so much confidence to know you can be up there with the best.
"It really puts into perspective what we can do as a nation."