"There is nothing more amazing to me than looking up at the infinite universe at night-time and seeing the beauty of every star."
If he doesn't run into much traffic on the road, Rhys McClenaghan can make the journey between his home in Newtownards outside Belfast and his training base in Dublin in just over two hours.
The gymnast, with his exemption from travel restrictions as an elite athlete, has plenty of time to get stuck into a podcast or two.
So when he's not propelling himself around a pommel horse, seemingly with the greatest of ease, what's going through the mind of the 2018 artistic gymnastics European champion?
"I have a big interest in astrophysics and astronomy, so I listen to a few podcasts on that," he tells RTÉ Sport.
The 21-year-old is also listening to comedy and the Joe Rogan podcast but let's get back to the astrophysics for a minute.
"I studied it in school for my GCSEs," he adds.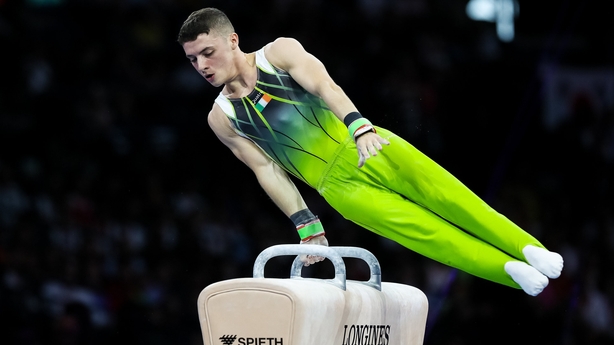 "I didn't really gather an interest for anything in school in terms of education but since I stepped out of school, I've found new ways of learning.
"I didn't read one book while I was in school but since I left I've started to find different ways to motivate myself to learn. I don't think the school system was my cup of tea.
"There is nothing more amazing to me than looking up at the infinite universe at night-time and seeing the beauty of every star.
"Yeah, it's pretty incredible to dive into all the smaller aspects of it, quantum physics. It's a never-ending learning curve for me and it's a challenge as well.
"It teaches you to be very humble and open-minded in everything you approach because... life in itself can be almost insignificant when you look up at the skies and see the infinite universe.
"It puts everything in perspective. There are just so many positive things I can take from learning more about astronomy and cosmology."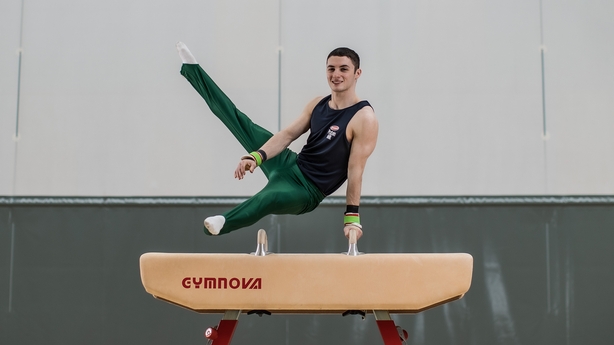 McClenaghan's bubbly personality jumps off the screen during a virtual interview but, like everyone in these uncertain times, he has had down days.
The uncertainty about the Tokyo Olympics (scheduled to take place from 23 July to 8 August) and the frustration of such an active body not getting the exercise it needs all contributed to some low moments, especially when the restrictions of March 2020 kicked in.
"It probably hit me in the first lockdown when I wasn't able to train properly or go to the gym," he says.
"I have my family around me, which I was very thankful for, but I didn't have my friends or coaches around. I had to kind of channel that motivation from myself.
"I found it so difficult to work out at home. It taught me a lot about trying to motivate myself and the [motivational] YouTube videos that I watch every morning stemmed from that first lockdown because I was lacking motivation at the start.
"Then everything panned in together – news of the Olympics being postponed and no competitions for the foreseeable future and it almost seemed like there was no point in training.
"But Facetiming different friends, getting them to tell me to get off my butt and then the YouTube videos [helped a lot]".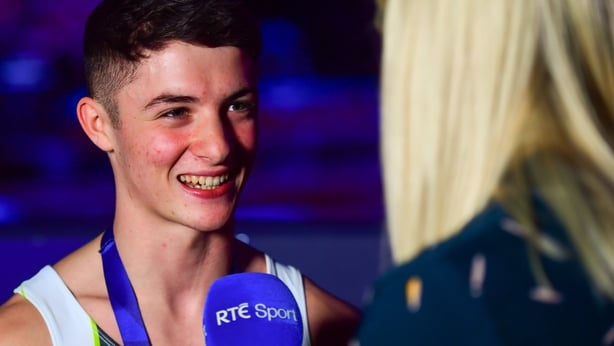 And the Co Down man has spent plenty of time off his backside getting ready for this month's European Championships in Basel (live on the RTÉ Player, with RTÉ2 and and RTÉ Player both showing live finals action).
"This is probably the best competition build-up that I've ever had," says the Commonwealth Games winner.
"My body is 100%, my mind is 100%, just raring to go. I'm looking forward to showing everyone what I've been working on. I've learned a lot.
"I've a new routine. It's looking very good. There's one new skill in the routine which will upgrade the difficulty value that I feel I was lacking in the World Championship in 2019 (where he won bronze).
"Hopefully this will be enough to take the gold medal.
"It will most likely be the routine I'll be performing at the Olympics.
"It will be very good to showcase that at this European Championships and show the judges that this is an upgraded routine but I'm not going to let the execution of the routine slide either.
"I'm going to perform this routine as the cleanest gymnast in the world with as little deductions as possible.
"It would be great to get a name for that routine moving into Tokyo."