The first time Nhat Nguyen appeared on my radar, it followed a phone conversation with one of his coaches Daniel Magee just after the Irish badminton prodigy had served notice of his talents by winning the U-17 European Championship.
It was Easter 2016 and as Magee spoke glowingly of the then-teenager's court coverage abilities, he also tentatively raised the prospect of Nguyen potentially being an Olympic hopeful for Team Ireland in 2020 and 2024.
Fast forward to 2021 and the Tokyo Games have been delayed to this summer due to the Covid-19 pandemic and as things stand, Nguyen is comfortably on course to qualify, sitting in the top 25 with 41 spots available.
While his coach may have had confidence in his trajectory, did the Dubliner have Tokyo in mind back then too?
"Looking back now, I don't think so. I just took it day by day and just wanted to get better every single day," the FBD Ambassador tells RTÉ Sport.
"I was 16 at the time. Four years is a long time to look forward to and I probably had other things on my mind but I was more focused on getting better and how to be better the next day and training. But I wouldn't have been thinking that long-term when I was 16. But now definitely I'll definitely be thinking more long-term."
He has certainly made improvements since progressing from an impressive and medal-laden youth career. On St Patrick's Day, he pulled off a major upset at the All-England Open when he beat world number 13 Srinkanth Kidambi of India to advance to the men's singles last-16.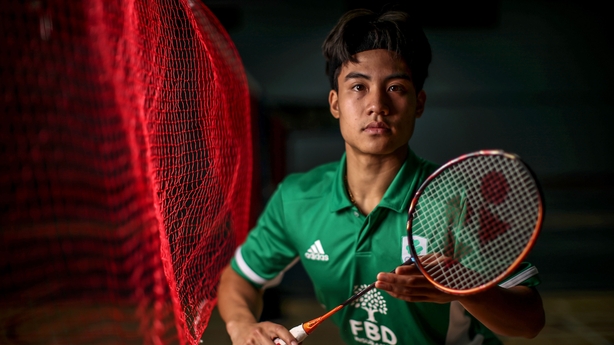 That sort of landmark win over a highly ranked opponent was one that he had come close to managing before over the last couple of years - a "frustrating" wait in his own words.
The All-England journey would end with a defeat to Mark Caljouw but the lessons and the "inner confidence" Nguyen has picked up from those two matches will prove invaluable at the Olympics and he also had to simultaneously overcome a Covid-related setback.
"I played (Kidambi) the year before in the world championship and I was quite close to beating him so I definitely felt I had a chance this time around," he explains.
"But I got Covid at the start of the year, five to six weeks before the All-England, so I literally only had two weeks of practice.
I had such a high beating someone that was a lot higher ranked than me
"Going into that match, I wasn't as confident as the year before but I had something in my game that he doesn't like, so going into that I wasn't in the best shape but I was more mentally prepared than anything, tactically and strategy wise.
"So I think that all paid off. I'd played him last year so I had a little bit more experience, so not being in the best shape, I was a little more, let's say, experienced in my approach to it during the game as well because I had to think of other ways to win than try to use my physical side. I think I played a great game and I think I should play like that more often.
"I had such a high beating someone that was a lot higher ranked than me and then in the second game (against Caljouw), playing somebody that I feel was actually on my level and maybe was higher ranked, I don't think I handled my emotion well on that day. I think I let it control me a little bit.
"I was like 'Oh, wow, a little bit of expectation on me, a little bit of pressure' so that could be something that happens again in the Olympics.
"So definitely I'll be more prepared and ready to handle my emotion because it got a little bit the better of me and he handled the situation a lot better than me. That's one big factor to take from that tournament."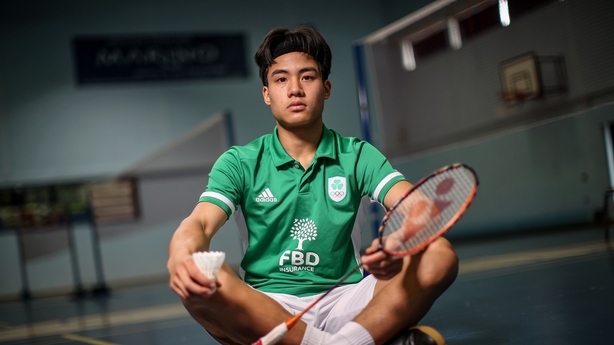 Nguyen adds that he is still feeling the effects of Covid-19, weeks on from when he got the all-clear after testing positive and subsequently self-isolating in a hotel for three weeks.
"My whole family got it first, so it was a very long process," he says.
"I think I'm still having the effects of it now. I think it's called 'Long Covid', the long-term effects. Since I've come back to court, I haven't felt like myself. Normally, I'm quite fast and physical on court but I haven't felt like that.
"It's really strange because I've had a lot of blood tests and doctor appointments just to sort out what's going on but I think my bloods are a little bit not correct, so we need to sort that out.
"I don't feel like myself yet but I think definitely soon I will get better. It's getting better slowly."
I think I'm still having the effects of it now. I think it's called 'Long Covid', the long-term effects
Like many of Ireland's leading badminton players, like three-time Olympian Scott Evans, Nguyen spends some time in Denmark training and playing tournaments, including late last year, although pandemic-related restrictions add logistical challenges.
"I did spend two or three months last year in the same club as Scott Evans when I was in Denmark and that was a really good training camp," he says.
"But even going to tournaments, there are so many papers to do. I don't really know how many Covid tests I've had since the start of the year. I think it could be 20 or 30 Covid tests since the start of the year now. I think it's affected me a lot but as an athlete, you just try to stay positive and try to focus on yourself and how to get better even though the situation at the moment is quite tough.
"Even trying to organise sparring or training to go away or trying to organise some players to come in to get that better sparring and better hit with, that's difficult as well because we're trying to get some Indonesian sparring over to help us but again Visas (are an issue), it's very hard to get a Visa now because of the pandemic.
"And then me trying to go away, it's quite difficult because we're not in control of our environment."
But with Tokyo 2020 still a few months away, Nguyen admits the year-long delay has worked in his favour, with precious time to work on his game before appearing on the grandest stage of them all.
"I'm actually very glad that the Olympics has been postponed. I think looking back last year to now, I'm a lot better player now than I was last year so I definitely feel things I have been working on have started to click and I feel I have matured a little bit which is helping my game a lot," he says.
And should he qualify for the Olympics as appears very much on the cards, emulating Evans' Rio 2016 exploits in becoming the next Irishman to reach the last-16 is a goal.
"I did it at All-England and I have that in me but again, it's how I handle my nerves, how I handle the situation is the most important thing. But that is definitely one of my goals to emulate what Scott did."