"I liked the idea of being in a team with strong Irish roots...and great fans obviously."
It was a short tweet in early February with a couple of notable hashtags #bono and #odriscoll.
The accompanying photo had a few familiar faces; Bono and Ali Hewson, Brian O'Driscoll in shades and casual garb and Eddie Jordan.
And right amongst them in the line-up was Giancarlo Fisichella. The Italian's tweet and photo earlier this year brought a wave of nostalgia for those who regularly watched the Jordan team fly the flag for Ireland in Formula One during the 1990s and 2000s. 
And it's a team that holds a special place in the heart of a driver who won three Grand Prix in a long career among motorsport's elite class.
His first race win would come in the yellow car during his second spell with Jordan in 2003, while that chaotic Brazilian Grand Prix would also be the fourth and last victory for a team that left Formula One 16 years ago.
With the 2021 F1 season upon us this weekend, Fisichella joined RTÉ Sport from his home in Rome to reminisce about his Jordan days, leading the team to a dramatic last victory and also pay tribute to the late, great commentator Murray Walker who died earlier this month.
But first, was his declared love for all things Irish simply a result of time spent around Eddie and his Jordan team?
"It was just when I met Eddie Jordan. He's a nice guy, he's a crazy guy and so funny. I spent with him a very nice time and he's Irish and I met more Irish [people] and they are so great and very nice," he tells me. 
We need your consent to load this YouTube contentWe use YouTube to manage extra content that can set cookies on your device and collect data about your activity. Please review their details and accept them to load the content.Manage Preferences
"I don't know very well the island but I met a lot of people who are Irish and they are great."
While Fisichella never had the opportunity to visit Ireland due to the globetrotting nature of F1, he does have the distinction of being a Jordan driver who had two separate spells with the team.
The first was back in 1997 in his second season in the sport when he was paired with Ralf Schumacher. At that point the team which was based at Silverstone were entering their seventh season in Formula One and had already established themselves as a solid mid-ranking team.
"My first season with Jordan was in 1997. We had a fantastic season together and I scored a few podiums and the car was quick in a couple of circuits," Fisichella recalls. 
"I scored seconds in Spa, third in Canada and I was leading in the Nurburgring. So the car was very good in high speed circuits, a bit less in the slow speed circuits."
That Canadian Grand Prix would mark his first podium in F1 - and all that entails from the plaudits to the champagne - where he finished behind two idols of his era Michael Schumacher and Jean Alesi.
"It was amazing. It was a difficult race. But Canada has always been a very good circuit for me," he says.
"The car was quite consistent and good in the race and then I was quite competitive. I was doing well and at the end of the race, (Heinz-Harald) Frentzen had a big accident with a brake failure and I had a good opportunity to get on the podium. That was my first podium and it was unforgettable."
Fisichella would finish eighth in the championship that season with his solid points finishes throughout the season, beating team-mate Ralf Schumacher in the process.
The two Jordan drivers did have one coming together at the aforementioned Nurburgring race when they were on for a big points haul but that opportunity was blown when the younger Schumacher collided with him.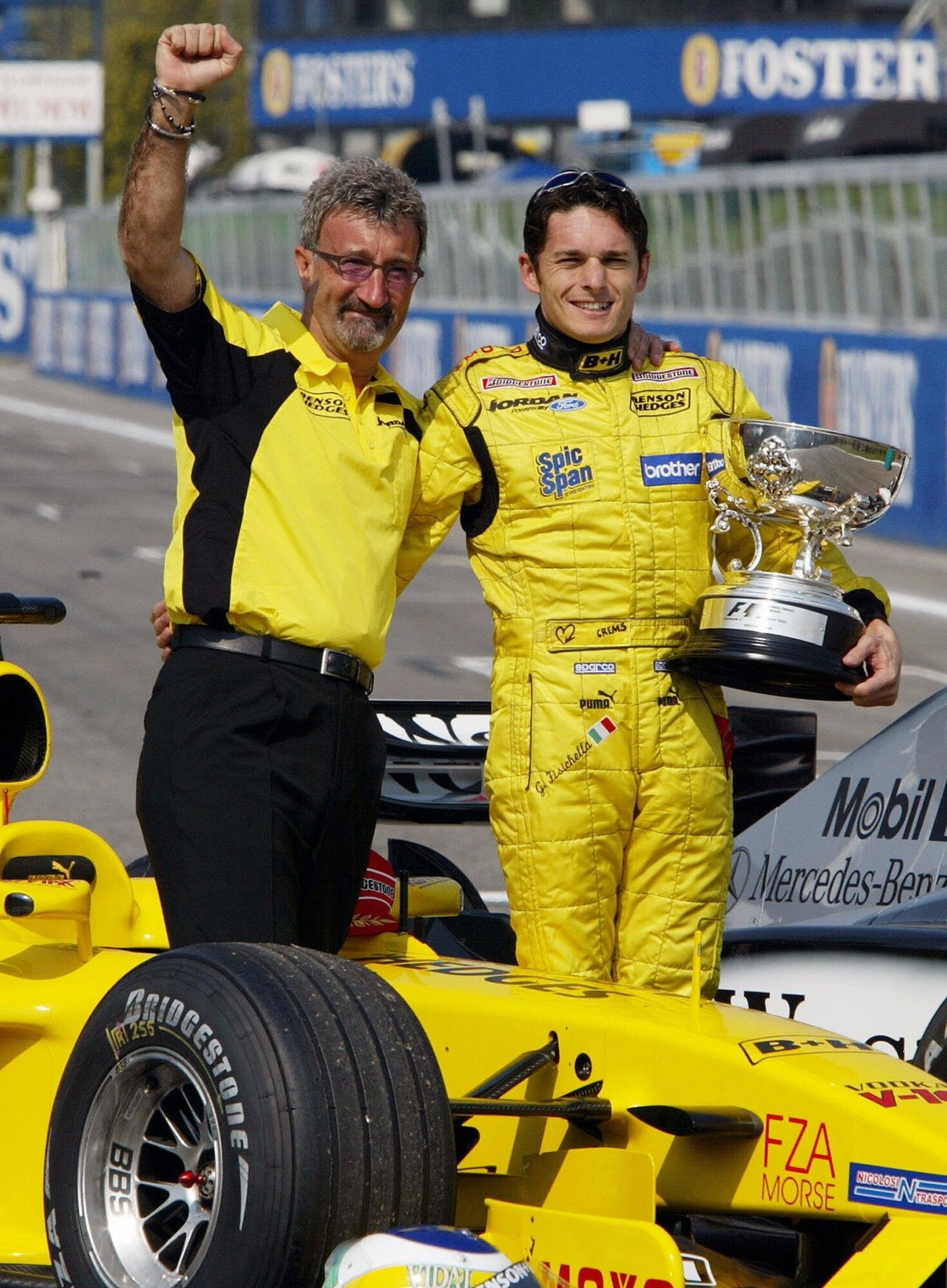 But Fisichella was happy with how Eddie Jordan handled that flare-up and Ralf would apologise to his colleague in time for them to share a flight home together. 
"Like me, Eddie after the race was not happy about the situation. We had the ability to put two cars on the podium but Ralf, I think he braked too late and pushed me out," says Fisichella.
"It was a shame because honestly we could score [big points]. I don't think we could win but second and third easily. So it was a bad result for the team.
"Then after that Eddie talked with us and it was important for us just to go ahead with our work and it was important to cancel that accident and work together for the team for the rest of the season."
His relationship with Eddie Jordan was key that year as he made his mark and would mean that his return in 2003 would be possible.
"Eddie was a very nice guy. In 1997 I was living in Oxford and most of the time he invited me to his house to have dinner together. I met his family, a fantastic family, he has a lot of children and we went on the bike together," he says.
"He was a great team principal, and he was very kind with and so nice." 
Fisichella would leave for Benetton at the end of 1997 for a four-year spell that would yield five podiums and where he would have the measure of different team-mates like Alex Wurz and a young Jenson Button.
But the Benetton cars of that era, while decent, were not a patch on the mid-90s ones that had led Michael Schumacher to his first two world titles and similarly, Fisichella missed Jordan's golden years from 1998 to 2000 when competitive cars would finish top four in the constructors' championship twice and see Damon Hill (at a topsy-turvy Spa race in '98) and Heinz-Harald Frentzen earn three race wins between them.
In hindsight, Fisichella might have stayed at Jordan after 1997 rather than move away.
"Considering the pace of the Jordan in 1999 and 2000, I think it was better to stay there," he says.
"But honestly my contract was with Benetton. Benetton was a good team at that time and my contract was with them, with Flavio Briatore and with Benetton. It was okay, we scored a lot of points but it wasn't as quick as the 1996 and 1997 (cars)."
The landscape at Jordan had changed when Fisichella re-signed with the team in 2003. By that time, as the sports financial demands increased, they had slipped back into midfield mediocrity.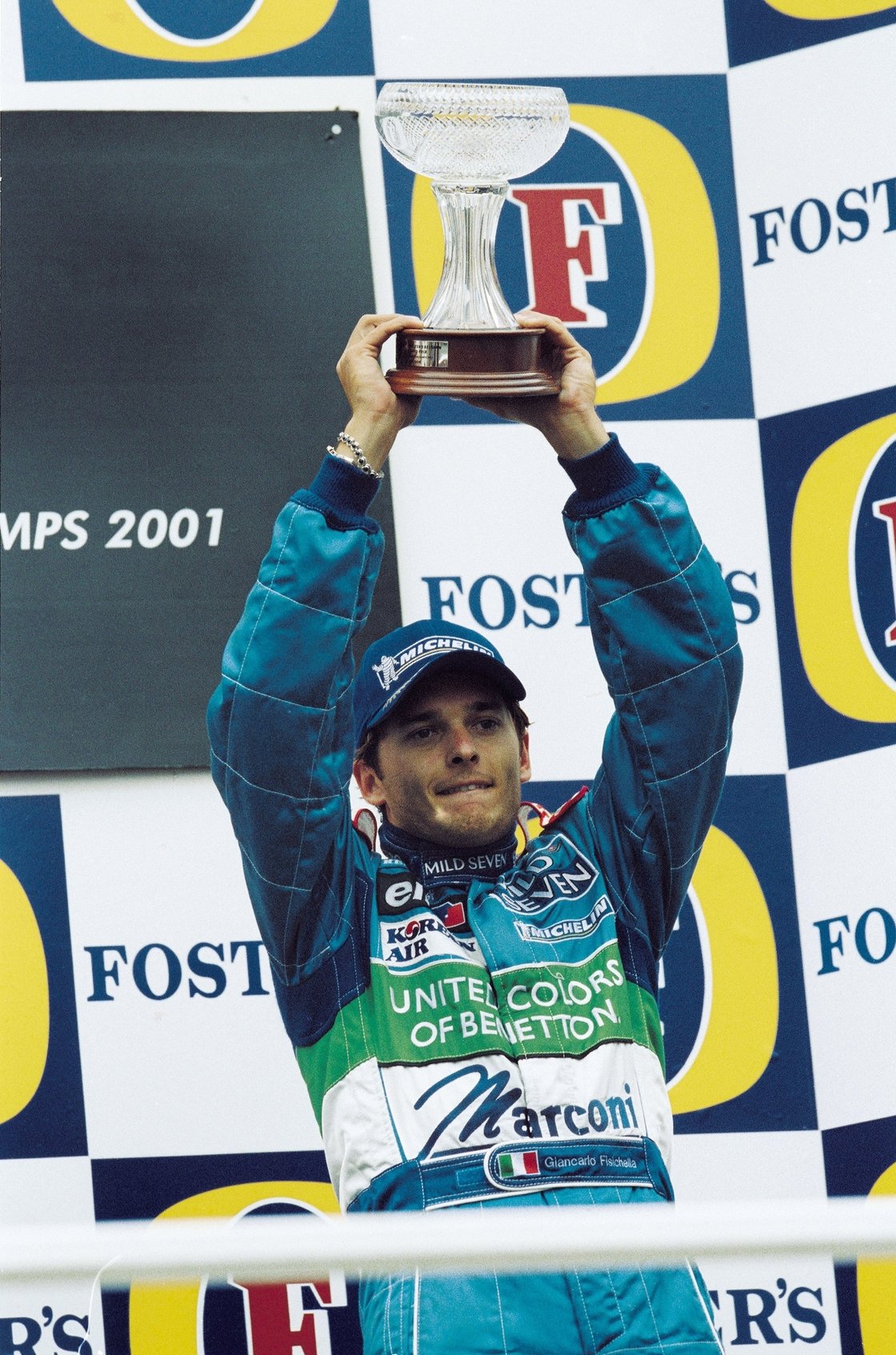 Teamed up with English-born Ralph Firman, who raced under an Irish flag through his mother's side, the 2003 campaign proved difficult.
But Firman would score just one point, while Fisichella would finish in the points places just twice. 
However, the first of those in Brazil would be arguably the most momentous of his Formula One career and also the last great hurrah for Jordan.
The 2003 Brazilian Grand Prix would be the third event of the year, and Fisichella came into it off the back of a 12th place finish Australia and a retirement in Malaysia.
"From 1997 to 2002, the Jordan was a very good car and was even fighting for the world title championship," he explains.
"Unfortunately, in 2003 when I went back, Eddie lost a lot of sponsors and the budget cap was less for Eddie and it was difficult to be competitive."
Not much was expected at Interlagos. But as can happen in F1, the elements and momentum can throw a race into a disarrary.
By the time it had reached lap 50, Fisichella was battling in the points with the strong possibility of a podium.
Then chaos ensued on the main straight. First Mark Webber suffered a violent accident. An unsighted Fernando Alonso collided with some of the debris that was strewn on the track, smashed into a tyre barrier to his left before being pitched into the opposite wall, in a crash that would require Fisichella's future team-mate to go for a check-up in hospital.
By that point, Fisichella was contending for victory with McLaren's Kimi Raikkonen who incredibly is still on the grid in 2021.
The stewards red-flagged the race after 54 laps rather than let the Grand Prix go on further. While Fisichella felt he had won when the race was called, the authorities would initially award the victory to Raikkonen. 
We need your consent to load this YouTube contentWe use YouTube to manage extra content that can set cookies on your device and collect data about your activity. Please review their details and accept them to load the content.Manage Preferences
"In the radio and for myself, we knew that I was the winner because I overtook Kimi Raikkonen," he says.
"I was the leader of the race but by the mistake of the FIA, they give me second position. So I was happy because second position for us was anyway a good result but we knew we were the winner and after a few days the FIA recognised the big mistake so they gave me back the victory, they gave me back the trophy in Imola two weeks after. But I don't celebrate my first victory on the top of the podium and I think I missed a lot."
Indeed, it was a bizarre podium on the day itself. With Alonso getting checked over in hospital, the third step was empty for the ceremony. Fisichella, the rightful winner was standing in the second-place spot while Raikkonen was stood atop the top step with his Finnish national anthem and that of McLaren's ringing out across the Sao Paulo grandstands. 
It should have been the Italian anthem and Amhrán na bhFiann, the latter of which proudly rang out after Frentzen's 1999 French Grand Prix win for example.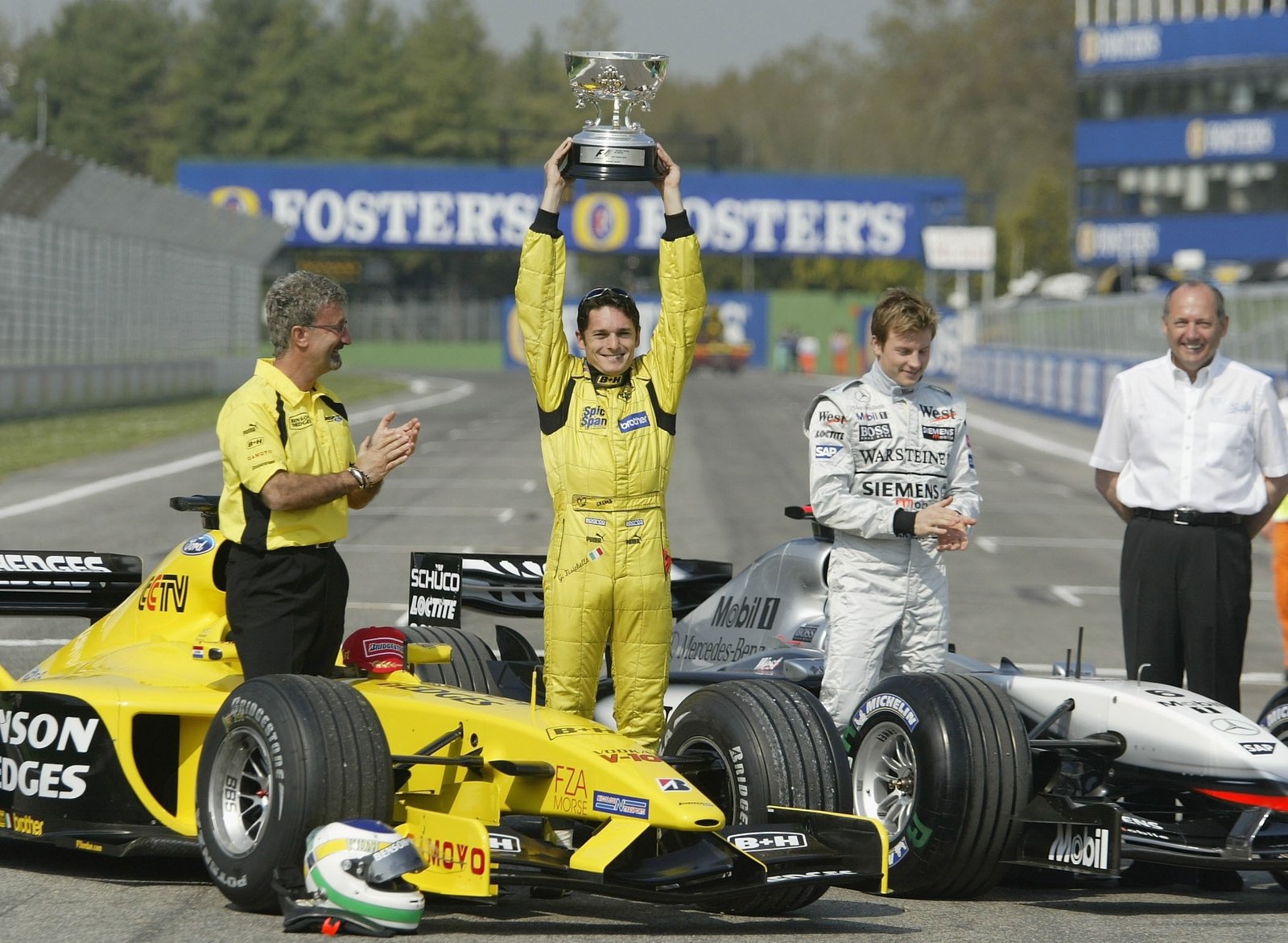 While it remains a slightly bittersweet memory for Fisichella, the fact that he did have the result overturned for his maiden victory is at least satisfactory for him.
And Fisichella, who adds that he misses the presence of the passionate smaller teams he raced for like Jordan and Minardi, would add two more Grand Prix victories to his personal record in a period he views as his peak years between 2004 and 2007 when he joined Renault, who had bought out his old Benetton team.
Team-mate Alonso, who has returned to F1 for 2021 after a couple of years away, would be crowned world champion in 2005 and 2006 to establish himself as one of the standout drivers of the modern era and also end the half-decade of dominance for Michael Schumacher and Ferrari.
But in the opening race of 2005, it was Fisichella who took control, dominating the weekend in Australia with pole position, fastest lap and race victory. Even before that Melbourne race, he sensed that Renault could do great things that year, although it was Alonso who would be the beneficiary.
"During the winter testing, already at the first test, I felt a fantastic car and I said, 'This is the season where we can fight for the championship,'" he says.
"In the first race, I did the hat-trick; pole position, fastest lap and victory so the start of the season was fantastic. After that straight away in the second race in Malaysia, I had a small problem and an accident with Mark Webber and then a few mechanical problems and technical problems for the rest of the season and I couldn't fight for the championship. 
"But I did my best and we won anyway the constructor's championship for two consecutive years, 2005 and 2006. It was good but unfortunately, I couldn't win the (driver's) championship which was my dream."
Fisichella did have an extra adaptation to make in 2005 compared to Alonso who had already been with Renault for two years before that.
Previously at Jordan, Benetton and Sauber, the Italian had raced with Bridgestone tyres whereas he was joining a Renault team that used Michelins and had done so during his Spanish team-mate's entire time with the team as lead and test driver.
"The cars and the tyres were suited for (Alonso's) style of driving and I spent a lot of time to learn how to drive the different tyres from Bridgestone to Michelin," says Fisichella.
"But (in some places), I was as quick as him and even quicker but most of the time I had mechanical and technical problems – the main problem why I couldn't fight for the championship."
Not always a given in Formula One where team-mates can often view each other with suspicion, but he had a good relationship with Alonso from the first moment they worked together.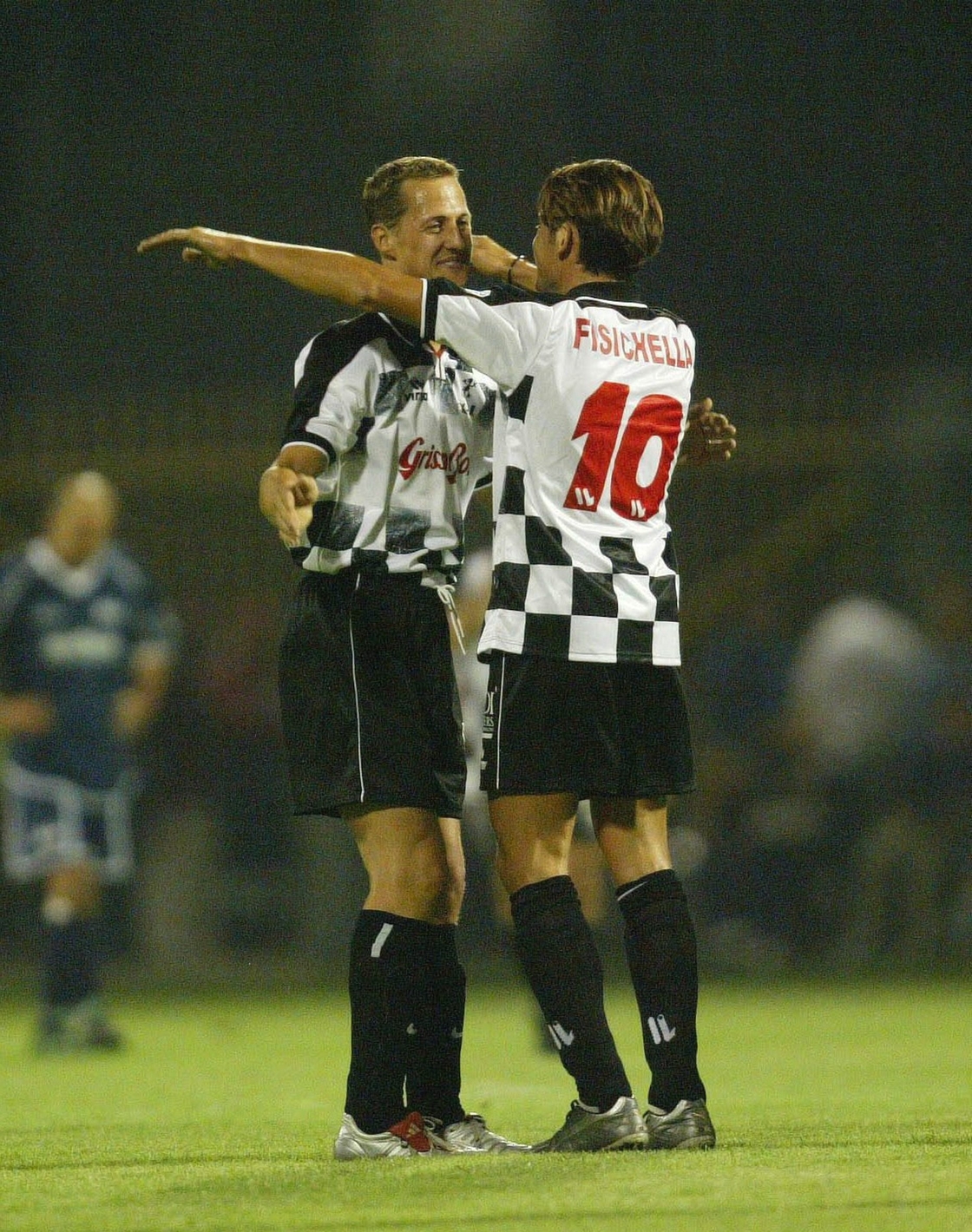 "Straight away we worked together very well for the team and for us, we had a good friendship and we were working very well together. 
"But even outside Formula One, we were friends, we were going to dinner together and had a good time together so I was happy to race with him."
And football of course added an extra bond with some other drivers like Alonso and Michael Schumacher, with the AS Roma fan also captaining the Grand Prix Drivers football team.
Fisichella would remain in the paddock all the way to the end of 2009, marking 13 years in F1 and it also allowed him to watch current veterans Lewis Hamilton and Sebastian Vettel, who have 11 world titles between them, emerge as young prodigies and develop into elite drivers.
"In go-karts they were doing very well and you would start to listen to the names of these guys and I followed them especially in Formula Two, in GP2," he says.
"Hamilton was clearly a very, very quick driver and he's in the history of the F1 now, so he's doing very well."
And after two years at Force India in 2008 and much of 2009, Fisichella was also able to cap his career off by achieving the dream of all Italian drivers by donning the red of Ferrari for the last five races of his final season. And he still represents the Prancing Horse now in endurance racing as his association with the team stretches beyond a decade.
"Since 2009, I am still with Ferrari. From 2010, I've been racing with them in the GT car. I did a lot of races, I did two 24 Hours of LeMans, won a few championships. I'm still racing with them and really happy to be part of this big family."