Kingscourt, Co Cavan and Carrigallen, Co Leitrim - neither are skating strongholds, but Liam O'Brien will be flying a flag for Ireland at the World Championships next month.
Sydney-born O'Brien will represent Ireland at the World Short Track Speed Skating Championships in Dordrecht, the Netherlands from the 5-7 March.
After his historic debut at last month's European Championships in Gdansk, Poland where he finished in 25th place, the best finish for an Irish short track speed skater in the history of the event, O'Brien is looking forward to once again representing the land of his parents in International competition.
"I'm honoured to be given the opportunity to represent Ireland again at my first World Championships," said O'Brien.
"I learnt a lot from my experience at the Europeans and I hope to build off my performance there and have a strong competition in the Netherlands.
"My parents were born and raised in Ireland. They immigrated to Australia, but I've always had a strong connection back home. My mum's family from Kingscourt and my dad's family are from Carrigallen and Mayo. We travelled home every Christmas to visit family and would stay in Muff, Co Donegal."
Despite having previously represented Australia, O'Brien has always wanted to skate for Ireland. After Ireland joined the International Skating Union the chance arose for that to become a reality.
"Skating for Ireland was always something we discussed as a family. My dad ran into Karen O'Sullivan, president of the Irish Skating Association, at a figure skating event where my sister Danielle was competing, and a few years later I was offered the opportunity to skate for Ireland. It was a really easy decision to make.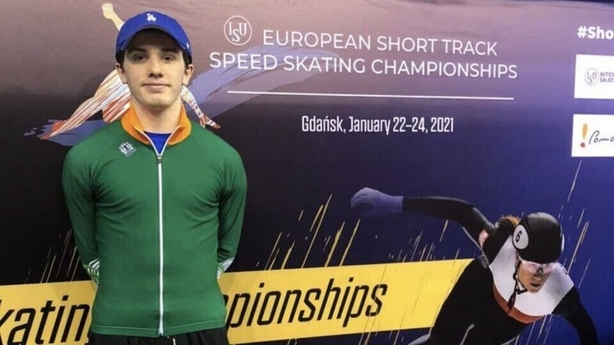 "With continuous support from family back home in Ireland and with the added support from the Irish Skating Association it's been really exciting. To represent Ireland is a real honour and I am hugely excited to represent them at the World Championships. It's a great feeling and means the world to me.
The recent European Championship was the first time O'Brien competed for Ireland in international competition, and it was an experience to remember for the 22-year-old.
"It felt amazing and I was truly honoured to get out there and represent Ireland at my first International competition. It was a big learning curve, but it was also a great feeling to be back racing competitively again. The Ice Skating Union and the international associations have done a great job with the bubble concept, giving us an opportunity to compete."
The speed skating community isn't as big in Australia as it is in Asia and Europe, so it's hard to train at a high level and compete alongside the best skaters in the world.
Liam had to leave his family and friends behind in 2018 when he decided that to progress in the sport he had to go overseas to train. That led him to Korea to work with former US National team coach Lee Kwang Soo. It was tough decision, but one he's happy with:
"There's a large training group here that can push me to become stronger which is much needed," he said.
"After two years I'm starting to understand the language a bit better and overcoming the difficulty with living in a different country."
He has a great backroom team as he's also coached by Australian coaching legend, and Australian Ice Racing Hall of Famer Maggie Holland, and Scott Weekes, when in Sydney.
"With the aid of the three coaches, and others who have helped me grow as an athlete each helping me improve in different ways and kept my love for the sport ignited. I am grateful for all the help each of them have provided for me and their continual support to this day," added O'Brien.
With the 2022 Winter Olympic games in Beijing also on the horizon, O'Brien knows that he has to perform to the highest level possible.
"It's really important for me to skate against the best, so I know where to improve and focus on building in the lead up to the 2021-22 season."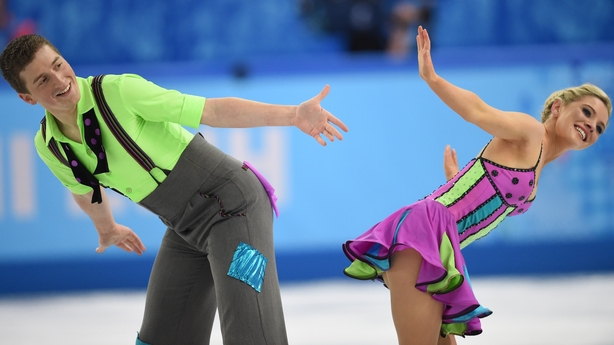 O'Brien is hoping to follow in the footsteps of big sister Danielle. She participated in the Ice Dancing event at the 2014 Winter Olympics in Sochi, along with her dance partner Gregory Merriman. He credits Danielle as having the biggest influence on his career so far, having spent his youth watching her compete.
When asked who he looked up to in the sport, he didn't hesitate, saying "Vicktor Ahn".
Ahn is a six-time Olympic gold medallist, a 20-time world champion and widely recognised as one of the most accomplished short track speed skater of all time.
"Similar to myself, he made the switch from representing South Korea to Russia, and had a big impact on the Russian team. Much like him, I wish to become a better skater and be able to compete head-to-head with the best skaters in the world."