Ever hear the one about the Norwegian raised on an island who went on to become an Olympic skiier for Ireland?
Thomas Maloney Westgaard's story is far from typical, but he's always been proud of representing the country of his mother's birth on the big stage.
Still only 25 - young for a cross-country skiier - he's continued to make good progress since competing at the the 2018 Winter Games in PyeongChang where he finished 60th in the men's 15km + 15km cross-country skiathlon.
During the Games, the priest in Dunmore - his mam's birthplace - took a bit of time out of his Mass to offer up a few words of encouragement. There's a small, loyal Thomas Maloney Westgaard fan club there that follows his progress closely.
Two weeks ago they were celebrating the best performance of his career. He took ninth at the Tour de Ski 15km in Toblach, which was a stage event in the FIS Cross-Country World Cup. This weekend he finished 30th [just inside the points places] in Finland.
"I still have a way to go, but the dream still remains."
Raised on the Norwegian island of Leka [literal translation, gravelly ground] with no family history of competing in what is a physically gruelling sport, Maloney Westgaard fell into it at a young age.
"We didn't really have harsh winters when I grew up," he tells RTÉ Sport.
"When we had a little snowfall I always tried to make the best of the conditions.
"I decided to take a shot at it when I had to choose [a sport] in secondary school and then I went to an athletics school, where I focused on cross-country. At the start I wasn't very good, but I took it step by step. I felt I got to a decent level. Of course I'm still trying to get better and progress."
After his top-ten finish at the Tour de Ski, Maloney Westgaard told Swedish press it was like "San Marino making it to the World Cup". But there's no doubt his ambitions go beyond simply making up the numbers.
"I always had this dream of representing Ireland," he added. "Norway has Olympians and medallists all the time. It was a kind of a dream for me to maybe become the first Irish Winter Olympic Games medallist, since I was a child.
"Back then the road seemed really far, and of course I still have a way to go, but the dream still remains.
"When I first began to compete at World Cup level for Ireland four years ago, I was struggling to finish in the top 50. It's been a step by step thing.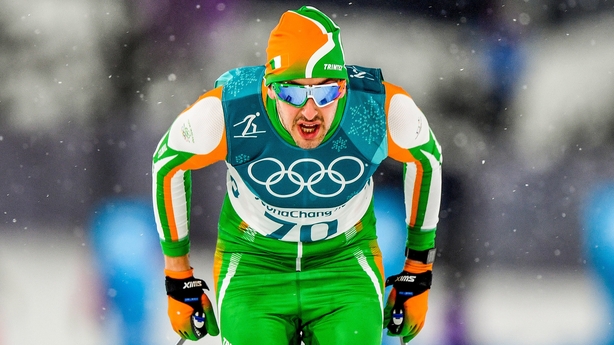 "Two years ago I had my first top 30; last year I had my first top 20; this year I had my first top ten. That was a huge result for and I think many other nations also respected my result. They enjoyed that a small nation like Ireland was able to be up there competing with the best.
"That was huge for me and a huge motivation to keep on working."
He's been getting a little help from the Swedes too. Maloney Westgaard's exploits have charmed the traditionally strong countries in his event, who seem to be enjoying the novelty of seeing the Irish tricolour pop up on leaderboards.
"When I travel around on the World Cup circuit I probably represent the smallest country in terms of budget.
"You always see the usual countries doing well - Norway, Russia, Sweden - I'm just trying to do my best to get Ireland up there.
"Myself and the Sweden team have a collaboration. They wax my skis and offer other services for me, which is really important. In return they get to have more service people along the tracks [taking up the spots Ireland doesn't fill]."
For now he's keeping his head down, quite literally, as he looks to keep his dream alive one draining race at a time.
"You have to be patient in this sport. You have to take it step by step, the training has to go gradually up. Normally you don't reach your peak until your 30.
"We train three hours or more every day, really physical training. Carbohydrates are crucial. The problem you have is getting enough food into you. You could never have enough calories really. We're like swimmers in that sense. I always have a big bowl of porridge and three or four slices of bread before a race.
"It is tough. You're climbing hills with skis and then going 60km an hour downhill. You never rest. You have to have the engine for it, and it requires a high volume of working to the max.
"But my first goal [to represent Ireland] I felt I could reach quite long ago. Now I'm trying to reach the top."