No Euros, no Olympics, no Open golf. Casualties of the pandemic.
No Aintree Grand National, no Wimbledon.
More casualties in a year where much more than sport was upended.
A time of frayed nerves as people coped with being unable to do the most normal of things.
For others there was the pain of not being present when loved ones passed away. What a cruel virus.
Funerals stripped of the trappings that should give full expression to those who have left us.
The vaccines are being rolled out. No silver bullet, we're told, in completely ridding the world of Covid-19, but it's a start.
When it all began
At the end of February, news coming out of Italy was bleak, with numbers increasing every day of those who had contracted the virus and those who had departed life.
The Six Nations game between Ireland and the Italians, scheduled for 7 March, was called off. Five days later, then Taoiseach Leo Varadkar informed us from Washington that the country would more or less be shutting down.
All sporting activity ceased, apart from horse racing which continued on behind-closed-doors for another week.
Needless to say, there was much disappointment, but people understood. Liverpool manager, Jurgen Klopp, when assessing the situation the world now found itself in delivered a dose of realism when describing football as "the most important of the least important things".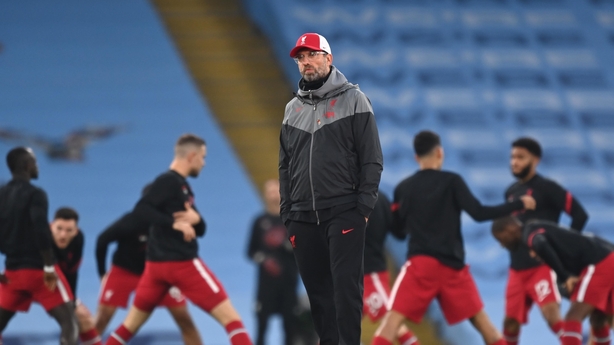 In a letter to Liverpool supporters: He wrote: "If it's a choice between football and the good of the wider society it's no contest. This virus has shown that being involved in football offers no immunity."
A lot of nostalgia - then sport returned.. but all so different
At the time of the suspension, Liverpool were 25 points clear at the Premier League summit. They had to wait another three months to seal the deal and end that 30-year wait.
It was the end of June and sporting activity was begging to re-emerge. Golf's European and PGA Tours had resumed, as had pounding hooves at UK and Irish racetracks and football leagues around the world.
All of this after weeks of nostalgia to fill the void. On the printed page, scribes had the opportunity to hone their feature-writing skills, while broadcasters gave us a fair wallop of past events.
It was 30 years since Italia '90. Seamus Darby's catch, turn and kick that left Charlie Nelligan floundering no doubt made Offaly people sit up again.
We had Sonia O'Sullivan, the women's hockey team reaching the World Cup final, Triple Crown achievements, Ken Doherty's Crucible triumph, Dawson Stelfox scaling the heights and much major glory for Irish golfers.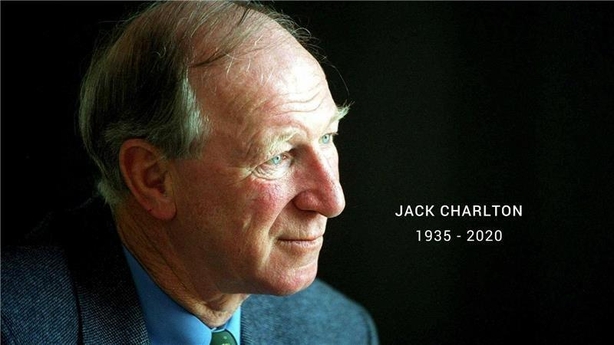 Old footage was again dusted down on the morning of 11 July, following the death of Jack Charlton. His passing, though not unexpected, was still met with deep shock and his achievements as a World Cup winner and Ireland manager was rightly celebrated not only on these shores, but around the world.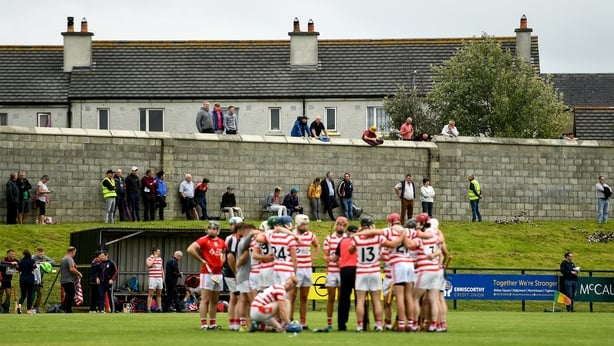 Some were let in
Later in July, GAA activity resumed with the club championship across all codes. For a few weeks, crowds of up to 200 could attend.
Through streaming services, county boards made games available for those to watch from the comfort of their homes.
A club-only time found universal approval, paving the way for a split season going forward. Word from around the counties was of a higher standard of championship, played at a time of year where the skill level stood out.
Not all of the county finals were played to a conclusion.
The GAA called time on club activities as images emerged of too much exuberance and a neglect of social distancing. At the time it was the right call, weeks out from the autumn/winter championship.
Yes, the four codes would get to play their respective competitions, even though the country went back into Level 5 restrictions.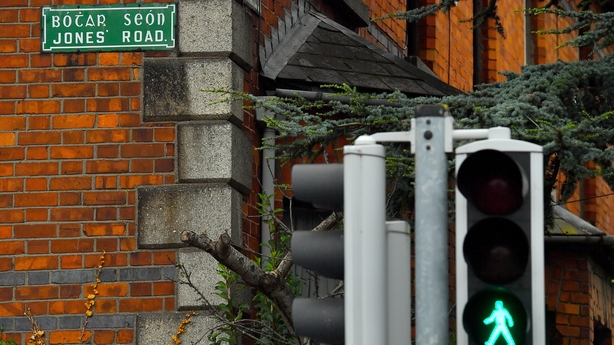 Championships like no other then. Men's football reverting to a pre-2001 scenario via a straight knockout. Kerry were shocked late on by Cork, but it was Tipperary who took Munster honours when accounting for the Rebels.
Cavan mastered the art of the late comeback to telling effect in Ulster, before surprising Donegal in the decider. Two famous victories on the weekend the tragic events of Bloody Sunday 1920.
Hurling brought games of high-scoring that prompted a discussion on whether the modern-day sliotar is too light?
And then we had the black card debate. Quite a few voices who believe that such a sanction should not be part of what is a pure game.
Hurling artistry from sideline cuts came courtesy of Joe Canning; Rebecca Hennelly gave us something similar in camogie.
Limerick regained Liam MacCarthy, their superiority confirmed. It may be hard for others to knock Kiely's men off their perch.
After a few seasons of hurt, Kilkenny stood tall to finally claim the O'Duffy Cup in what was the best camogie decider in years against Galway.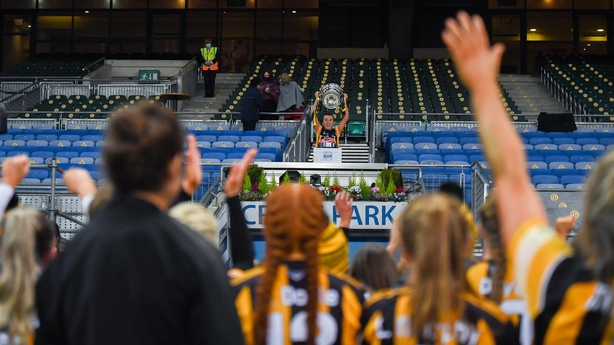 Dessie Farrell's Dublin, as expected, made it six-in-a-row. Mayo, again providing some resistance on final day. The curtain came down on Croke Park activity following a four-timer, this time the Dublin's women adding to their All-Ireland haul against Cork.
Kenny's tough start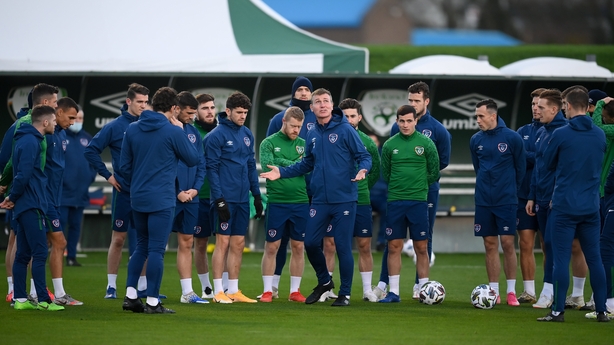 Covid played its part as Stephen Kenny rued the fact that he didn't always have his best XI on the pitch. None more so than when Ireland's Euro 2020 dream ended in penalty-shootout disappointment in Slovakia.
The side created as many chances in that game than was the case in the previous ten internationals. Close, but no cigar.
Two draws to show from Kenny's first seven games in charge.
He will be given time to turn things around, and he has a good wave of support behind him. There are, however, detractors, whose voices will get louder if the side doesn't start the World Cup qualifiers well.
Second spot in a group that contains Portugal is a realistic target. Another play-off is the prize.
The Pauw plan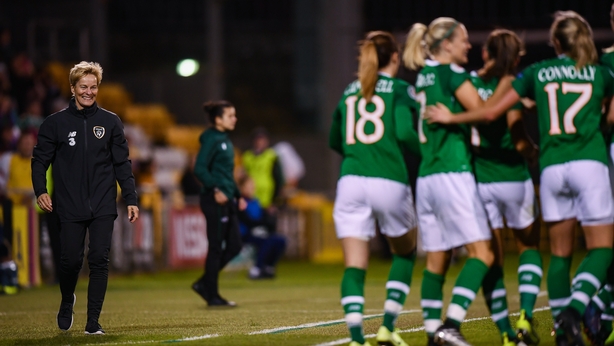 Not much joy either for Vera Pauw's Ireland as they failed to make the play-offs for Euro 2022. A draw away to Greece and the failure to get at least a point in Ukraine saw the team miss out.
Still, Pauw is optimistic about the future, and his hoping that a change in emphasis will achieve something tangible.
Speaking recently to RTÉ Sport, he said: "The biggest thing is to get a top sport, an elite sport environment on a daily basis and we're working hard on that to see what we can do within the structure of Ireland.
"I would again stress that training with boys is the only way in a short-term basis to achieve that.
"We are in contact with the clubs but especially with the players that they have to train more outside the club training sessions and again I want to stress, outside their club training sessions.
"We're forming a plan around it now but that plan needs to be connected to the whole base of grassroots, coach education, referee education, administrator education and recruitment.
"So we are busy with a holistic plan for Ireland and hopefully we can announce that in January."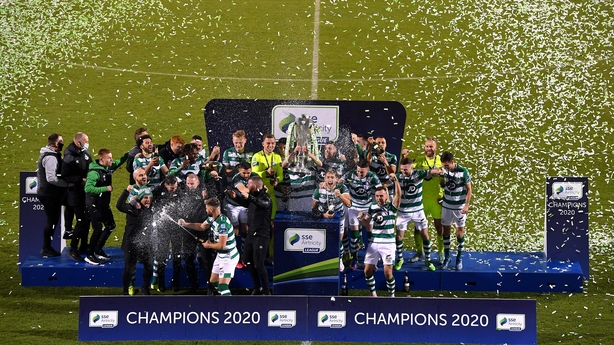 Extending the reach
On 31 July, the League of season resumed and with it a new streaming service WATCHLOI allowing fans worldwide to watch games. No word yet on whether the service will be retained for 2021.
On the field, Shamrock Rovers went unbeaten in the truncated season, and won the Premier Division at their ease.
Dundalk, for the second time made it through to the group stages of the Europa League, with an Italian Filippo Giovagnoli at the helm.
Finn Harps engineered a great escape to stay in the top flight, while Sligo Rovers' improvement after the break will see European football at the Showgrounds next season.
FAI Cup final day, or evening as it was in 2020, saw Dundalk win back the trophy from Shamrock Rovers, so ending the Hoops' unbeaten.
Peamount United ended two years of Women's FAI Cup final pain as they thrashed Cork City 6-0 in the Tallaght Stadium decider to seal the league and cup double.
Hats off to all involved in getting the season finished.
On the day before the first Covid case in Ireland we were treated to this gem.
We need your consent to load this YouTube contentWe use YouTube to manage extra content that can set cookies on your device and collect data about your activity. Please review their details and accept them to load the content.Manage Preferences
Elsewhere, the Champions League for both men and women, was concluded over a two-period in August. One-off games from the quarter-finals onwards decided the competitions.
Could this format, space in the calendar permitting, be the way things are played out at the business end from 2024?
We'll wait to see, primarily because talk of European Super League, is gathering some momentum. Pressure on UEFA then to do something.
Farrell watch and concussion concerns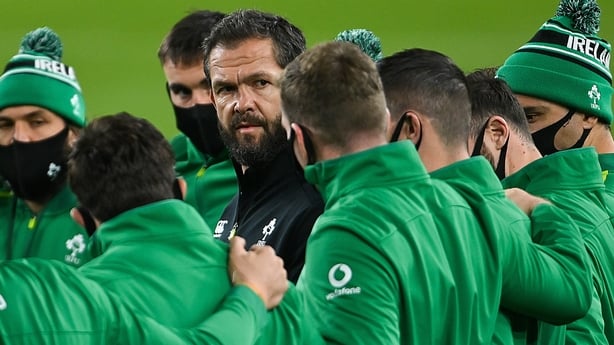 The Six Nations resumed in October, following the completion of the club season, where Leinster again won the Pro14 and the Exeter Chiefs claimed the Champions Cup for the first time.
Eddie Jones' England finished top of the pile in the Six Nations table, with Ireland back in third. It was a mixed year for the team under the watch of Andy Farrell.
They won five and lost three of their eight tests, but those defeats have come against England (twice) and France.
It would seem the latter pair have stolen a march. Early doors, but already some questions as to where Ireland are going under Farrell.
Speaking on a recent RTÉ Rugby Podcast, Donal Lenihan said: "I think the balance and the mix in that Ireland coaching set-up is coming under serious question now.
"There is a question mark over Andy Farrell's overall coaching nous in a rugby union perspective. It's a difficult place to learn on the job, because you're always under pressure.
"Not only is it about performance this weekend it's about the result as well. They have to play well, but they certainly have to win.
"How much development have you seen from that team in the last 12 months? I would say very little."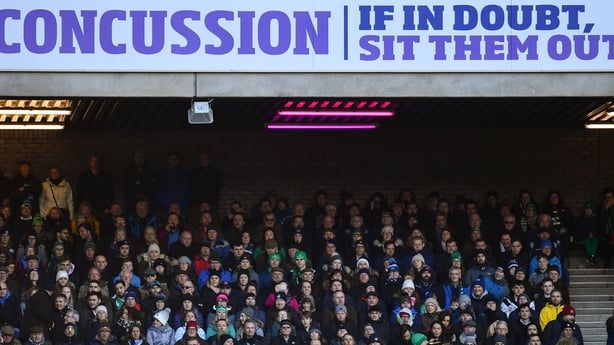 The issue of concussion in rugby has been receiving renewed attention following news that a group of former international players are planning legal action for negligence against the rugby authorities over brain injuries they suffered during their careers.
Among them is England's 2003 World Cup winner Steve Thompson (42), who revealed that he had no memory of participating at the tournament and was diagnosed with early onset dementia and probable CTE (chronic traumatic encephalopathy) in November.
The link between concussion and early onset dementia has been known for at least 10 years and that what studies are showing is that rather than bruising brain cells, concussion is killing those very nerve cells leading to dementia and other issues.
It's just a start, more to do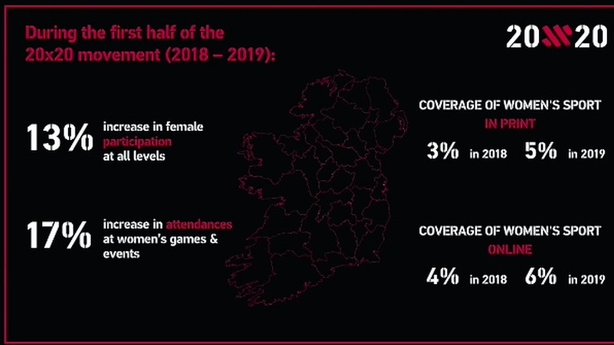 The two-year 20X20 initiative, which aimed to promote women's sport, ended in October.
Research by Behaviour & Attitudes on behalf of 20x20 found that 80% of Irish adults - rising to 84% of Irish men - believe they are more aware of women's sport now, than before the 20x20 campaign.
Three-quarters of those surveyed also say they believe that women's sport is seen as 'cooler'.
Of those aware of the campaign, 73% - rising to 75% of men - say that 20x20 changed their mindset positively towards girls and women in sport, with 68% stating they support women in sport more because of 20x20, and 42% of women saying they now participate in more sport because of the movement.
Participation grew by 13% while attendance in women's sport increased by 17% during this period.
RTÉ's measurement of our own sport content places women's sport at 14% of all television sport content, despite the loss of the Olympics and Paralympics.
More than a quarter of all television sport presentation is done by women (27%), with pundits also number 27%.
In radio, 43% of all sports presentation is done by women, while 17% of pundits are women.
We need your consent to load this YouTube contentWe use YouTube to manage extra content that can set cookies on your device and collect data about your activity. Please review their details and accept them to load the content.Manage Preferences
Indeed, RTÉ dedicated a whole 'Super Saturday' of coverage around the Women's FAI Cup final and All-Ireland camogie decider.
In the last week, inter-county players from both the Gaelic Players Association (GPA) and Women's Gaelic Players Association (WGPA) have voted to merge into a single 4,000-member representative body.
We have had increased calls for the FAI to ensure equal pay between men's and women's international teams.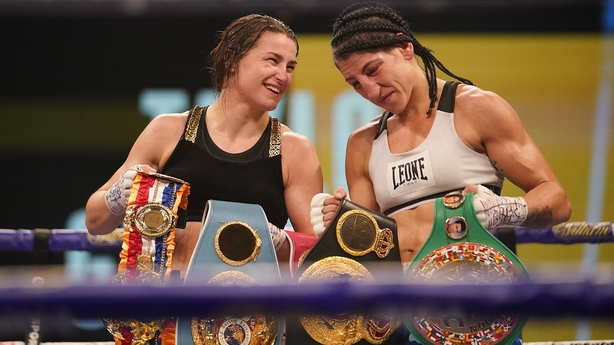 A case of a lot done, more to do in a year where Katie Taylor again excelled in her sport, as she twice defended her WBC, IBF, WBO and WBA titles.
A 'Grand Finish'
We need your consent to load this YouTube contentWe use YouTube to manage extra content that can set cookies on your device and collect data about your activity. Please review their details and accept them to load the content.Manage Preferences
Bennett's greening of Paris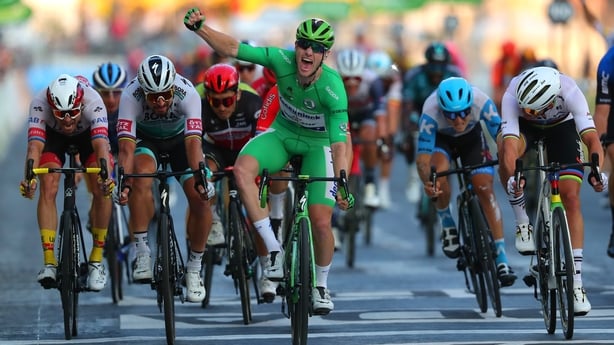 Sam Bennett became the first Irishman to win a major jersey at one of the three Grand Tours since Sean Kelly when securing the green jersey on the final stage of the Tour de France
"I can't tell you how excited I am," Bennett said afterwards.
"The green jersey and the Champs-Elysees, the world championships of sprinting. I never thought I'd be able to win this stage and to do it in green is so special.
"And to do it too with my dream team, Deceuninck-QuickStep - the way the boys rode all day was fantastic. It's just so amazing the feeling, I can't thank everyone enough."
The Carrick-on-Suir rider will be expected to claim podium finishes.
Those who left us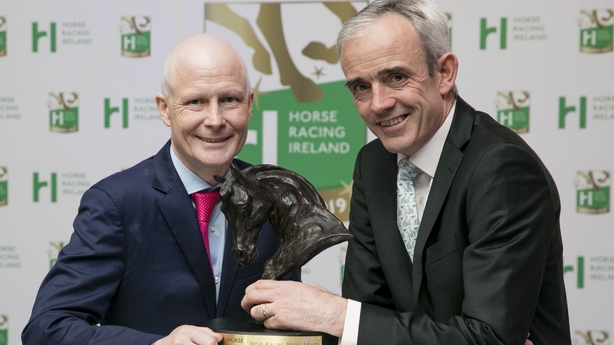 We've already ready mentioned Jack Charlton.
His assistant while in charge of the Republic of Ireland, Maurice Setters, passed away in November.
A few weeks earlier, Charlton's England team-mate, Nobby Stiles slipped away peacefully. Norman Hunter, who played alongside Charlton on the great Leeds side managed by Don Revie, died in April.
Former Republic of Ireland international Michael Robinson died from cancer in April. In June, we said goodbye to another man who wore the green jersey, Tony Dunne, who also was part of the Manchester United side that won the European Cup in 1968.
Ten years earlier, United had to deal with the effects of the Munich air disaster. On that fateful day, goalkeeper Harry Gregg helped pull some of his team-mates and a pregnant woman from the burning wreckage.
He became known as the 'Hero of Munich'. Gregg's death was announced in February.
Exactly a year after the Pat Smullen Champions Race For Cancer Trials at the Curragh, the nine-times champion Irish Flat jockey, succumbed to pancreatic cancer on 15 September.
March saw the passing of 13-time All-Ireland Senior Camogie Championship winner Una O'Connor. The Dubliner was named at wing-forward on the Camogie Team of the Century in 2004
Kieran O'Connor, a member of the Cork football team that won the 2010 All-Ireland, died after a three-year cancer battle in July. A type of bone tumour, called Ewing's sarcoma, was discovered in 2017, just weeks before the birth of his third child.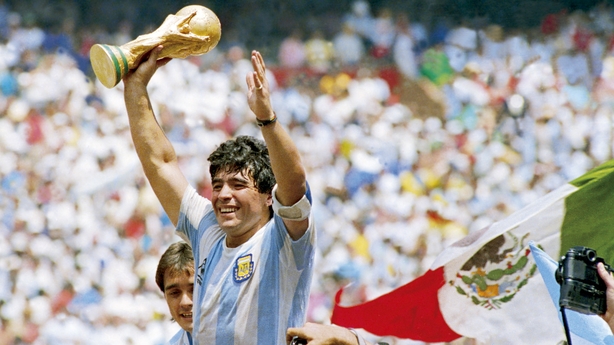 On 25 November, not just the sporting world mourned the passing of Diego Maradona.
The 60-year-old died at his home in Argentina after suffering a heart attack.
In Buenos Aires, people poured onto the streets to mourn the nation's favourite son, gathering in the San Andres neighbourhood where he lived and also in La Plata where he had lately been technical director for local team Gimnasia y Esgrima.
The Argentine government declared three days of mourning.
Here's a reminder of his genius, as described by Jimmy Magee at the 1986 World Cup.
A player who lit up the 1982 World Cup in Spain, Paolo Rossi, died from lung cancer on 9 December.
The fifth of December saw the 'Voice of Golf' Peter Alliss, in his 90th year, take his leave of us.
Former Liverpool and France manager Gerard Houllier passed away on 14 December, three weeks after having having aortic aneurysm surgery in Paris.
Taking the knee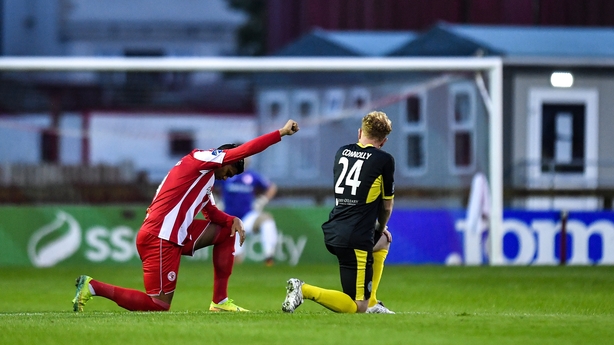 The words 'Black Lives Matter' took on an even greater symbolism with many sports throwing their weight behind the movement.