Oliver Dingley's first time setting foot on Spike Island in Co Cork, by his own admission, was a surreal experience.
The 103-acre island off the town of Cobh held a special place in his heart growing up, despite an upbringing in North Yorkshire.
Spike Island existed for him up to that point only through his grandmother, born on the island before setting up her life in England, and through the many photographs scattered around the family house.
"It's a fantastically interesting place and has always been part of our life," he tells RTÉ Sport.
The Irish connection set him apart in many ways growing, something he describes as an entirely positive experience.
"It was something that was different about me growing up in Harrogate, that I had this Irishness about me."
As far as Dingley was concerned, he was both Irish and English. In a sporting context, there was something special about the athletes and teams that donned green.
The dream became an ambition and here I am today
The 2002 World Cup had a particularly strong impact on his Irish identity, with the inclusion of Andy O'Brien in Mick McCarthy's squad a contributing factor.
The no-nonsense centre-half was a local hero in Harrogate and attended the same secondary school as Dingley. The feel-good factor around the Irish team had a lasting impression.
"The dream became an ambition and here I am today," says Dingley.
"I'm proud of my history and feel very, very lucky that I have family members in different places. To be able to represent them on the world stage I feel very fortunate."
Dingley was the youngest ever British Men's champion on the 1M springboard, aged 15, but the failure to make the cut for the 2012 London Olympics hit him hard.
It turned out to be something of a sliding doors moment. In 2014 he switched allegiance to Ireland and two years later put previous Olympic disappointment to bed by becoming the first Irish diver to compete at the Games in 68 years.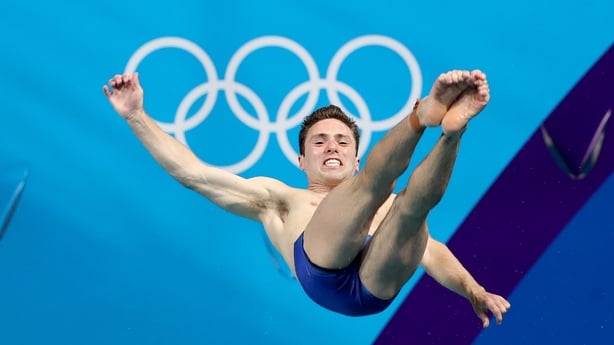 Dingley has spoken previously of the warm welcome he has received in Ireland since making Dublin his home six years ago. In fact, it has been widespread goodwill all round after declaring for Ireland, even back in his old stomping ground.
"My [English] team-mates were now competitors, but the diving world is a small one, and is really more like a family. These are the same people you are travelling around the world with, they are competitors and rivals, but they are also your friends.
"They were all so happy for me, and could see it made me happy."
Reflecting on his tunnel vision for Rio, Dingley admits that what motivated him then wouldn't work in 2020.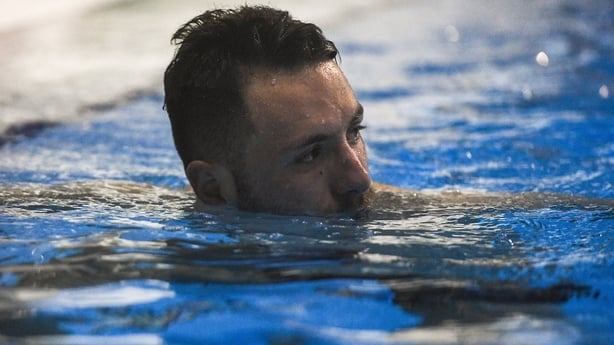 Dingley set up home at the National Sports Campus as he immersed himself in bettering himself in the pool. A trip to Blanchardstown Shopping Centre was about as far away from base as he ventured.
"It was fantastic in that it helped me zone in on that one goal."
Post Rio, Dingley quickly came to appreciate that he needed a change. He wanted more in the pool, but more importantly, he wanted more for himself.
The first step was to move off campus.
A man who left education in England at the earliest possible opportunity to aid his diving dreams, decided to enrol on a film and broadcasting course in what was then DIT, now Technological University Dublin.
It has resulted in a better balance, a stronger circle of friends and put the building blocks in place for a life after sport. And it hasn't been to the detriment of his first passion. Quite the opposite.
"My diving has only ever got better since starting college."
Fascinated by people's stories, Dingley launched his own podcast earlier this year, Life in A Bubble, where successful guests, ranging from All-Ireland winners to creative professionals, focus on six photos from significant moments in their lives.
The Tokyo dream had to be pushed out until 2021 at least, but he describes his current training regime as "fairly normal", mindful of the toll the pandemic has taken on people.
Some of his own family have lost jobs while his grandmother recently tested positive for Covid-19.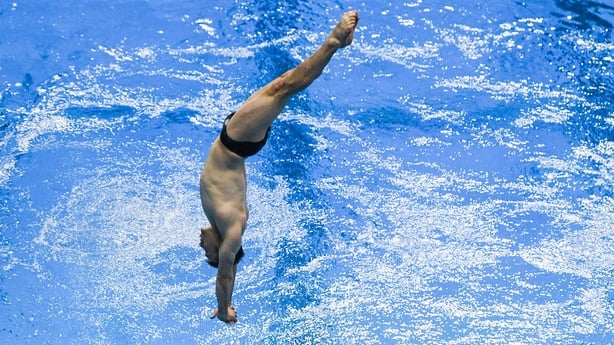 "I feel very fortunate and privileged that I still have normality in my life. I get to carry on diving."
Structure in his life is not an issue, but competition clearly is. He hasn't dived competitively since last February, and that doesn't look set to change until the Olympic trials next April.
There is comfort in the fact that everyone is in the same position, and that diving too is taking a creative, online approach.
Next month a global competition will see divers submit six dives to a professional judging panel, with all efforts uploaded to YouTube. Competitors will only learn their fate once they see the completed clip.
I have had the most amazing journey, meeting the most amazing people
"The adrenalin of competition is what we need and it is making the best of the situation."
Both in the pool and away from sport, Dingley is a man content. Tokyo looms on the horizon, but regardless of what happens from here on out, the decision to represent Ireland is one the 27-year-old couldn't be more content with.
"I have never looked back. I have had the most amazing journey, meeting the most amazing people."
Oliver Dingley was speaking at the launch of the Olympic Federation of Ireland's 'Dare to Believe' programme, which will see 25 Irish athletes visit schools across Ireland, telling their own personal and sporting stories and teaching students how to set goals and adopt healthy lifestyles through participation in sport.