It's been a strange few weeks for Meath native Conor Nash.
His AFL team Hawthorn are based in Melbourne, the birthplace and spiritual home of Aussie Rules.
But Australia's second city has been under its second, stricter Covid-19 lockdown since the first week of July, meaning Melbourne's nine AFL clubs have had to leave in order to be able to continue their restarted season.
"It's very different," the former Meath minor and Ireland U-18 rugby international told 2fm's Game On. "We're seven or eight weeks on the road now.
"Things were promising after the first lockdown, we were back to training and we were about to get games going. But once the restrictions came in again, it was just like 'We better get out of here'.
"The AFL were in close talks with the government and knew they were going to be shutting down on that Monday so we were told the Thursday before that we would be flying out Saturday morning and to get our stuff organised.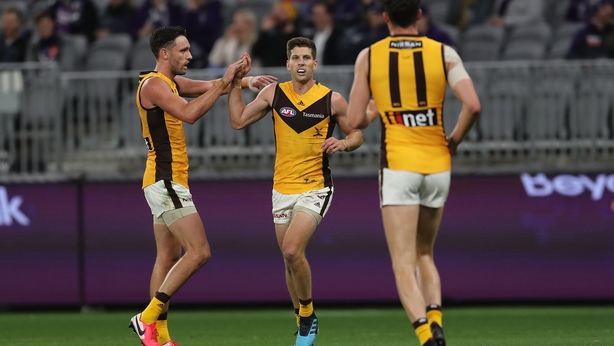 "Pets, family, whatever it is, pack them all up because we were going on the road and we're not sure how long for.
"Initially, they thought it would be three or four weeks and hopefully Melbourne would settle down in terms of coronavirus cases, but we got the news a week or two in that it was going to be the rest of the season.
"Since then we've spent three weeks in Coogee, in the Sydney beaches, then we flew to Perth, where we had two weeks quarantine and couldn't leave the hotel.
"Then we had a week outside in normal life in another hotel and from there we moved last Monday to the Barrossa Valley, north of Adelaide, on a golf course, which is pretty handy.
"So we've been all over the place and there is probably another five weeks to go to the end of the season. We're pretty fortunate that we've been able to keep the season going."
We need your consent to load this Instagram contentWe use Instagram to manage extra content that can set cookies on your device and collect data about your activity. Please review their details and accept them to load the content.Manage Preferences
Nash does have an Irish team-mate and house-mate in Derry man and fellow 22-year-old Conor Glass (above) but he admits it's tough being away from loved ones for so long.
"My partner Grace is living in Melbourne as well but she decided to fly out to Sydney back to her mother at the same time so I was lucky to have her for the first three weeks, but I haven't seen her for the last month or so, and probably won't see her for the next four or five weeks.
"Things like that are definitely difficult, not being able to see loved ones. In terms of family I haven't got any really (here) and if I do they're in Melbourne.
"It's just a lot of FaceTimes with the clan back home, and Grace.
"A certain number of families have been able to come with us, lads with children, but there was a cap on that so a lot of the younger lads who have partners haven't seen them for quite some time.
"I think last week and this week it's starting to get to a few lads but we've just got to stick together and keep ourselves occupied."
'I think in the last week it has got to a few lads' - @AFL and @HawthornFC player Conor Nash tells @GameOn2fm how he has dealt with lockdown so far from home pic.twitter.com/B7jrTVAyGO

— RTÉ GAA (@RTEgaa) August 20, 2020
After suffering an injury before lockdown, Nash has now broken back into the Hawthorn team, but the Hawks are third from bottom in the ladder and struggling to make the eight-team finals series.
Those games will be played in Queensland, which would add another month onto the trip.
Looking towards home, Nash is pessimistic as to whether the All-Ireland championships will happen in the absence of the kind of professional bubble AFL teams are able to build.
"I don't hold much hope to be honest," he said.
"We get tested twice a week and have to test negative. We're not allowed to go into normal shops, we can go to the supermarket if we really need to, otherwise we stay in our hotel.
"Family have to be at a distance if they're not in the hub with us and part of the 120 people on our crew.
"Somebody tested positive from my home club (Simonstown Gaels) at the weekend and they were told all activity in the club would stop for 48 hours, so I'm not sure how you can justify that.
"It's a pessimistic view but in the current climate it certainly couldn't go ahead, and if it did I really can't see any crowds getting through, which is the main source of revenue for the GAA.
"The AFL can continue to play games and needs to play games because the main revenue for them is TV rights.
"I'm not too sure if it's going to get going at home."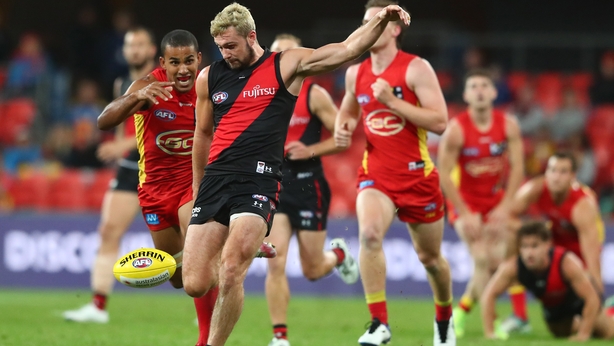 Another Irishman, Essendon's Conor McKenna, knows all about the AFL's strict approach to the virus, having been hit with a one-week ban after testing positive, and then negative, for Covid-19 following a minor breach of quarantine protocols.
"It wasn't nice, the treatment he was given," says Nash of the media storm that erupted in Australia over McKenna's possible positive.
"We had made an agreement with the Players Association that if someone had tested positive we would be able to keep their name under wraps because it's the last thing you want.
"We knew it might happen at some stage (a positive test) but his name being out there was pretty disgraceful.
"And in the end then we're not too sure if he even had it."