At the last Olympics, Natalya Coyle finished sixth in the Modern Pentathlon, which comprises fencing, swimming, riding and combined running and shooting.
With the next Games pushed back to this time next year, the Irish athlete has to wait a little bit longer than expected to try and build on that past achievement.
But how has Coyle dealt with the challenge of lockdown and what has she put in place to make use of the extra 12 months?
"It's a bit mad that I still have another year to go to the Games which were supposed to start today," she told RTÉ 2fm's Game On.
"But everything is slowly starting to [get back to] whatever the new normal is, so that's good at least. 
"When lockdown first happened, we couldn't get into the pool, so I was out of the pool for eight or 10 weeks, which is probably the longest I've ever been out of the pool.
"So when I got back in, it was like learning how to swim all over again. It's been a long road back but we're starting to get some good fitness in.
"But it was actually kind of nice because when I came back to everything, it was like new again. It reignited the passion for it all again. So it was nice in a way and I suppose trying to take the positive out of it, not going to the Games, but at least I can get back to normal a little bit."
With swimming impossible for a time, Coyle's focus switched to doing more running and cycling, while also getting in time to practice fencing.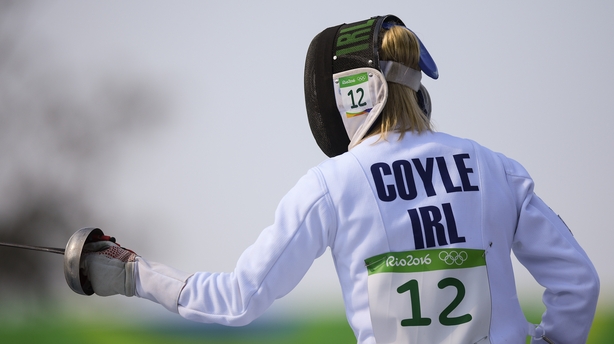 "The idea was we would try and keep the load that we normally do at training high enough, so that when we restart back to normal training, that it wouldn't be too much on us because if we took too much of a break, everyone would just get injured in the first few weeks," she explained.
With the Olympics not the only event that has been moved, Coyle will not be back in competition until March per the current schedule, which means a greater challenge in trying to set short-term targets.
"It's a really long way away," she added. "So it's trying to create different goals like doing some 5Ks and 10Ks and then some swimming competitions, just to try and keep yourself on the ball again because it's a long time out of competition." 
While she found the prospect of the Games being delayed "really difficult", Coyle admitted she felt "quite relieved, because I couldn't prepare the way I wanted to prepare" amid doubts about when and if the Olympics would go ahead.
With the opportunity to refocus now for Tokyo in 2021, she is putting everything into making a greater mark than ever, with smoother preparation.
"This is my third Games and this is going to be, hopefully, my big Games," she said.
"It is something you focus on the whole time and now for it to be taken away is really difficult mentally.
"But in the end, we couldn't swim, we couldn't do anything and I had more fear that the Games would go ahead and I wouldn't be able to prepare the way I wanted to be and that I'd go in under-prepared."