Ciara Mageean speaks to RTÉ Sport from Switzerland, where she is undergoing the altitude training that was supposed to be her final tune-up ahead of the Tokyo Olympics.
The Portaferry native, who finished 10th in last October's World Championships 1500m, has ambitions of going one better than Rio and lining up in an Olympic final.
The Games will now take place next July instead - pandemic permitting.
Mageean's mother, aunt and two sisters are all frontline workers, putting sport firmly in perspective, but the thought that the Olympics could yet be cancelled altogether, as IOC president Thomas Bach warned last month, is one that makes her shudder.
"I worry about a second wave for everybody's health," she says. "Sport is sport and the other parts of life are so much more important.
"It seems quite selfish whenever I think of my sporting aspect but on a personal level I would be devastated.
"The fact that the Olympic Games was cancelled was hard but if it was cancelled completely, I would be absolutely distraught.
"My lifespan as an athlete is quite limited and if I missed a whole Olympics that's an eight-year gap.
"I'm 28 now, I'm in my prime. I would love to get out and have a stab at an Olympic Games and see what I could do because I want to try and realise my dreams and the Olympics is a huge part of that.
"Having made the Worlds final last year, that was my first step on a world stage and I thought, 'Yes, this it'. I want to be a regular at World and Olympic finals for Ireland.
"Making that Olympic final is my goal now. I'm a huge believer that once you're in the final it's anybody's game. A race can pan out any number of ways.
"That would have been my goal and still is for next year."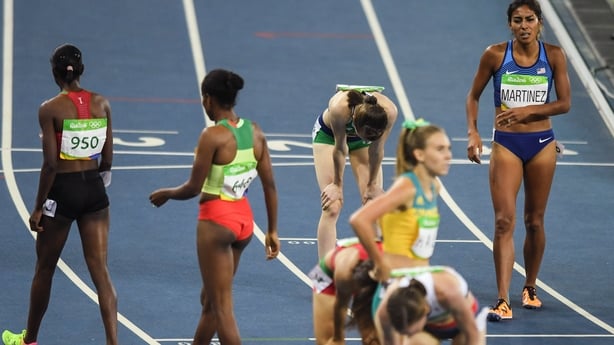 The Portaferry native has continued training all the way through the pandemic and is in the "best shape of my life".
"This is going to be a really strange year for so many athletes, not just athletics. None of us have ever really had this amount of time without competition. But I don't really ever have much time when I'm not running; I might get 10 days in the year.
"Myself, my coach and my whole team decided we were going to continue training as if this was another year. It's miles in the bank. All of the training will stand to me next year.
"I've tried to look on the Olympics being cancelled in a positive light, that it gives me an extra year to focus on strengthening my weaknesses, closing the gap on the girls that were ahead of me at the World Champs last year.
"Ironically, I'm as fit as I've ever been. I'm so much fitter and stronger and in a really good mental place, so I'm very upset that I can't get an Irish vest on and go out and race for Ireland."
One thing that has been different is drug testing. Mageean could usually expect to give a sample "at least" four times a year but hasn't been tested since the start of the pandemic.
She expects that to change now that restrictions have started to ease but insists she doesn't dwell on the increased opportunities for cheating that some athletes fear laxer testing has presented.
"People will cheat whenever they want to cheat.
"I'm a clean athlete and all I can worry about is myself.
"I'm not going to spend my time stressing about that because I can't stop them. I'm just going to focus on being the best I can be."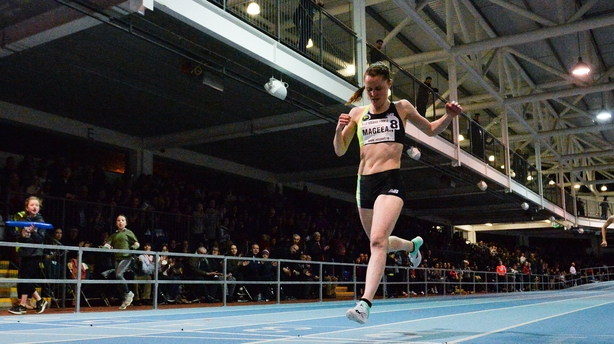 Racing plans are all still up in the air for the moment.
Manchester-based Mageean plans an 800m "rust buster" in Bern next week and hopes to compete in the Diamond League meeting in Monaco again, having gone close to an Irish mile record there last year.
She is looking forward to the European Cross Country Championships in Dublin in December - "touch wood that all goes ahead" - but plans a break in Co Down before what is shaping up to be a hectic 2021.
Mageean hasn't seen her family in Ireland since spending a week at home ill after racing in Athlone in February. She can't help wondering now whether what she put down then as "a bit of virus" might have been Covid.
At that meeting in Athlone, she ran a PB and was five seconds off Mary Cullen's indoor 3,000m Irish record of 8:43.74.
Mageean has that, and a certain Cork woman's sub four-minute 1500m time, in her sights, and though she sees a longer-term future running up to 5km competitively, she admits that Sonia O'Sullivan's 3,000m outdoor mark (8:21.64) would take some beating.
"I've been eyeing up Irish records for a long time and getting closer and closer," said Mageean. "Over the 800, 1500 and 3,000 indoor I believe they are well within my grasp.
"Sonia's 3km outdoor record, she said it was probably her best distance, but I do think those other records are there.
"But I'm not the best at racing the clock, I just love to race the girls in front of me. So my best bet to run that is to just be in fast races and compete.
"It's definitely part of my dreams in my career to hopefully put myself on that list of Irish records and get one that stands for a while, as long as Sonia's have stood."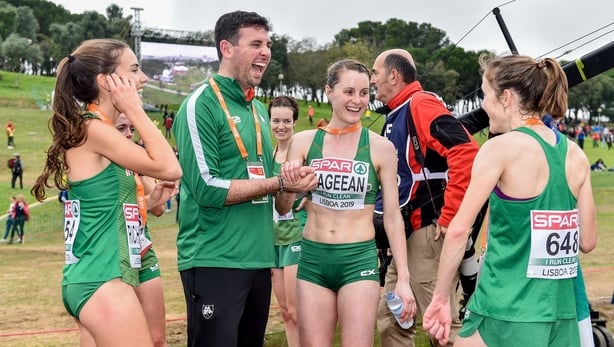 Carbon-plate running shoes have become a sensation in athletics since Eliud Kipchoge's (unofficial) sub-two-hour marathon last October.
With many athletes sponsored by different companies, or without sponsorship, World Athletics had introduced strict eligibility conditions around sole size and public availability of shoes.
Mageean is a New Balance athlete. She has been trialling prototype carbon-plate spikes and is looking forward to taking possession of the finished article.
"It certainly gives you back a lot of kick," she says.
"I found them really good. My recovery post-session and post-race, I was less sore, which is a huge benefit if you're going through the rounds at a championship.
"I get quite sore Achilles and feet and I found they didn't result in as much pain."
Ciara Mageean is an ambassador for the 'Lidl Moves for 20x20' campaign which aims to motivate women of all ages and abilities form a new and lasting exercise habit.