"You're into that Formula One nonsense, aren't you? Well we're on the verge of doing a deal with Bernie Ecclestone to cover the World Championship..."
It was some stage in 1994 and the charismatic RTÉ Head of Sport Tim O'Connor was in his own unique way enquiring if Peter Collins would be interested in becoming involved in a project that would see the motorsport become a bigger feature on Irish screens.
That season Jordan Grand Prix had amassed 28 points in just their fourth year in operation at the top level and with a growing profile, O'Connor recognised an Irish success story when he saw one.
RTÉ had shown the Monaco grand prix for a number of years, but the sport's CEO Bernie Ecclestone had to be convinced that the broadcaster was deserving on an affordable price to show the entire season.
Producer Michael O'Carroll joined O'Connor for contract negotiations, with Eddie Jordan also lending his weight to the talks.
"RTÉ secured the rights well below the normal commercial rate," the former team boss recalls. "Ecclestone considered that the Irish people should have the pleasure of being able to watch and support their Irish team."  
A three-year deal was secured only on the back of a sponsorship deal, but then came the real work of assembling a team to cover the 17-race campaign.
O'Connor knew of Collins' passion for the sport as he had covered Jordan extensively since the team began operation in 1991. Now a co-commentator had to be found.
One of Ireland's first grand prix drivers, David Kennedy had a long history in motorsport and indeed his business at the time was operating in Formula One.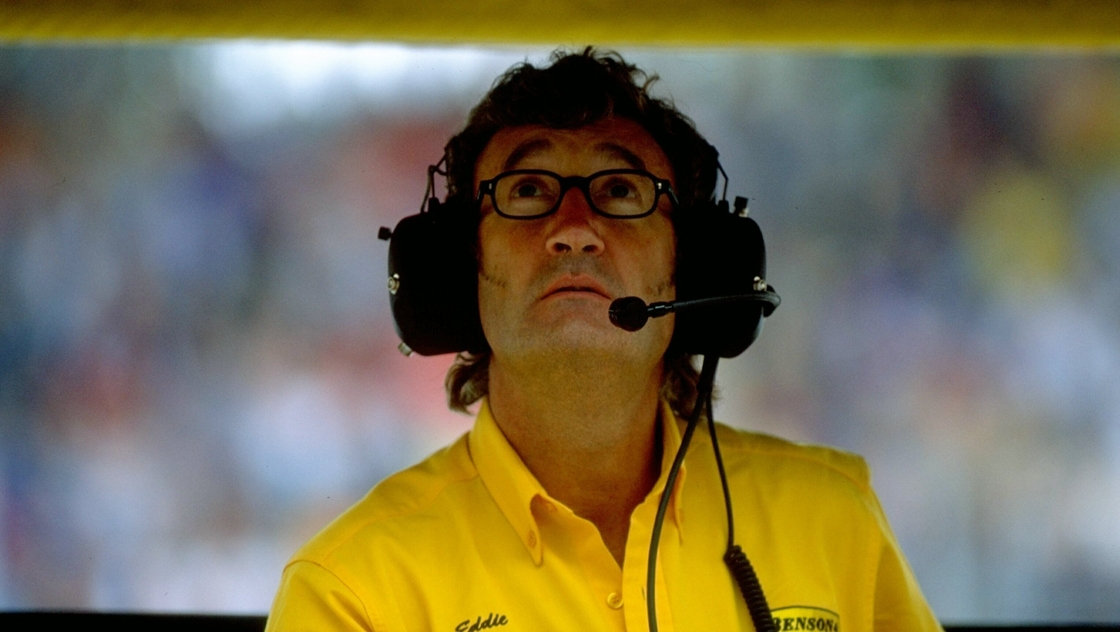 He had dipped his toe in commentary, both in Ireland and the UK, and with a career in the sport, was always a leading candidate. O'Connor needed little convincing, but Kennedy still recalls his advice upon being given the role.

"'We're not flower pot men that look all pretty and have no roots' he told me. 'We want people that know their sport'".
O'Carroll had been heavily involved in covering motorsport in Ireland – including Aryton Senna's drive in Mondello in 1982– and quickly built up a network of contacts. Kennedy already knew, and in many cases raced against, many on the paddock.  
Crucially, they were both more than familiar with Eddie Jordan.
"I knew him from Mondello," says O'Carroll, "when he was a bank clerk without a penny to his name. I knew him when he was selling smoked salmon at rugby internationals."
Kennedy had also known Jordan prior to his extensive racing career as the team principal had worked for Kennedy's uncle in the bank. 
While the more established broadcasters travelled in considerable size from circuit to circuit – Sky Sports in recent times had a travelling crew that swelled above 80 in personnel - RTÉ was initially a three-man band. 
The first race of the 1995 season was held in Brazil and after 16 laps both Jordan drivers, Rubens Barrichello and Eddie Irvine, had been forced to retire.
By their own reckoning, it was a solid if not spectacular start for the national broadcaster, though Collins was forced to question the wisdom of his boss's decision to fly all the ways back from Brazil only to turn around days later for Argentina.
"If ye made a mess of it, ye weren't going to get the chance to do another one," was the response from O'Connor.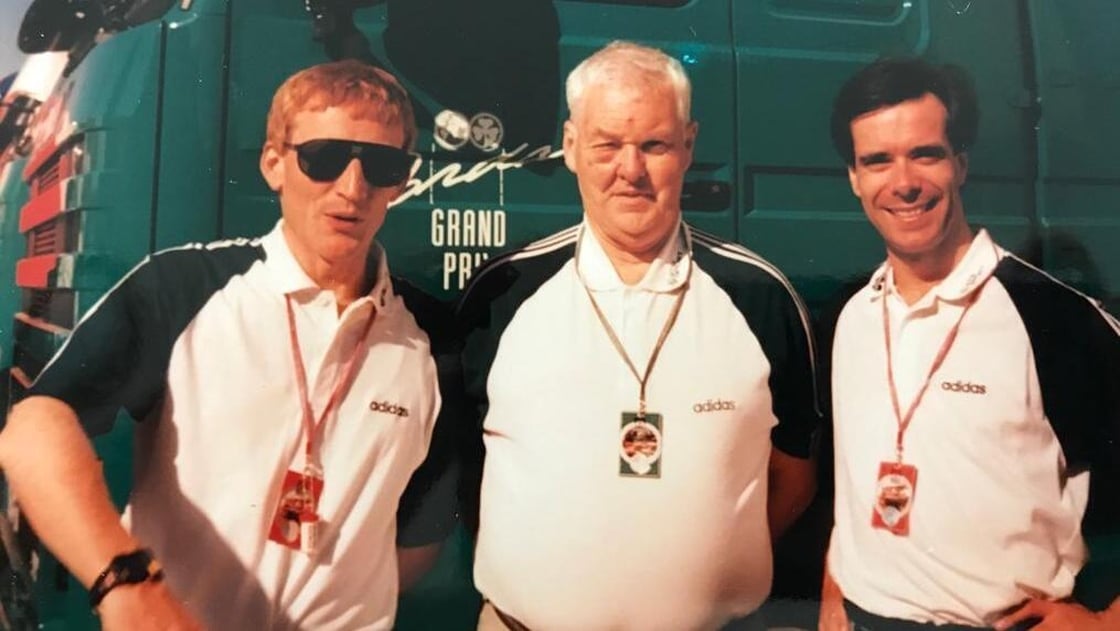 The team would normally get an early flight on a Thursday morning - 11 of the 17 races were in Europe at that stage – and make straight for the circuit weighed down with luggage. Pit-lane equipment, cabling, antenna, a talk-back unit and a transmitter were carried from pillar to post.

Once set-up was complete, it was back to the hotel that evening before an early start on Friday, the start of a hectic weekend to ensure the show kept on the road. The race was almost the easy part, with O'Carroll directing matters in the booth.
"I used to prod them, or point at the screen...or dig them in the back!"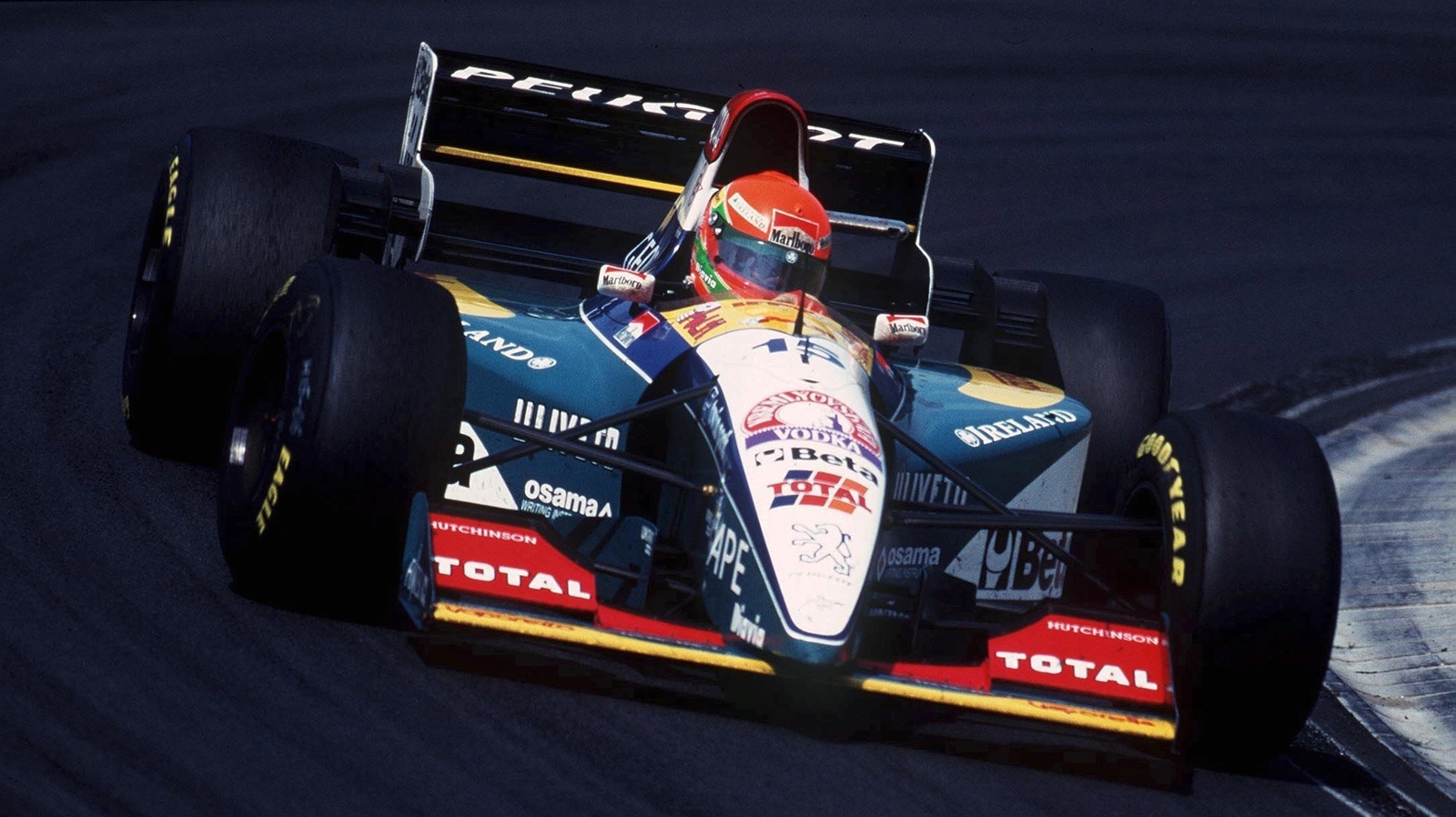 Given the size of the Irish operation, O'Carroll ensured his team were remembered and well looked after by the local engineers, crucial to ensuring a smooth transmission.
"He was something of a celebrity," recalls Kennedy. O'Carroll would always arrive on race weekends with miniature bottles of whiskey, the joke being it was an Irish aphrodisiac.
During one transmission failure in Brazil, an engineer bypassed other notable broadcasters to ensure RTÉ was the first to get live pictures back due to the impression made by O'Carroll.
"The same guy came back to me the following year to say the aphrodisiac worked!"
For the 1995 season, Jordan's press officer Louise Goodman was the de-facto pitlane correspondent, but in 1997 Declan Quigley assumed the role, though the details of the position were yet to be ironed out.
"It wasn't short of, 'will you go down to the pit lane with the microphone for me? I was a little petrified to say the least," says Quigley, who also maintained his role as Irish Independent motorsport correspondent.
It may have been fly by the seat of the pants stuff at times, but Collins says the strong work ethic meant standards never dipped.
"People in ITV told us we had a strong presence in the paddock. Sometimes when you are working with slim resources, you work that little bit harder."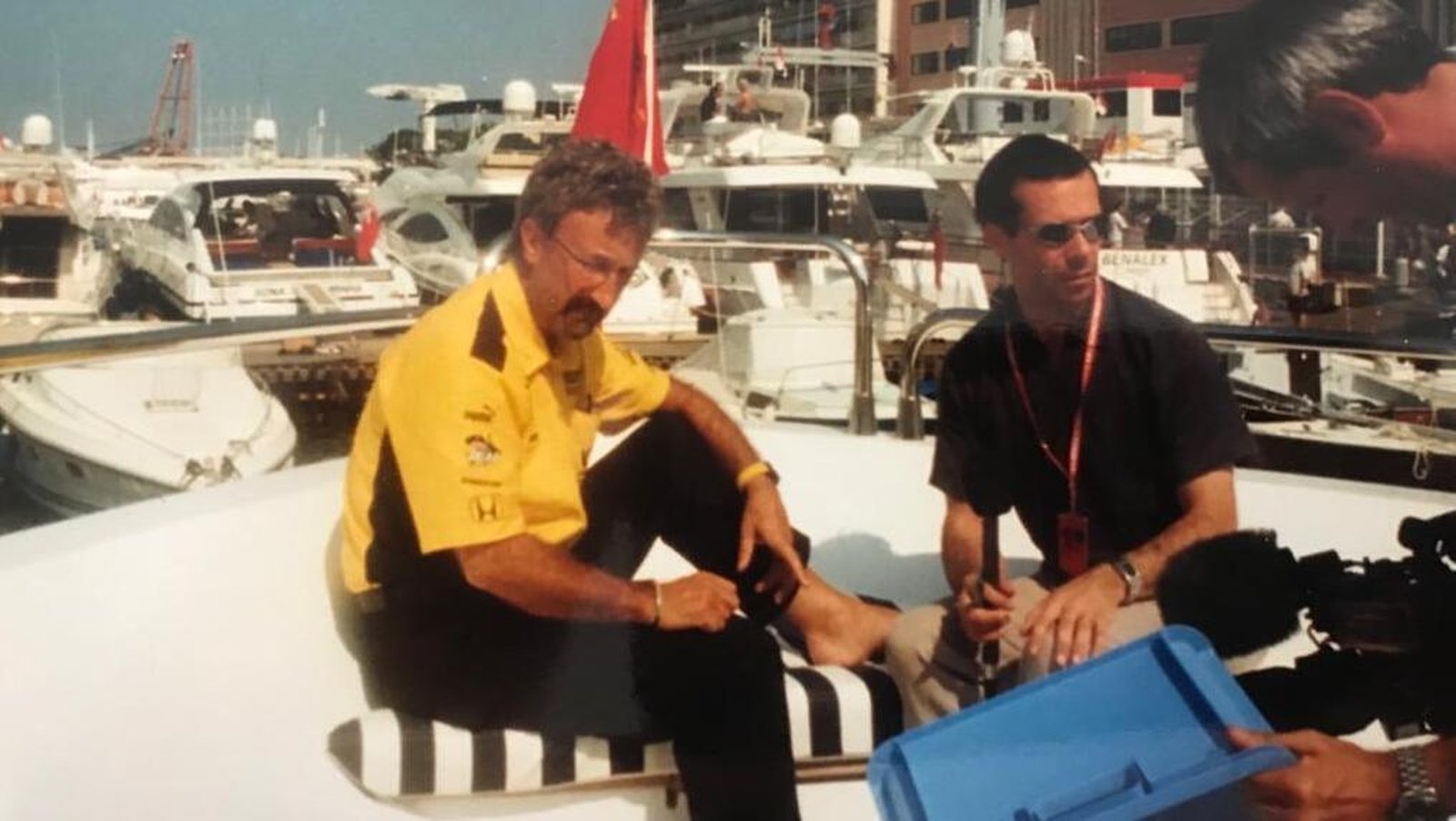 The temptation to water down the analysis was quickly dismissed; rather the tactic was to bring the casual fan along with the fanatics.
"If you dumb down the offering," explains Quigley, "you piss off the aficionados, and they are your opinion formers, who will influence everyone else.
Contacts were key, and not just the familiarity with Jordan employees as Kennedy explains.
"I was never a pub person. Without exception, when our work was done for the day, I would set off for the tennis or squash court with Peter and that that was where information was gleaned.
"I'd know a mechanic in Ferrari, so I found out the Italian angle. I had worked previously with a Williams engineer and he was a regular on the courts too."
While there were standards to uphold and deadlines to be met, there was still a lot of scope for fun.
"The best way to get to know any circuit is to drive it," says Collins. "It was always a little target we would set ourselves. We'd usually take a perimeter road to the circuit, find a gap, and take the rented car around the track, before playing dumb when stopped by stewards."
Kennedy recalls livening up one particular French Grand Prix, not known to be one of the more dramatic races on the circuit, by introducing as many French expressions as they possibly could.
"Sacre bleu, Jean Alesi has spun off," I started off with and it continued throughout."
Not so entertaining were the concluding stages of the 2004 Canadian Grand Prix.
The transmission was to move straight into the eagerly awaited Euro 2004 clash between England and France, but Collins was told that back in Montrose they were considering sacrificing the final laps to get build-up to the game in Lisbon, a game where the Three Lions were undone by Zinedine Zidane in injury-time.
Viewers were none the wiser that Collins had to fight his corner, while on air, to see it through until Ralf Schumacher crossed the line for Williams. 
Mark Gallagher was the Jordan Marketing Director and witnessed the stature of the sport rise by dint of free-to-air television coverage back home.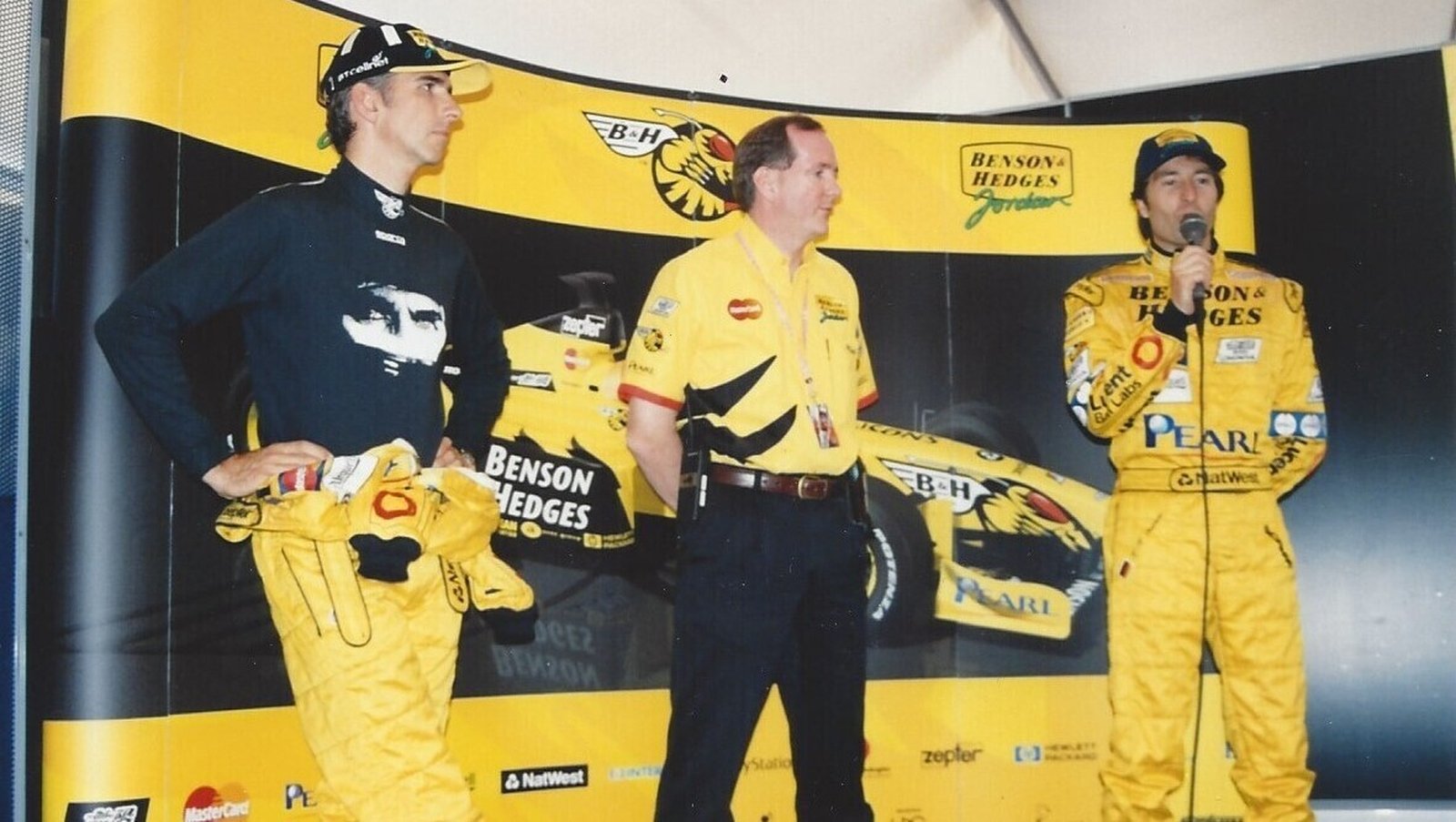 "We quite enjoyed the fact that we could give RTÉ a degree of prominence, possible because we were an Irish team and that used to wind up some of the other broadcasters.
"There was an acceleration of interest after RTÉ's coverage and it had a disproportionate impact on us as we are all proud of our Irish heritage.
"It was the sheer scale. I remember flying into Dublin with Eddie and he was greeted like a rock star. It was something else to behold."
The relationship had its commercial benefits to the F1 team as well, with Gallagher noting a deal done with Denis O'Brien and Esat Digifone.
"I have no doubt that deal happened partly because Denis became aware of what a big footprint Jordan had achieved in Ireland."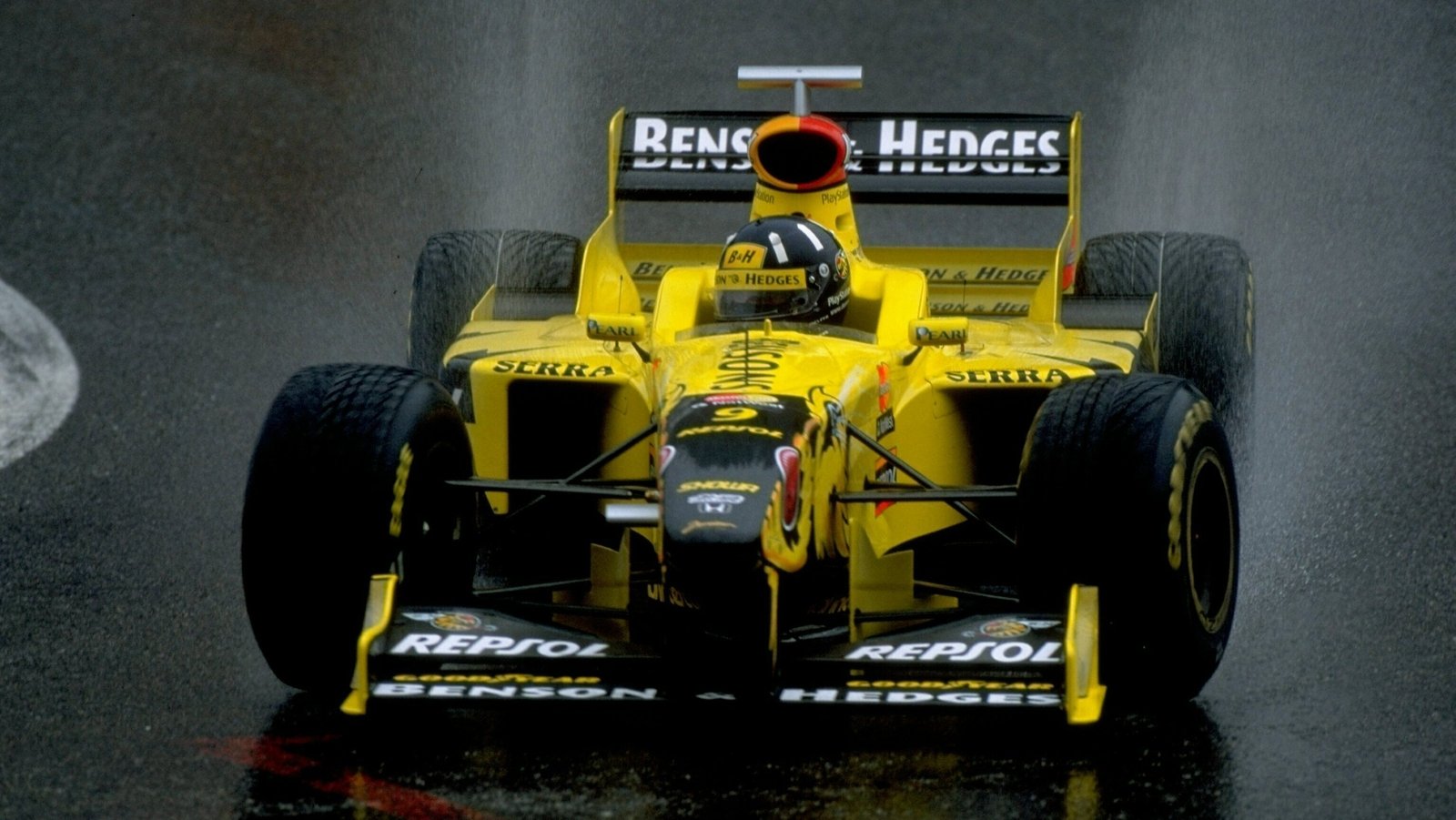 In 1997 Jordan finished fifth in the constructor's championship for the third time in four years, but the following year they hit the big time when Damon Hill secured a historic first ever win for the team at a rain-soaked Belgian grand prix, followed home in second place by team-mate Ralf Schumacher.
"I never thought I'd see an Irish flag flying," says O'Carroll. 
The tricolour may have been evident, but Amhrán na bhFiann was nowhere to be heard. If the national anthem of the winning constructor and driver was the same, the song was only played once, so the geographically confused Belgians simply stuck with God Save the Queen.
The following week, Quigley was sent a CD by the Artane Boys Band to be given to race authorities to ensure there would never be a repeat offence. 
Jordan finished the season a point and a place better off than 12 months previously, breaking into the top four at the expense of free-spending Benetton.
"That win opened up a lot of possibilities. They had the platform with the Honda engine and carried that momentum through to 99," says Justin Hynes, the Irish Times motor correspondent at the time.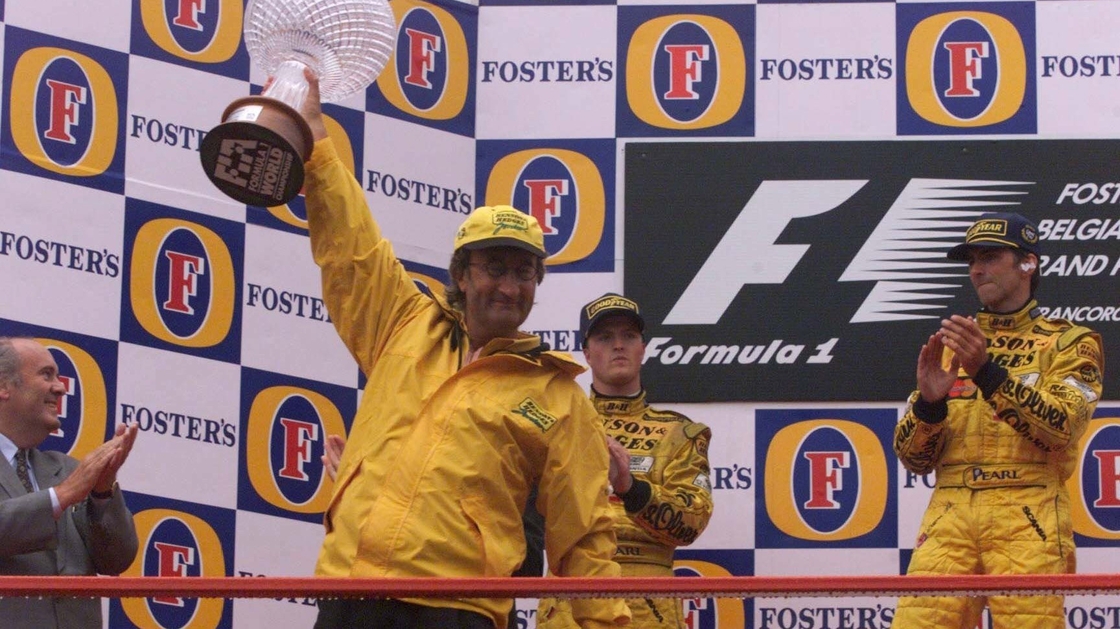 The following year would prove to be Jordan's high-water mark.

Heinz-Harald Frentzen picked up wins in France and Italy, with the victory in Monza leaving the German driver just 10 points adrift of joint championship leaders Eddie Irvine and Mika Hakkinen with three races to go. Suddenly the underdogs were edging closer to ultimate glory.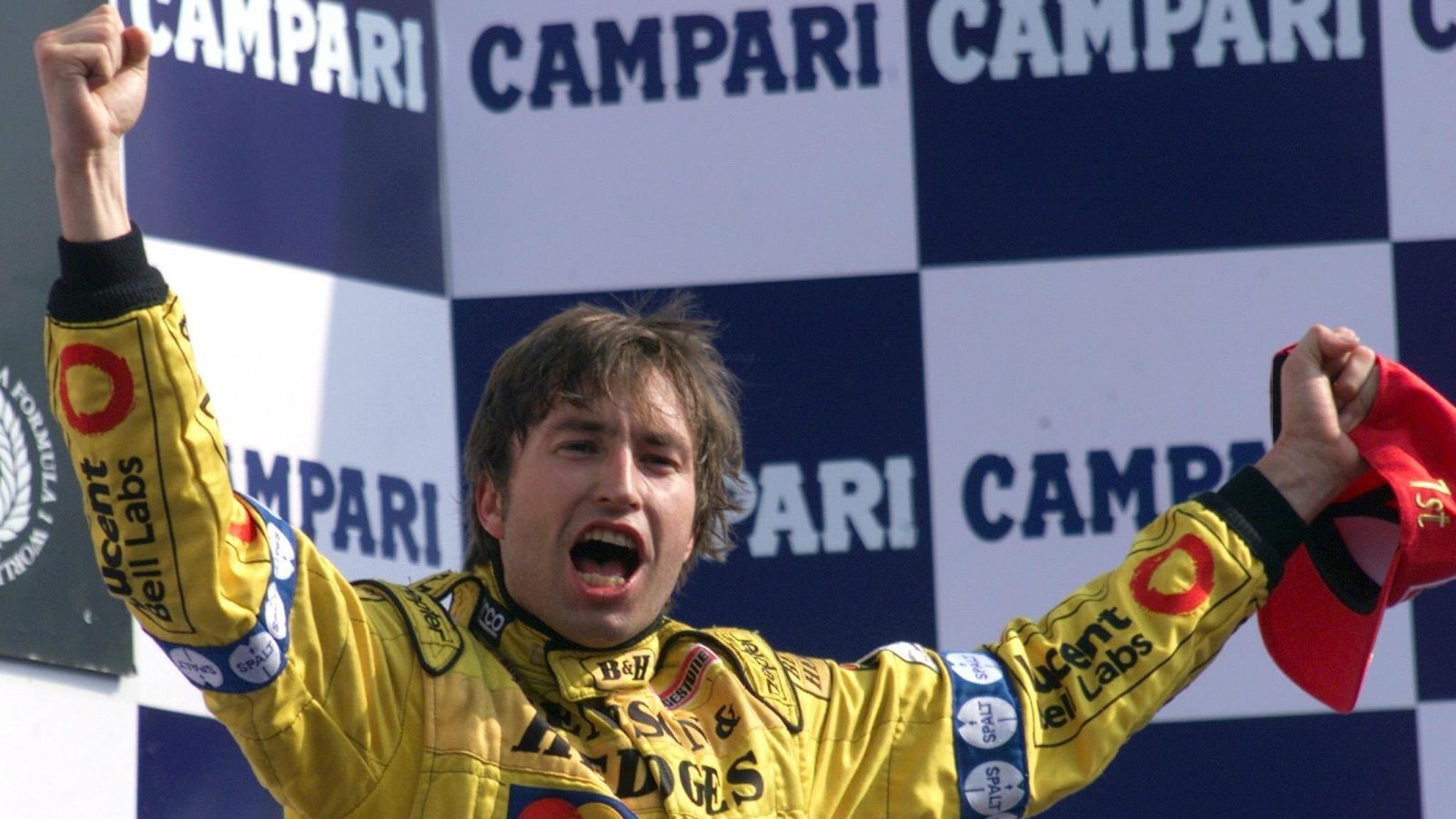 The European grand prix a fortnight later however proved a sliding doors moment.
The German claimed pole position at the Nürburgring and led from the front until he was forced to retire at the half-way stage with what the team said at the time was an electrical issue. 
In truth, it was his failure to disable the anti-stall system after his pit-stop that scuppered his title bid.
In the final standings, Frentzen finished third, the same position Jordan occupied in the constructors' championship.
Rather than push on, it was the beginning of the end.
A troublesome chassis and a heavy engine saw the team slump to sixth at the turn of the millennium, and while the team secured a works engine deal from manufacturer Honda, they also supplied BAR and progress stalled.
The Japanese manufacturer decided to throw its lot in with BAR and severed the Jordan deal 12 months before its three-year conclusion.
At the close of 2002, DHL withdrew from the sport, leaving close to a €20m hole in Jordan's budget. Around the same time, Benson and Hedges decided to scale down its involvement.
The fourth and final victory came in 2003 in rather bizarre circumstances in Brazil.
The race was halted following a major crash, and in the aftermath, it appeared Giancarlo Fisichella had finished second behind Kimi Räikkönen. However, an inquiry several days later led to Fisichella being officially declared the winner of his first F1 race.
Notwithstanding, it was another year of toil, edging out Minardi to finish ninth in the constructors' championship.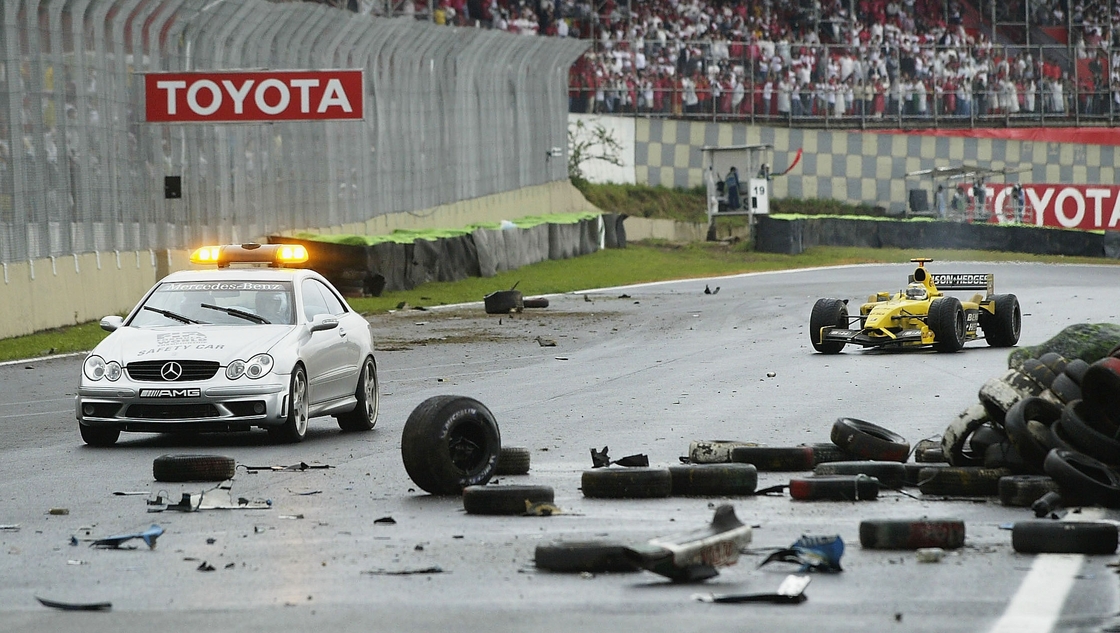 To maintain that level of performance it was unsustainable.  The fall became inevitable
Two seasons later, it was all over. Fourteen years after Bertrand Gachot and Andrea de Cesaris made history in the Jordan seats, Narain Karthikeyan, India's first ever F1 driver, finished 15th in China, four places better off than team-mate Tiago Monteiro. The jig was well and truly up.
"The team deflated from 2001 onwards and in the end, it probably took two years longer than it should have for the team to be sold," says Gallagher.
"Eddie had worked miracles to run the team independently for well over a decade. I know former Jordan colleagues who are very much of the opinion that the wins in 1998 and 1999 in some ways broke the team.
"It was a small family team in many respects up until that point and the pressures of then getting to the front of F1 showed that the team needed to be much larger to sustain that performance.
"A degree of exhaustion set in for everyone, including Eddie. To maintain that level of performance it was unsustainable. The fall became inevitable."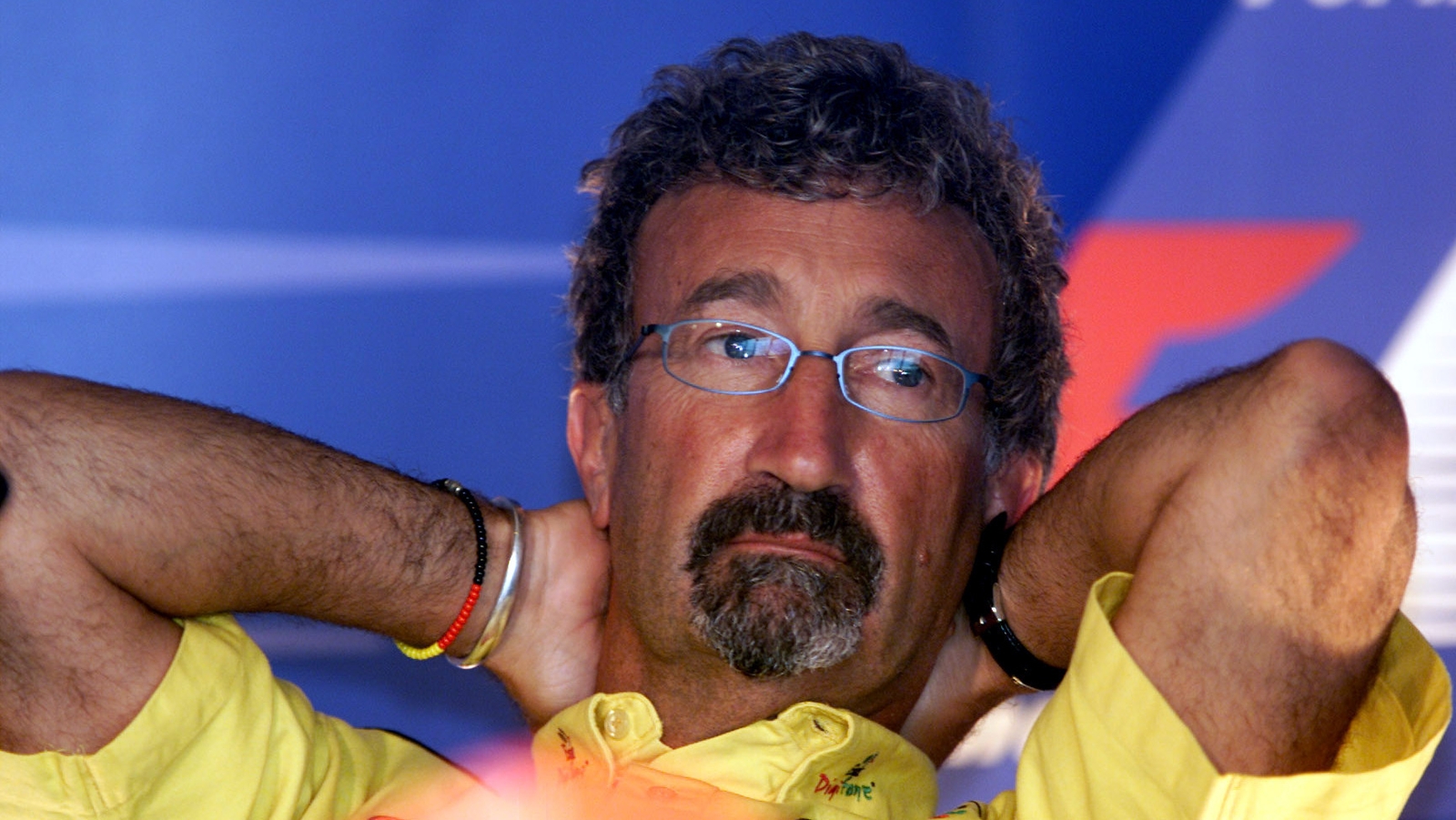 "As an independent team, it was fundamentally weak and it was inevitable that the team had to be sold on."
RTÉ's involvement concluded in the same year as Jordan exited the stage, dipping their toe in Moto GP, with Collins switching attention to motorbikes for the following six years.
Quigley and Kennedy stayed in F1 through Setanta's coverage, while Kennedy and Gallagher would later combine to form a successful Team Ireland in the A1GP World Cup of Motorsport.
Viewership has obviously tailed off among Irish viewers, but the general interest in the sport is light years removed from the heady days of Jordan.
"Pay-per-view delivers money, it doesn't deliver audience figures," says Collins.
"I have seen Formula One's presence fall through the floor," says Gallagher, "and it impacts on motorsport in the country at every level. It's not that people don't like it any more, it's that they don't like how it is presented to an Irish audience.
Not being free-to-air and the lack of an Irish team adds to the mix. Jordan himself acknowledges their fanbase grew up watching the team progress on terrestrial TV.
"The team was acutely aware of the huge Irish following and the TV coverage helped cement the team's status as a small, exciting, independent Irish team which consistently punched above its weight."
The Jordan team, however, in many ways, still lives on having gone through a number of new identities.
It became Midland MF1 Racing for 2006, failing to claim a single point in that season, before Dutch firm Spyker brought about a name and colour change, without an upturn in fortunes.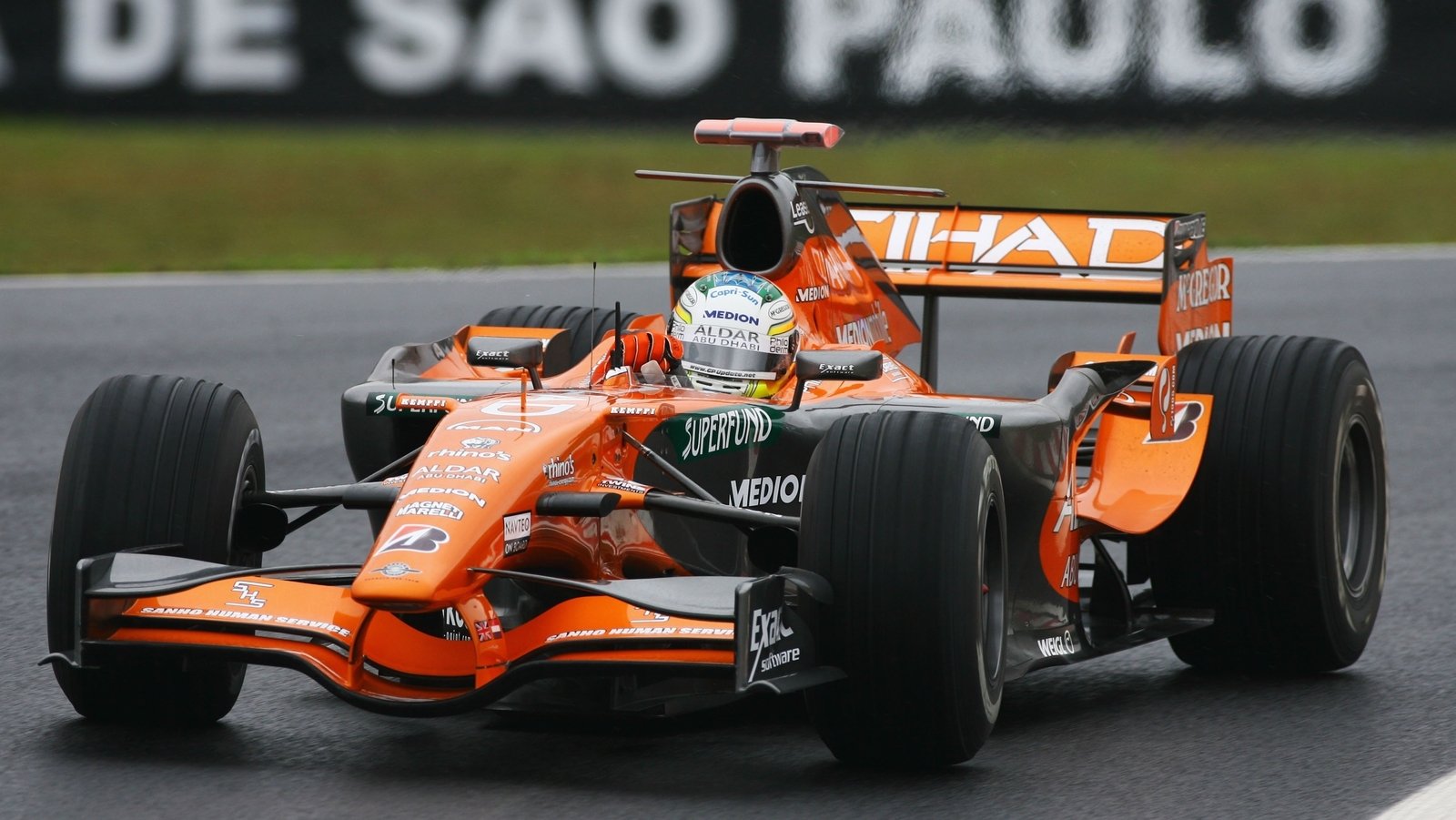 An €88m buyout saw the birth of Force India in 2008, who in time would become podium challengers until the extradition and fraud charges brought against businessman Vijay Mallya saw the team plunged into administration two years ago.
The rebranded Racing Point Force India was also short-lived and next season Aston Martin returns to the sport for the first time in 61 years, with Technical Director Andrew Green and Operations Manager Franco Massaro among those still involved from the Jordan days.
"It has been a fairly bumpy path, but it has found its feet," says Gallagher.
"It would be nice to think that next year when people watch Formula One that they actually realise that 30 years ago, that was an Irish team."
Hynes adds: "The philosophy that Jordan had, a small crew working on limited resources and extracting the maximum from it, still remains."
Gallagher also refutes the argument that Jordan's achievement was a once-off, despite the barriers to entry.
"You see it in other sports. The great thing about a small team is you have shorter lines of communication and people multi-task."
It was an amazing time, so exciting and 150,000 people a week in Ireland were watching it all unfold. Incredible
Covid-19 has also changed the landscape. From next year, the budget cap will be €130m, reduced to €115m for 2023.
The 2021 budget is essentially what Jordan's total budget was at the turn of the century.
"Bear in mind that included everything - salaries, drivers and marketing which are excluded from the new cap - but it is indicative of how after 20 years Formula One has less money in real terms."
O'Carroll has many more stories to tell – he has written a book on his time in RTÉ Sport – but the Jordan days are remembered most fondly.
"It was an amazing time, so exciting and 150,000 people a week in Ireland were watching it all unfold. Incredible."