In normal circumstances, Irish gymnast Rhys McClenaghan would be within touching distance of his first Olympics where he is expected to be a real medal prospect.
But the coronavirus pandemic means the Newtownards native is among the cohort of athletes who will have to alter their preparations with a 12 month delay before the Games begin in Tokyo.
Speaking to RTÉ Radio 1's Saturday Sport, McClenaghan admitted that he felt an initial sense of disappointment when it was confirmed that Tokyo 2020 would be delayed by a year.
But that has since been cushioned by the sense of confidence he feels about his sense of preparedness for what is to come in 2021.
"Until that official announcement, I was training full on for the Olympic Games to happen this July," said the 2019 World Championship bronze medalist, who also won gold at the 2018 Europeans as well as the Commonwealth Games on the pommel horse.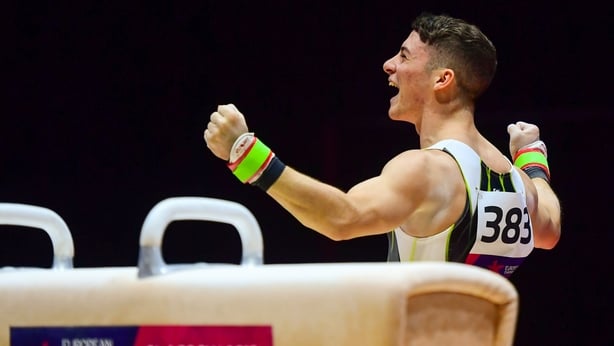 "It was a little bit of a blow when it was that official announcement because I had to take a little bit of a mental step back as well as a physical step back in my preparation for the competition.
"So I had to take my foot off the gas pedal a little bit and relax essentially and I'm glad I've had this time now to relax because next July I'm going to be in better shape and I'm going to be better mentally and just way better prepared for the competition."
McClenaghan also confirmed that he will resume training at the National Sports Campus at Abbotstown in the very near future.
"The plan is to go back to Dublin on Monday, so I'm looking forward to that," he said.
"I'm looking forward to getting back into the official gymnastics centre and not just the gymnastics centre in my back garden. It will be good to just get back and do my thing."
He added that the nature of the sport meant he was fortunate enough to be able to continue carrying out his training techniques within the confines of his own home during the lockdown without too much difficulty.
"I've been making the most of it and trying to do everything I can to stay fit and healthy," he said, pointing out that he does have a pommel horse in his house which has helped him with keeping close to his best.
And he also has the carrot of confirmed European Championship action in December which is "a goal that I'll be aiming for and hopefully get that European title under my belt again", the 20-year-old added.
We need your consent to load this SoundCloud contentWe use SoundCloud to manage extra content that can set cookies on your device and collect data about your activity. Please review their details and accept them to load the content.Manage Preferences