Basketball Ireland CEO Bernard O'Byrne believes the sport in Ireland is facing into a "catastrophic" predicament without financial aid.
Earlier this month, The Federation of Irish Sports, which represents over 100 national governing bodies of sport and Local Sports Partnerships, called for the Government to set up a resilience fund to offer financial assistance and bolster sports impacted by the effects of the coronavirus pandemic.
Speaking alongside Federation of Irish Sports CEO Mary O'Connor and Athletics Ireland CEO Hamish Adams on Sunday Sport on RTÉ Radio One, O'Byrne estimated that basketball could be facing into a deficit of half a million euros as things stand.
"Looking at the plan where we stand at the moment, we could be looking at a deficit of about half a million in Basketball Ireland," he said.
"We're going to lose about €1.2 million in income. Obviously there will be expenditure that we don't have to make.
"But we could be looking at a deficit of about half a million for the calendar year. Now that for Basketball Ireland will be catastrophic. It will bring about words that we don't want to hear, like bankruptcy, receivership or whatever.
"We just will not be able to continue. So now is the time for us to be looking at that. There is no point in talking about it in October.
"So we need to plan and this is why, in relation to what Mary has said, we need engagement from the Department [of Transport, Tourism and Sport].
"I've seen the letters that have come back which talk about planning for the return of sport. But it's definitely short on mentioning financial aid and the resilience package and we need that to happen."
O'Byrne added that "51 people would lose their jobs if Basketball Ireland ceases to function".
While core funding from Sport Ireland remains in place, Mary O'Connor highlighted that the decrease in other revenue streams such as gate receipts, events and sponsorship has left governing bodies in precarious positions financially.
"Some of our organisations are estimating a loss in income for 2020 of up to 70% and it must be remembered that sport is a business," she said.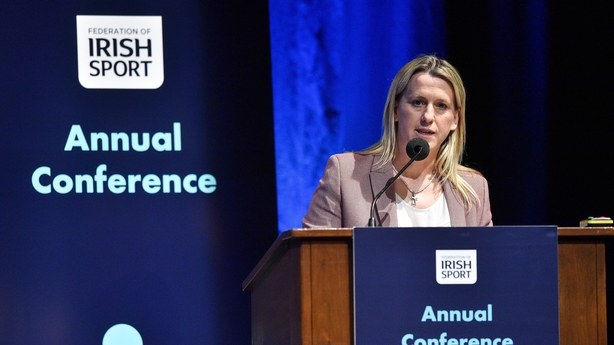 "There is an awful lot of back-office things that people don't see that makes sport happen in this country, to make organised sport happen in this way.
"It's really important that people understand that the resilience fund will be based on an evidence of need and there is plenty of evidence out there to illustrate the real requirements for sport to be supported during the Covid-19 pandemic so it can be viable, remain viable and obviously adapt and become stronger as we live with Covid-19."
Adams discussed how resilience funds have worked in his native New Zealand during the current pandemic.
"It's evolving week by week and I'll be honest, I have regular conversations with my counterparts in athletics in New Zealand every month and they don't really know all the details at this stage and what I would say is that while, yes, they are delighted that the funds are in place, [it's] how they are going to be divvied out and the rules and regulations are still coming through.
"But just to endorse Mary's words, we should consider that sport is an essential business. It's essential, not only for our physical health and development, but also mental health and I think that the last 11 weeks have been hugely difficult for us mentally as well as physically.
"So I think this resilience fund is essential to keep sport going and keep us mentally and physically resilient."