Cora Staunton said that it never crossed her mind to return to Ireland in the midst of the coronavirus outbreak as the former Mayo footballer prepares for this weekend's AFLW play-off clash with Melbourne.
Staunton is currently Down Under playing in the women's Aussie Rules league with the Greater Western Sydney Giants, and Staunton has helped guide her team into Saturday's conference semi-final.
Earlier this week, Dublin duo Sinead Goldrick and Niamh McEvoy decided to return to Ireland from their club, Melbourne, due to the uncertainty around the ongoing pandemic.
The pivotal pair were in line to take on Staunton's Giants on Saturday, and while the Carnacon native said that the option was there to move home, she said she was happy to remain in Australia.
"The option was there from the club for myself and Yvonne [Bonner] to go home," Staunton told 2fm's Game On.
"But we hadn't thought about going home as we are happy enough here at the moment.
"I don't know the girls' situation, why they went home.
"Every Irish girl over here, their situation is different, whether you need to go home to see family or for work.
"But it is a decision you have to respect, obviously they need to get home, and I see a couple more Irish girls going home in the next couple of days."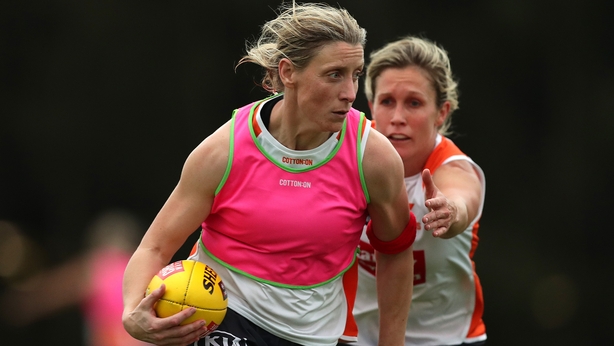 Staunton admits that she tries to switch off from absorbing too much news surrounding the Covid-19 crisis, but does keep in touch with news from home and is constantly enjoying contact with her family through social media channels.
"With social media, I'm in contact with home every day. I talk to my Dad and my family and nieces and nephews, so I see them every day on FaceTime and they are happy that I am over here and I know everything is alright at home.
"You watch the news a little bit but not as much as home, but you also try to switch off a little bit.
"Obviously, I check in with the RTÉ News App to see what is happening at home, and you hear [about things] from family.
"This week we weren't sure if the competition was going ahead so you listen to it a bit more regularly."
But unlike Ireland, Staunton explains that things appear a lot different in sunny Sydney, which means that the coronavirus outbreak has not caused a significant change to her day-to-day life, despite the fact that AFL matches were played behind closed doors.
"I suppose we are lucky here, today was 35 degrees and sunny in Sydney so the weather is good, which means you can get out and about.
"The only thing that changed is that we have no crossover with the boys or the netball programme and we changed the venue for training, but otherwise everything has been the same.
"And there isn't a lot of things shut like in Ireland, coffee shops, restaurants and shopping centres are still open over here."
Away from all things Covid-19, Staunton says that she is really looking forward to what should be a "cracker of a game" this weekend, and that she is loving life in the Aussie Rules league, while not missing Gaelic football too much at the moment.
"Melbourne will be slight favourites and they have two or three of the best players in the league. It's going to be a difficult game and a tight match.
"Luckily for us, we are at home so we don't have to travel in the current climate, but I think it is going to be a cracker of game. It could go either way, so I just hope it goes the Giants' way.
"I love it over here. It has been a different challenge
"I wouldn't miss it [Gaelic football] hugely, but I'll always have a love for Carnacon, and I'm sure once I get back, I'm sure I'll fall in love with it again."