It has been another stellar year for Irish sportswomen, both at home and abroad.
What started as jotting down a list of 20 favourites soon became 50.
Relive some of the magic.
1) Brid Stack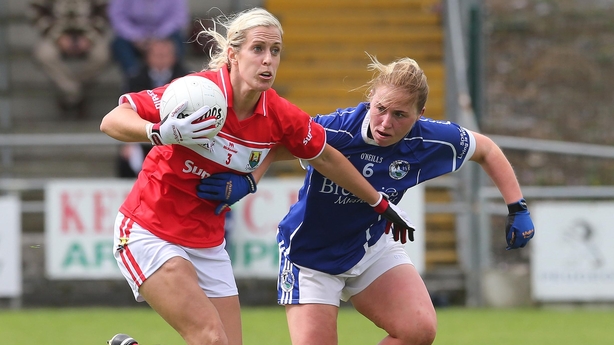 As the new football season rolled around, a true legend of Gaelic Games called time on her inimitable career. Cork defender Brid Stack won 11 All-Ireland medals, playing every minute of each of the finals to claim them. A player who epitomises all that is great about football.
2) Jump Girls
Sports documentaries that focus on women are rare, and #JumpGirls proved a very special watch. Fascinating insights into the work of the women at the forefront of Irish racing - from Jessica Harrington, to Katie Walsh, to Rachel Blackmore, and many more... pic.twitter.com/n1zmLx3Jda

— Elaine Buckley (@ElaineBucko) December 18, 2019
3) Aishling Moloney goal
Video: 'I just said I'd have a swipe' - Aishling Moloney recalls her amazing overhead fisted 'Goal of the @lidl_ireland NFL' for @TippLadiesFB against Cork.. @LadiesFootball pic.twitter.com/E6JhgYO651
— Jerome Quinn (@JeromeQuinn) June 5, 2019
2019 brought welcome advances in streaming of women's GaelicGames, bringing more eyes than ever on the football & camogie National Leagues - and meaning the likes of this Aisling Moloney wonder-goal as Tipperary toppled Cork was seen by the masses..
4) Natalya Coyle makes history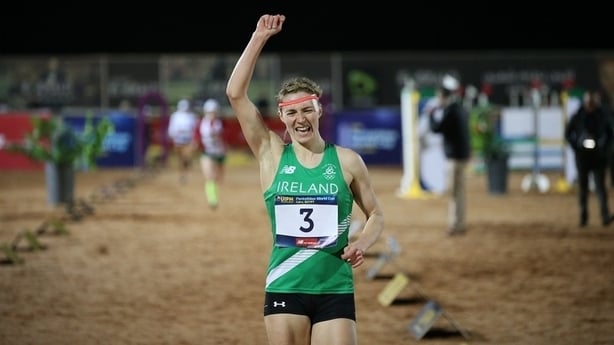 Natalya Coyle made history in 2018 by becoming Ireland's first ever individual World Cup medalist in her sport of Modern Pentathlon - and followed it up in March of this year by striking silver yet again, with a powerful season-opening performance at the UIPM World Cup in Cairo.
5) Breakthrough for Mageean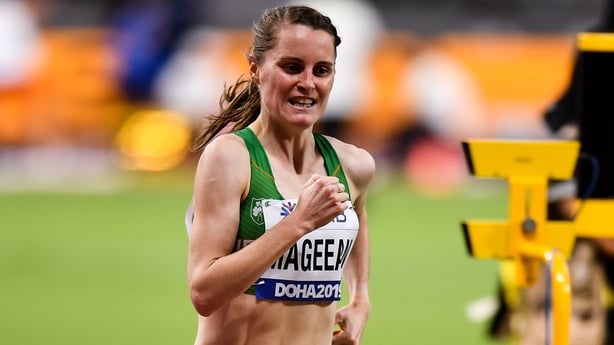 Ciara Mageean reached the podium at the European Indoor Athletic Championships in Glasgow, winning bronze in the 1500M final. It was a career first indoor major medal for the Portaferry woman, to match the one she claimed outdoors at the 2016 European Championships
6) Slaughtneil defy the odds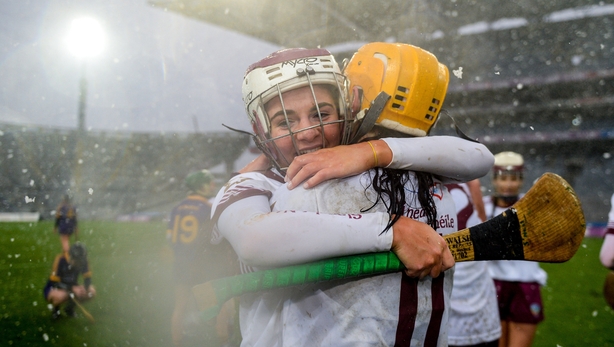 "That's what's so special about the Club Championship - a lot of the time, it's not clubs from the county powerhouses."
Slaughtneil's Tina Hannon after a historic 3-in-row in Croke Park - the first time a camogie club from a county setup not operating at senior level has done so.
7) Sport Ireland's Women in Sport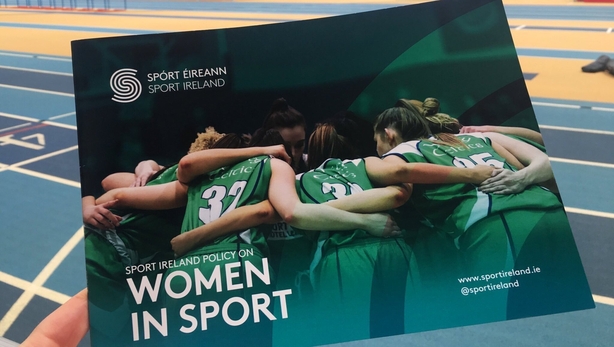 A landmark day in March, as Sport Ireland's new Women In Sport policy took full flight, on a mission to target four key areas of Coaching & Officiating, Active Participation, Leadership, and Governance - with Lynne Cantwell as chair of a new Women in Sport Steering Committee.
8) Record crowd from women's rugby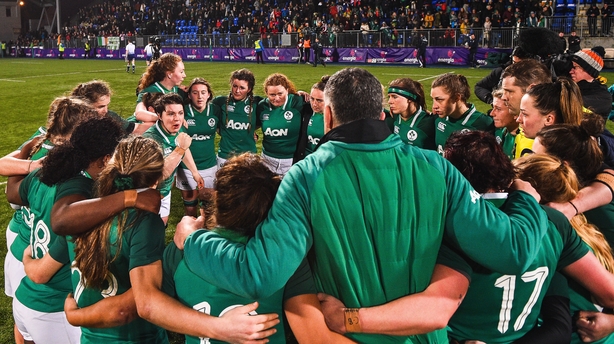 A new attendance record for an Irish women's rugby match was set by the 6,047 people who showed up in Donnybrook Stadium for Ireland's Six Nations closing clash with France - 1,410 more people than at the previous home game of the campaign against England a few weeks beforehand.
9) Breakthrough for Blackmore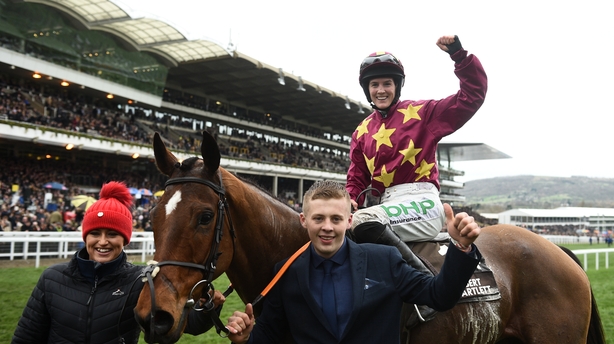 Rachael Blackmore made her way into the history books at this year's Cheltenham Festival, riding a 50/1 outsider to Grade One glory - a first of the Tipperary woman's career, on racing's biggest stage. She subsequently became just the third woman to ride a double at the festival.
10) Emma Byrne inducted
Emma Byrne made history as the first woman ever inducted into the the FAI's Hall of Fame.
From her debut in 1996 to retirement in 2017, the former captain played a record 134 caps; and won every trophy available during her time with Arsenal.
'The first training session I'll never forget it, because she left me with my mouth open' - Emma Byrne becomes the first woman inducted into the FAI's Hall of Fame. #rtesoccer pic.twitter.com/WkyqHdkECk

— RTÉ Soccer (@RTEsoccer) March 17, 2019
11) Making it big Down Under
A dream end to a dream debut season as Clare's Gaelic Games dual-star Ailish Considine and her Adelaide Crows team-mates staged an epic 45-point win over Carlton Blues in the AFLW Grand Final - the Irish woman even hitting a goal in front of the record crowd of 53,034 in attendance.
12) Joy for Quinn and McCabe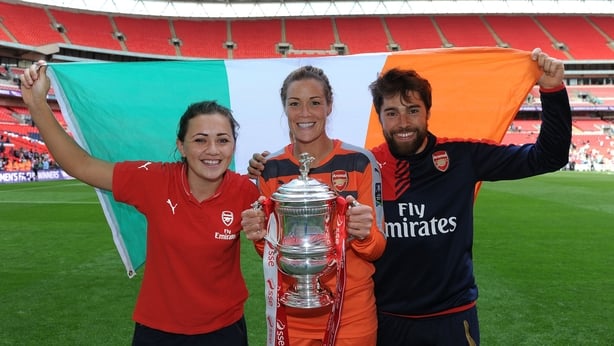 In April, Arsenal ended a seven-year wait to reclaim the FA Women's Super League top tier title - with two of Ireland's finest, Louise Quinn & Katie McCabe, in the thick of the action.
13) Kellie Harrington inspires
"Everybody is suffering, in some way, shape or form"@Kelly64kg speaking to @Tommedian on The Tommy Tiernan Show tonight. #TommyTiernan pic.twitter.com/FE8txldVhn

— RTÉ One (@RTEOne) May 25, 2019
Reigning AIBA Lightweight World Champion Kellie Harrington had a 2019 fraught with injury - but that didn't stop her from making an impact. Her appearance on RTÉ's The Tommy Tiernan Show proved yet again why she is one of Irish sport's most special ambassadors...
14) Pride for Ireland and Katie McCabe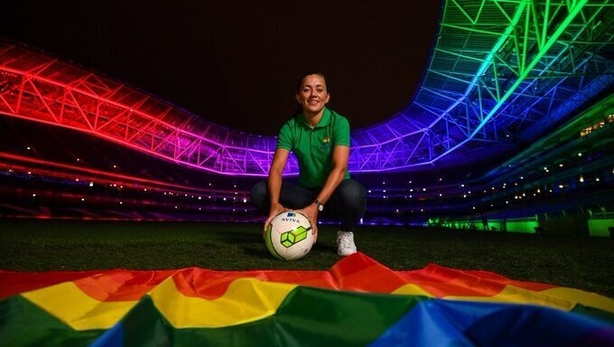 As part of Pride Month in June, Irish captain Katie McCabe flew the flag in the national football stadium, lit up with rainbow colours.
15) Katie unifies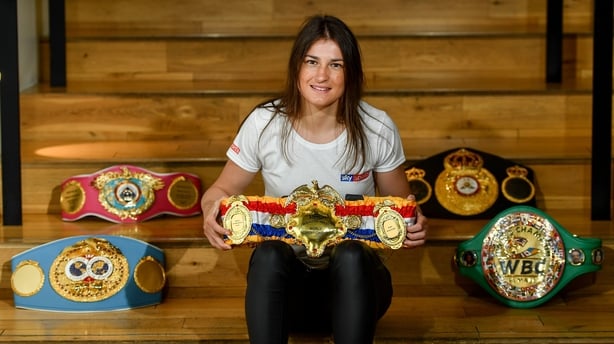 In June, Katie Taylor defeated Delfine Persoon to become undisputed lightweight world champion. The spectacle, the tension, the outcome... at the core of it, a woman who in the space of two and a half years brought herself from the lowest point to transform a sport and reach its pinnacle.
16) World Cup a success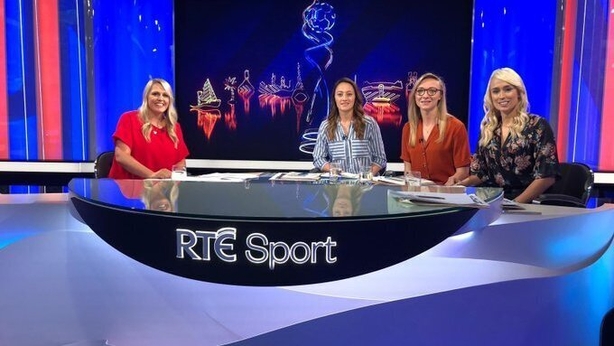 RTÉ and TG4 brought the FIFA Women's World Cup to Irish screens in its entirety for the first time ever - and with it, a new level of analysis of the women's game. The quarter-final clash of USA v France produced another football first for Irish TV - an all-female studio line-up.
17) O'Neill part of World Cup final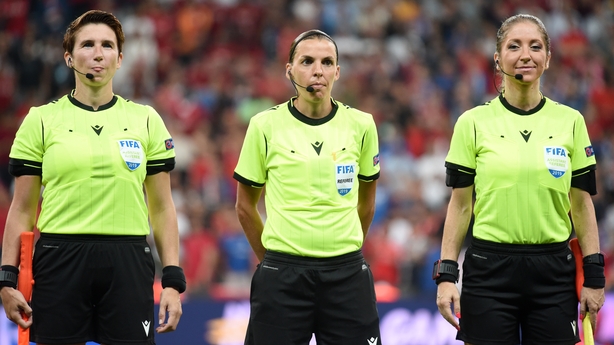 It's not often you can say an Irish person played a part in a World Cup final - but Wexford official Michelle O'Neill did just that, when she was selected to line out as an assistant referee in Stade de Lyon as USA took on The Netherlands for the title in Le Grande finale
18) New wave of Irish athletes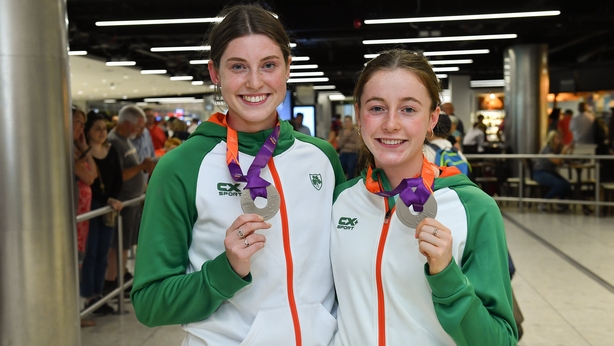 The new wave of Irish athletics stars were shining bright again this summer - and Kate O'Connor made history in July by claiming Heptathlon silver at the European Under-20 Athletics Championships in Sweden. It was the first time Ireland have ever medalled in the event, at any level
19) Adeleke strikes gold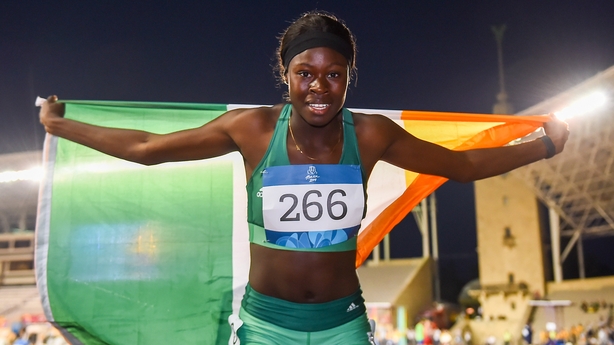 Rhasidat Adeleke struck gold - not once, but TWICE - on the track at the European Youth Olympics Festival in Baku in July, completing a special sprint double of the 100 metres and 200 metres titles
20) Mulcahy's goal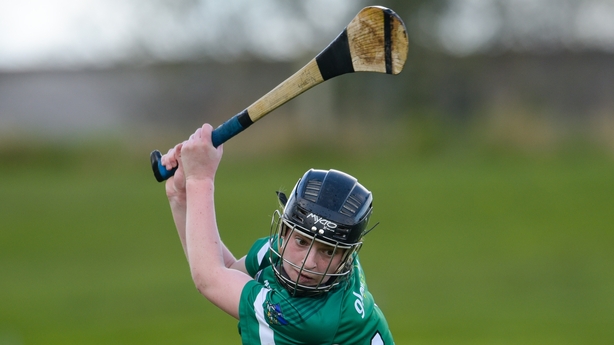 Limerick reached an All-Ireland Camogie Championship quarter-final for the first time in 14 years, lining out against Tipperary in Semple Stadium... whilst the result didn't go their way, the day will be remembered for the goal of the season courtesy of All Star Niamh Mulcahy.
21) Gillespie shows her promise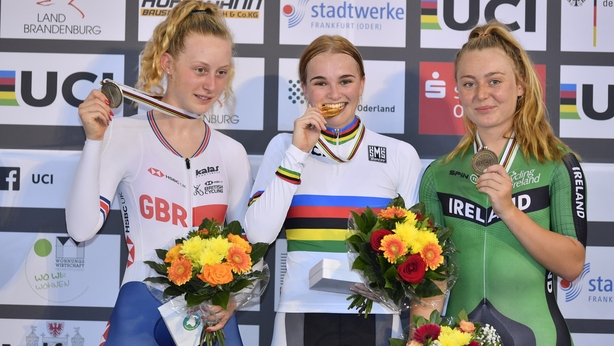 In August, Lara Gillespie claimed bronze in the Individual Pirsuit at the UCI Junior Track World Championships in Germany.
Earlier in the year, the Wicklow teenager also took silver medals in the Individual Pursuit, Scratch Race & Points Race at the Junior European Championships.
22) Game of 2019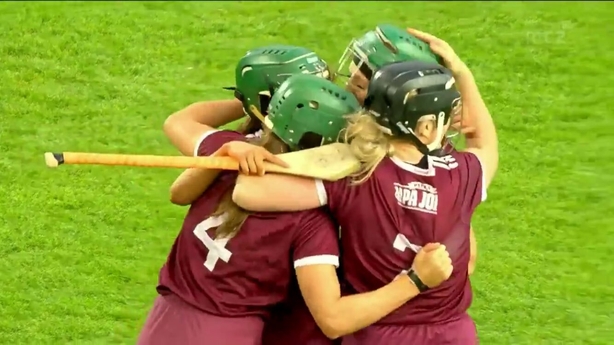 The camogie match of the season. Having lost in the last three All-Ireland semi-finals, Cathal Murray's resurgent Galway side finally made the breakthrough to Croke Park - dethroning the reigning champions in an epic thriller in the Gaelic Grounds that went right down to the wire.
23) Big crowds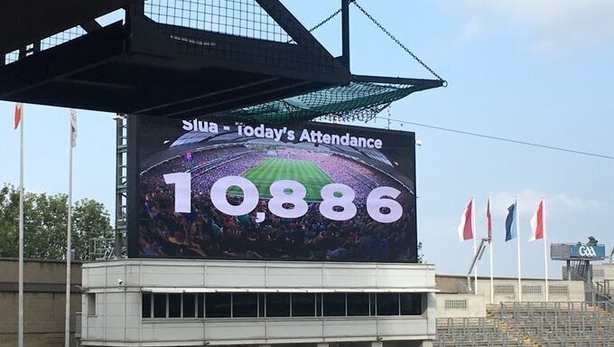 Build it, and they willl come. A landmark moment in Irish sport as the LGFA got the keys to Croke Park for their All Ireland semi-finals for the first time, and over 10,000 people showed up to watch Galway v Mayo and Dublin v Cork - two cracking matches befitting of the occasion.
24) O'Rourke comes out on top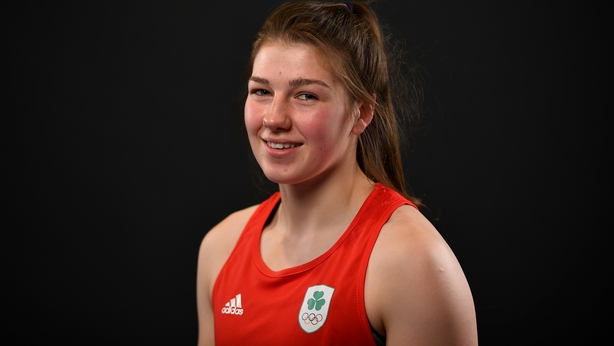 Middleweight Aoife O'Rourke struck gold for Ireland at European Elite Boxing Championships in Madrid, with a thrilling victory over Poland's Elzebieta Wojcik.
The Roscommon woman is only the second Irish female boxer to ever claim a continental crown, after Katie Taylor
25) Puspure shows resolve
A tough season ended in triumph for Sanita Purpure, as she dug deep to produce yet another dominant finish in the Women's Single Sculls final at the World Rowing Championships in Austria - striking gold for Team Ireland, and retaining her title.
26) Niamh Kilkenny rises to the occasion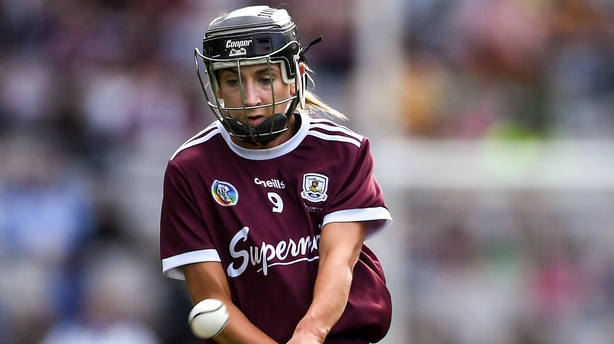 Galway's mighty midfielder Niamh Kilkenny marched on Croke Park and produced one of THE great All-Ireland final performances. In the air, on the run, on the scoreboard - a colossal performance saw her win Player of the Match, and go on to be crowned Player's Player of the Year.