On International Women's Day, 20x20 is calling on the people of Ireland to 'show their stripes' by pledging one action to support women in sport in 2019.
As official partners of the campaign, RTÉ Director General Dee Forbes has pledged that 20% of the national broadcaster's sports coverage will focus on women's sport by the year 2020.
The 20x20 initiative aims to create a genuine shift in Irish culture by changing how we value and celebrate girls and women in sport.
To mark International Women's Day, a host of RTÉ staff and contributors also shared their personal pledges.
Players, journalists, teachers, coaches, clubs and sports fans are being asked to show their support, by doing anything that can accelerate progress for women's sport in Ireland, and share their pledge on their social channels, which include Twitter, Facebook, and Instagram. To show your support, post your action online using #ShowYourStripes and #20x20.
Here are some suggestions as to how you can get involved and #ShowYourStripes: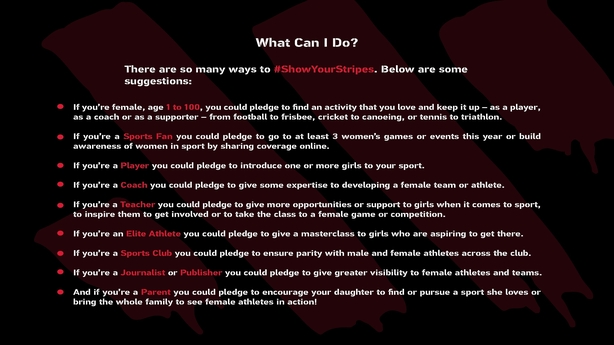 20x20 is a national initiative presented by The Federation of Irish Sport to champion girls and women in sport.
It aims to achieve a 20% increase in media coverage of women in sport, a 20% increase in female participation at all levels of sport, and a 20% increase in attendance at women's games and events by 2020.