Rhys McClenaghan is looking for the perfect finish to a dream year, as the reigning European champion looks to add world gold to his 2018 medal tally.
The Newtonards native became the first Irish gymnast to win a European medal this summer, taking gold in the pommel horse at the European Championships in Glasgow, following on from his Commonwealth gold in Australia earlier in the year.
And now the teenager will be hoping to add a world medal to his double gold at the 48th Artistic Gymnastics World Championships 2018 in Doha.
McClenaghan shot to national fame in August as he beat some of the world's best pommel horse gymnasts, finishing clear of the eight-man field in the final including Olympic and world pommel horse champion, Team GB's Max Whitlock.
Is this the routine that sees @mcclenaghanRhys win Ireland's first European Gymnastics medal? #Glasgow2018 #Rtesport pic.twitter.com/9EIrqgnDYg

— RTÉ Sport (@RTEsport) August 12, 2018
"It was a great confidence booster coming away from the European Championships with a gold medal around my neck," McClenaghan told RTE Sport.
"It's been a great year. I've beaten the Olympic champion twice now."
As a result of his consistent performances throughout 2018, McClenaghan now believes that he has the confidence and routine to go and challenge for a medal at the world championships.
But first, McClenaghan must go through the qualifying process, which begins in the Qatar capital on Friday, ahead of the final, which takes place on 2 November.
And the Dublin-based gymnast, who now trains at the Sport Ireland Institute in Abbotstown, believes that he is putting in the requisite repetitions to peak at the right time to secure a place on the podium in Doha.
"I have taken the Commonwealth title and the European title, so why not go for the world title?" said McClenaghan.
"I know going into the competition that I am one of the favourites, so even going in with that confidence, knowing that I am one of the best there, it is a good feeling and it gives me confidence in training.
"It's just repetition in training. I have one rest day a week and I am here at every single opportunity I can get to get the routines and the numbers done.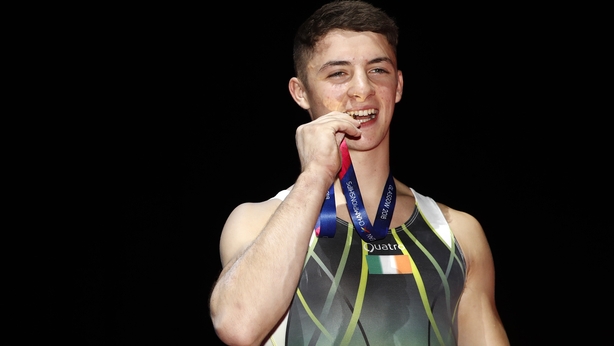 "Everyone else's routines are out of my control so if I go there and do my best routine, I will be happy. With the routine I am currently doing, I should leave with a medal if I go through that routine nice and clean.
"My goal is just to go to the world championships and do the best routine that I can possibly do and the result will follow, I'm sure of it."
McClenaghan executed a near-flawless routine in the final of the Europeans, displaying confidence and fluidity, while swinging very smoothly throughout.
That performance secured the gold medal and likewise, McClenaghan is working on a routine that should put him in medal contention, provided he performs to the best of his ability on the day.
"My coach Luke Carson has set me a very intricate programme to follow and I am following it very well and I am right on track to be peaking at the right time for the world championships," said McClenaghan.
"You need to find that happy medium to make sure that you qualify, but you can also leave some room for improvement in the final and of course, the goal is to come out with that medal."
The Irish athlete is considered very young to be dominating on the pommel horse, which is a discipline that generally attracts older athletes, yet McClenaghan appears to thrive in the experienced environment.
"In the pommel horse, it is quite rare being a young gymnast. Most of the specialists are older gymnasts. The other two medal winners at the Europeans were 34 and 32 so they have that experience.
"I guess it is less demanding on the body, although there still is that body impact on the wrists and elbows."
European Champion Rhys McClenaghan heads up the Irish team which will travel to Doha for the World Gymnastic Championships. #rtesport pic.twitter.com/4Ceap9dy08

— RTÉ Sport (@RTEsport) October 25, 2018
And as a result, McClenaghan knows that he is only starting out on the very beginning of what augers to be a long and successful career on the pommel horse, and the 19-year-old admits that he is enjoying every minute of it.
"I just enjoy it. When you go out in front of thousands, you have to enjoy it. After my routine, I take it all in and get the crowds going, and I really enjoy those moments.
"It's a very exciting time. I'm still very young, so even after this world championships, there is so much more to come, Olympic qualification starting next year.
"It's great for the sport. It's out there on RTE. Everyone is watching it and it is a great platform for the sport to be on."
McClenaghan's sole focus is on the pommel horse in Doha, however, he is planning to compete in all six apparatus' at the 2020 Olympics in Japan.
"I'm still maintaining my levels on the other apparatus' and I want to go into the Olympic qualification doing all six apparatus'.
"My next best event would be the floor exercise. I've always just understood my spacial awareness very well doing somersaults with twists, I just always know where I am all the time."
Meaghan Smith, Adam Steele and Andrew Smith make up the quartet competing for Ireland in Doha.