When extreme wintry winter visits these shores, it's not surprising to read stories of previous chilly episodes, whether it's 1982, 1963, or indeed what many historians regard as the harshest winter of all - 1947.
As is the case this weekend, sport was badly affected in times past when the icy blast roared in. Events had to be rescheduled, though in the case of one Irish side, it was to end memorably on two occasions.
Blizzard hits peerless Punchestown
It's the last week in April 1950 and Punchestown was holding its centenary meeting. A plunge of polar air descended over the country and the Co Kildare venue was one of many places to see a blanket of snow.
Tales of people running for shelter in the wooden stands were plenty. Racing had to be postponed for a day. When the sun rose the following morning, a thaw was well underway and this great social gathering reconvened.
indeed, the first Punchestown Festival in 1850 also had to deal with inclement conditions, as heavy rains and almost hurricane-like winds battered the course. But the action continued.
Complete disruption - but Jimmy Hill has a plan
The English Football League programme in the 1962-63 season was badly hit by the extremely cold conditions that had arrived shortly after Christmas. The FA Cup third round which had begun on 5 January was not completed until mid March.
Lincoln City's game with Coventry City was postponed an astonishing 14 times, while in Scotland a cup tie between Stranraer and Airdrie was called-off no fewer than 33 times. In total, there were 261 postponements.
With a winter break in English football now due to be in place from the 2019-20 season, it was a very much a case of clubs having their own extended break some 55 years ago. With no games to play on their home patch, clubs looked west to Ireland.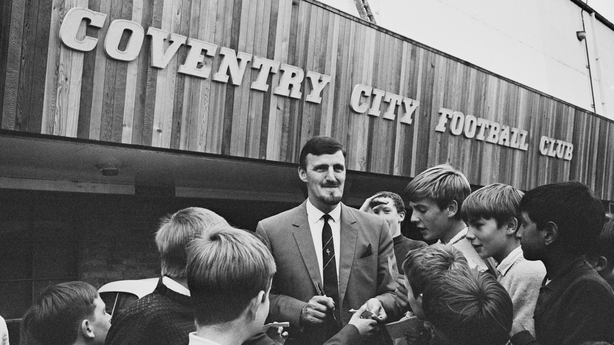 Now, I have already mentioned Coventry City, who at the time were managed by the late Jimmy Hill. Frustrated by the lack of action, Hill got in contact with Manchester United manager Matt Busby and set about having a friendly match at the home of Shamrock Rovers - Glenmalure Park.
Conditions on this side of the Irish Sea were not as bad and so Coventry and the Red Devils played out a 2-2 draw in Miltown in early February '63. John Giles, Denis Law and Bobby Charlton played up front for United, with the latter scoring the equaliser in a game that was watched by 20,000 spectators.
A week later, Hill's Sky Blues played Wolves in another friendly at Flower Lodge in Cork. The game was played in wet conditions and it was high-flying Wolves who prevailed 3-0. Another match between the sides was arranged, this time for the now-demolished Celtic Park in Belfast. It finished 6-3 to the Wanderers.
The 62-63 season finished with Everton winning the league title, while Manchester United, who had just avoided relegation, claimed the FA Cup when beating Leicester City 3-1 in the final on 25 May.
John Giles picked up a winners medal but the following season was a Leeds United player.
It's also worth mentioning that racing in Britain was curtailed for four months during the big freeze. Cheltenham, however, did go ahead in March where Mill House landed the Gold Cup.
Cheltenham's winter wonderland
The Prestubury Park gathering was not so lucky in 1978 when Gold Cup day was cancelled because of snow.
In fact, nobody saw this weather event coming as the first two days of the meeting were quite mild. In the early hours of Thursday, 16 March, the white stuff fell and by the time dawn broke, the whole track was a winter wonderland.
The day's card was rescheduled for Wednesday, 12 April. Midnight Court, trained by Fred Winter and ridden by John Francome, was an impressive winner of the blue riband.
A year later, Gold Cup day, despite blizzard conditions did take place. Jonjo O'Neill partnered Alverton to victory in the feature for Peter Easterby. Just over two weeks later, Alverton took a bad fall in the Aintree Grand National and was killed.
In 1987, driving snow saw the Gold Cup put back 45 minutes. Amid a picturesque backdrop, The Thinker, who was well backed prior to the race, took the spoils for handler Arthur Stephenson and jockey Ridley Lamb. Stephenson was not present for the victory, preferring instead to be at Hexham where he had seven runners.
Indeed, Cheltenham has had a curious mix of weather down through the years, not just driving snow but also conditions where the temperature gauge has hit 20 Degrees.
Snow - a precursor to the Triple Crown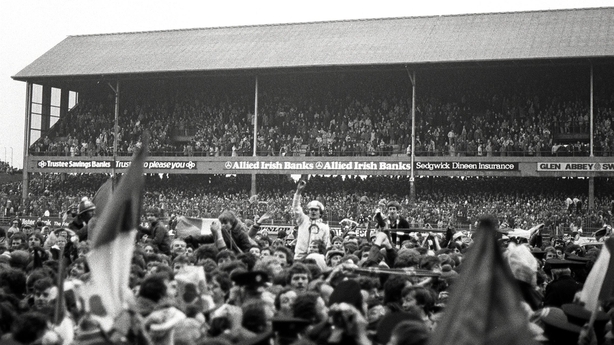 So much has been written this week about the heavy snow of 1982. A casualty of that episode was the cancellation of the Ireland-Wales Five Nations clash at Lansdowne.
The opening game of the campiagn rescheduled a week later and in almost balmy conditions the Irish defeated the Welsh 20-12, with Moss Finn and Trevor Ringland getting the tries for the home side.
Subsequent wins over England (that famous push-over try) and Scotland saw Ireland claim a first Triple Crown since 1949 in a campaign where Ollie Campbell was exemplary from the boot.
In 1985, another heavy fall of snow in Dublin's saw England's visit to Lansdowne Road fall by the wayside on 19 January. It was rescheduled for 30 March.
In between, an Irish side that was now told to "give it a lash" by the late Mick Doyle, defeated Scotland and Wales and drew with France.
The championship and a Triple Crown was now on the line against the English. Michael Kiernan's last-gasp drop goal ensured that Ireland got both.