Conor McGregor's boxing match with the legendary Floyd Mayweather was deemed Ireland's Most Memorable Sporting Moment of the Year, according to a recent poll.
The Las Vegas showdown against the undefeated Mayweather dominated that particular category with 26% of the vote overall.
James McClean's goal against Wales in the World Cup qualifiers was second with 13% of the vote, while the final of the Women's Rugby World Cup was third with 11%.
Joe Canning's match-winning point against Tipperary to win the All-Ireland hurling semi-final only received 10%, while Dean Rock's free against Mayo to win the All-Ireland football final for Dublin scored 8%.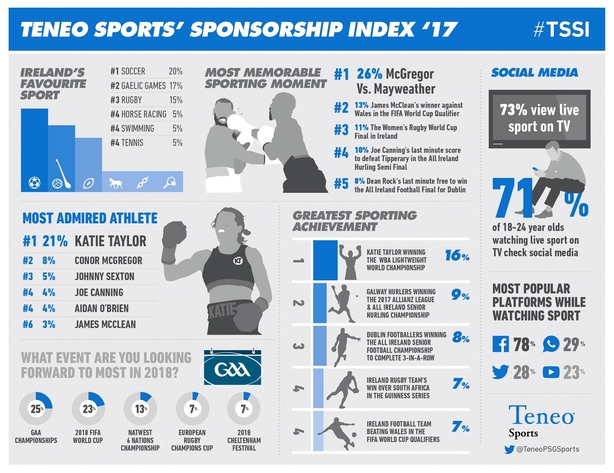 Katie Taylor securing the WBA lightweight world title, was considered Ireland's Greatest Sporting Achievement of 2017 with 16% of the vote.
The Galway hurlers' Allianz League and All-Ireland Championship double came in second, ahead of Dublin's victory over Mayo to claim a third All-Ireland in a row.
The Ireland rugby team's record win against South Africa in the recent Guinness Series and Martin O'Neill's side's win against Wales in Cardiff were fourth and fifth respectively.
The 2017 Teneo Sports' Sponsorship Index (TSSI), a comprehensive 1,000 person nationally representative survey with quotas imposed across gender, region, age and social class, also confirmed that soccer remains the country's most popular sport overall with 20% of respondents naming it their favourite sport, ahead of Gaelic games (17%) and rugby (15%).
The survey is the view of the general public and not a survey of sports fans.