For most people Liberia is a far flung place that pops up in the news every now and then. For Westmeath footballer Boidu Sayeh it was once the place he called home.
He lived in the then war-torn African country until he was eight years old. During those years he moved around a lot with his family, avoiding conflict where they could.
Although it was a dangerous and traumatic time, he was sheltered from the reality of what was happening around him.
Sayeh's mother died of malaria when he was six years old, so he spent some time living between his sister's homes before his uncle adopted him and brought him to Ireland.
"I was living in shanty towns," Sayeh told RTÉ Sport.
"I was staying with my sister who lived on the coast of Liberia, her husband was a fisherman. It was a tin house, with just one bedroom so I was staying there.
"I moved to another sister's house then and that was a room in a big broken down house. I stayed with her for a while before my Uncle Ben adopted me and brought me back to Ireland in 2004."
Shortly after he arrived in Ireland he started school in Moate in Westmeath and apart from struggling to adapt to the cold weather he settled in quickly.
Soccer was his first love but after some encouragement from his cousin Dylan he began playing Gaelic football.
"I thought it was mad first, the lads loved it and were so competitive. I made loads of friends from it and they are still my friends now. We are a tight knit group and that's the thing I love about it."
Racism in Irish sport has been under the microscope in recent days, after Republic of Ireland defender Cyrus Christie was racially abused online after Ireland lost their World Cup play-off to Denmark.
When it comes to incidences like Christie's, Sayeh's bad experiences are outweighed by the good but there is an incident from his childhood that really affected him.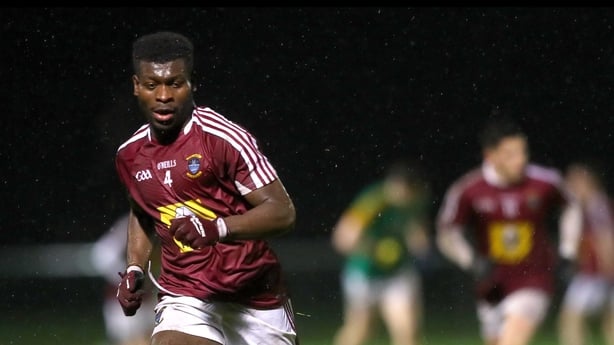 "I remember being young and someone told me go back to where I came from and it bothered me because something clicked with me and I realised I didn't want to go back to where I came from, so that affected me and stayed with me.
"Usually I can rise above things when they happen but when we were minor, when we were playing against Meath and one of their players did the monkey sign to Izzy Ilunga, we both flipped out. He was sent off. You get things said to you and I try not to make a big scene about it.
"I think people say things out of frustration. There are very few black footballers in Westmeath and people are very supportive of us and I feel that my teammates and players from other players have my back."
Republic of Ireland footballer Rianna Jarrett feels the same; she has always had the support of those around her both on the pitch and off it.
Her father is originally from Jamaica and her mother is from Wexford. Her parents met in England and Jarrett and her twin brother Jordan spent some time living there before moving to Ireland permanently when she 10.
"I never had anything directed at me but there would have been comments passed on the sideline," explained Jarrett.
"My brother Jordan was taunted at school a lot; lads are different to each other than girls would be although I have come across some who aren't that nice.
"I went away with the Irish team and we were playing Turkey and a couple of the girls were shouting abuse at me in their own language but I just ignored them."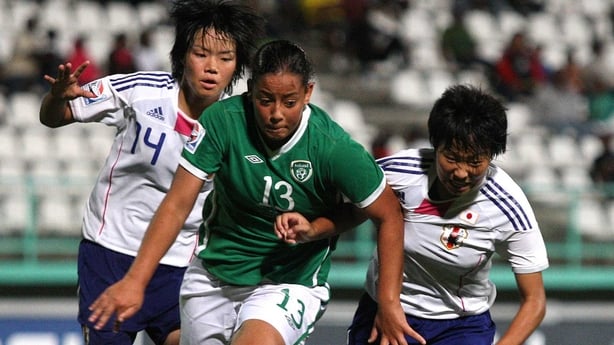 Jarrett has suffered three ACL injuries in the last four years but hopes to return to fitness and line out for the Republic of Ireland again soon. She was shocked when she heard about the abuse Christie suffered.
"Ireland has come a long way and there are lots of mixed race people here now. He isn't the first black person to play for Ireland. But it's sad to hear that incidences like this are still happening.
"The fact that it was throughout the games and not just the Denmark game makes it worse again. You could say that if it was just the Denmark game people were targeting him because he didn't have a good performance.
"But he stepped in for Seamus Coleman, he did a job for his country and we qualified for the play-offs, it's hard to see people treating one of their own like that and it's hard to see it happening so close to home."
Athlete Brandon Arrey can relate to Christie's experiences. After the 400-metre runner's first senior race for Ireland he received lots of positive messages but it was the negative one that stuck with him.
"There's been so many positives with athletics for me but with that comes negatives," said Arrey.
"After my first senior race for Ireland I got loads of lovely messages but I received one from a woman that was racist.
"She said let's not turn out like the Turkish, getting the blacks to come over here to run. I was upset, I spoke to my coach (Jeremy Lyons) about it and he helped me deal with it.
"I was only 18 and I remember thinking I've been training for six years to make the Irish team and there are people out there who think like that about me.
"I was down about it for a while but as I got older I realised that I need to focus on making the people who support me happy."
Arrey is one of a new generation of Irish athletes who are blazing a trail on the international stage. Now 21, he moved to Cork when he was eight years old from Cameroon. He has excelled at all sports and at one time was on the books of Cork City.
Earlier this year Gina Akpe-Moses and Patience Jumbo-Gula, hit the headlines after they won medals on at European level in sprinting and Arrey believes this success is just the beginning for the new crop of Irish athletes.
"In a few years there will be more and more athletes coming through. West Africans are known for sprinting. Irish society will be seeing more and more of us because there are so many black athletes coming through.
"It's great to see Gina and Patience doing well, it gives younger black athletes a platform to come through and show their class.
"Being from an African home, sport is secondary to education, so when Gina and Patience come through it doesn't just educate the young black athletes it educates their parents too.
"It shows them that their children can excel in more than just academics."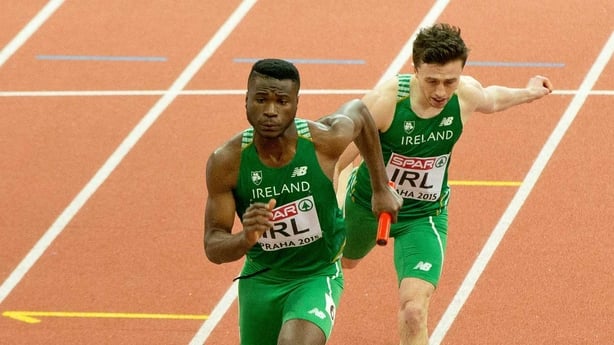 When it comes to racism Arrey feels like there is still work to do in Ireland but believes that there will come a time that athletes like him will be viewed on just their standard and performance and colour won't come into the conversation.
Former Dublin footballer Jason Sherlock has experienced what all these young athletes have gone through and he detailed it in his book. The All-Ireland winner firmly believes that speaking out about it is important and can help.
"It wasn't until Lee Chin and Aaron Cunningham spoke out that it gave me the strength to speak out and support them and like Cyrus Christie I feel he shouldn't be isolated and anyone from a diverse background playing sport in Ireland shouldn't be isolated.
"I feel the people around me did as much as they could, they loved me and supported me as much as they could. There was no manual for how to deal with someone who looked different in the late 70s early 80s.
"There way was to tell me that I was the same as everyone else that I was a Dub, I interpreted that as if I am the same as everyone else then I shouldn't be slagged or highlighted.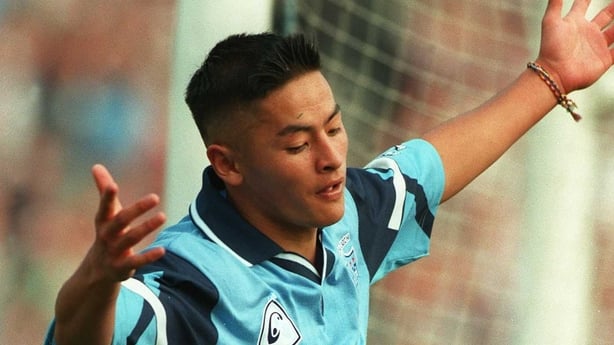 "Potentially they could have said well you are different but we are all different, it's a diverse country and that's what makes us unique and special and I would have understood people are curious or they can be vindictive but I don't have the problem they have the problem."
A few years ago Sherlock was the victim of racist abuse on Twitter, he tracked down the person who sent the tweet and confronted him. He met the teenager along with his parents and he made him aware of the impact his words could have on a person.
"The reality is not everyone is educated enough to understand so don't be the victim of that. Understand and empower yourself. Connect and don't feel isolated, connect back with your coaches and teachers."
"The sporting bodies have a responsibility to make supporters and participants aware of what are right and wrong and there is a bigger challenge from the society point of view show.
"There should be an education program because the diversity in this country is only going to increase."