While every decade has it's share of sporting highlights, it is difficult to argue that any provided more than the 1980's.
From global achievements in athletics, horse racing, the boxing ring and indeed snooker during it's halycon days, to iconic GAA moments and the small matter of beating England in Stuttgart, listing out the top moments wasn't an easy chore, but we have tried to give it a go.
Relive these classic moments and let us know your favourite.
1. Joe Connolly's 'People of Galway, we love you' speech (1980)
Galway's first All Ireland Hurling victory in 57 years inspired one of the most iconic speeches in GAA history. Joe Connolly reflected recently on those memorable cupla focail.
2. Alex Higgins wins World Snooker Championship (1982)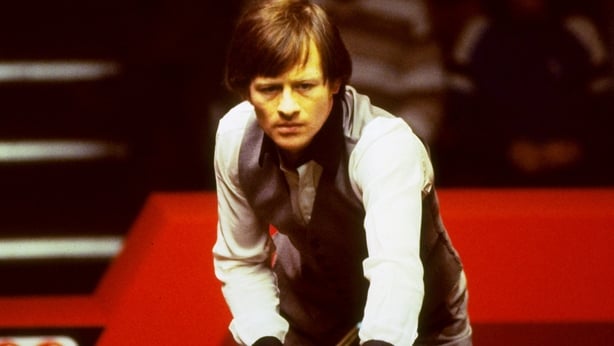 Higgins' iconic celebrations with his crying daughter in his arms and her soother in his mouth produced an enduring image after one Ireland's best-loved and most complex sportsmen overcame Ray Riordan.
3. Ireland win Triple Crown (1982)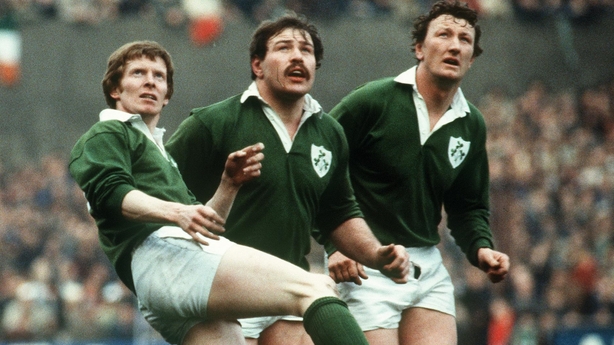 The peerless Ollie Campbell inspired Ireland to their first Triple Crown in 33 years. It has been argued that this team marked the breakthrough of rugby in the modern era in Ireland and we are reaping the rewards today.
4. Séamus Darby Goal (1982)
Probably the most famous goal in GAA history. With 2 minutes to go, Kerry were headed for the an unprecedented 5th All Ireland title, when Séamus Darby came onto the pitch and stole victory for Offaly. Here is a Radio One documentary that captures that incredible feat, and the aftermath for the Offaly football legend.
5. Shergar Derby win (1981)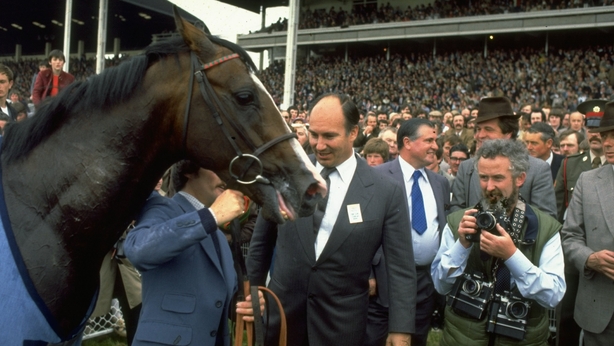 Before his disappearance in 1983, Shergar had captured the public imagination after an extraordinary of debut season in 1981. He won the Epsom Derby by a record distance, the first in a historic triple, to which he added the Irish Derby and the King George. He was just about to go into his second year as Stud when he was kidnapped.
6. Eamonn Coghlan World Championship 5000m Gold (1983)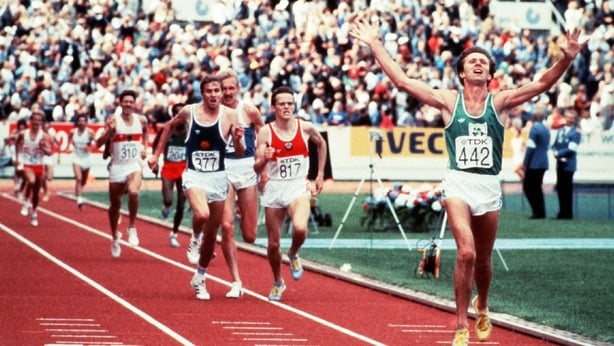 After suffering two fourth placed Olympic finishes, Coughlin found redemption at the inaugural World Athletics Championships. A run that will be forever remembered for Coghlan's pre-emptive celebration 200m from home while over-taking the Soviet Union's Dmitry Dmitriyev.
7. John Treacy Olympic Marathon Silver (1984)
The Waterford runner had finished ninth in the 10,000 metre final a week before he embarked on his first ever marathon. Treacy made his move with around the 20km to go and by the time the leading group entered the LA Coliseum, he was third alongside Portugal's Carlos Lopez and Charlie Spedding of Britain.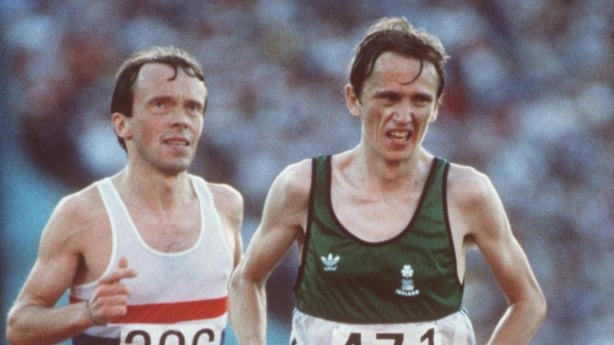 With about 300m left, Treacy put on a sprint finish to secure Ireland's first Olympic track medal since Ronnie Delaney's Gold in 1956.
Relive that astonishing finish right here.
8. McGuigan wins WBA World Title (1985)
In 1985, Barry McGuigan @ClonesCyclone became the first ever RTÉ Sports Person of the Year winner pic.twitter.com/dMhEk3W2g4

— RTÉ Sports Awards (@RTESportAwards) December 18, 2013
McGuigan's opponent, Eusebio Pedroza had successfully defended his title 19 times but he didn't have enough to deny Ireland its first world champion in 35 years.
9. Dennis Taylor (1985)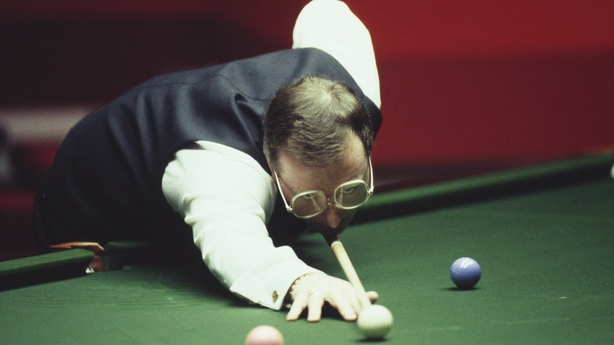 The Tyrone man overcame reigning champion and outright favourite Steve Davis in the longest World Championship Final ever in a game that broke TV viewing records, records that stand to this day.
10. Ireland Triple Crown (1985)
After an exhilarating second half display against Scotland, Ireland recorded their first win in Cardiff since 1967. Next up was England in Dublin and Michael Kiernan's dropped goal provided one of Lansdowne Road's landmark moments.
It was a sporting moment closely associated with the commentary of Fred Cogley, who sadly passed away earlier this year.
Former RTÉ broadcaster and Head of Sport Fred Cogley has died aged 82 #RTEsport pic.twitter.com/xULuQA0E7U

— RTÉ Sport (@RTEsport) June 14, 2017
11. Dawn Run Gold Cup (1986)
Dawn Run became the only horse to complete the Champion Hurdle and Gold Cup double and put Willie Mullins' name firmly on the world racing map. She died of a neck injury after a fall at the French Champions Hurdle and was the only horse ever to complete the English, Irish and French Champion Hurdle treble.
12. Shamrock Rovers 4-in-a-row (1987)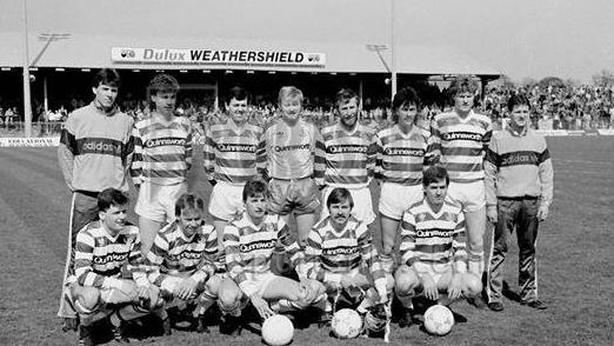 Four league titles in a row and three FAI Cups during a period that would prove to be the pinnacle of the club's success since its formation in 1901 and probably the greatest ever League of Ireland achievement. Heady days for the Hoops.
13. Dave 'Boy' comes so close in one of the greatest fights of the decade (1987)
25 April 1987 - Dave 'Boy' McAuley v Fidel Bassa pic.twitter.com/k8L5QwXm0r

— Ex Boxers.com (@ex_boxers) April 25, 2017
Larne's Dave 'Boy' McAuley took reigning WBA Flyweight champion Fidel Bassa all the way to the 13th before finally succumbing to the brilliant Colombian. His two epic fights against Bassa were both voted "Fight of the Year in 1986 and 1987 respectively.
14. Stephen Roche's climb at La Plagne (1987)
Pedro Delgado looks across on La Plagne to see Stephen Roche is catching him. 1987 Tour de France pic.twitter.com/Uqx6VqiN

— SportivePhoto Ltd (@sportivephoto) November 27, 2012
Roche became only the second rider in the history of cycling to win the Giro d'Italia, the Tour de France and the World Road Race in the same year. The moment that encapsulated his achievement was his incredible climb at La Plagne.
15. John Fenton's wonder-goal v Limerick (1987)
"That's one of the finest goals I have ever seen" - So said RTÉ's match commentator Ger Canning at the time and it is a strike that has stood the test of time.
The Munster semi-final ended in a draw, with the Rebels winning out easily the second day, but it was Fenton's long-range effort that lives long in the memory.
16. Who put the ball in the English net? (1988)
Ray Houghton scores in a historic 1-0 win over England in Euro 88 pic.twitter.com/z5vTEnK4tS

— Irish Football Fans (@EireFans32) December 8, 2013
Ray Houghton's sixth minute header sealed an unlikely win for the Republic of Ireland against England at the 1988 European Championships. He would score the matching winning goal against Italy at USA 94 six years later, but this effort lent itself to a favourite chant among Irish supporters.
17. Ronnie's shinner (1988)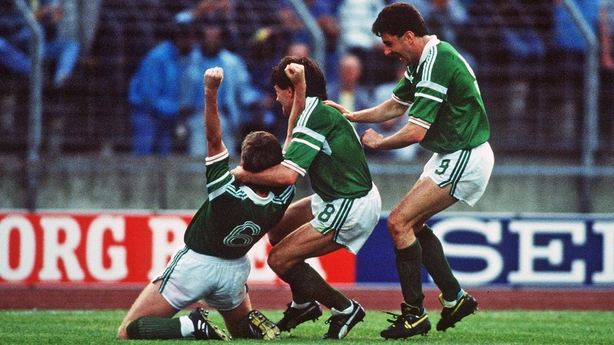 A goal of stupendous invention against the world's best goalkeeper that happened to come off Ronnie Whelan's shin, put Ireland ahead against world football powerhouse, Russia. In one of the most complete performances by an Irish team at a major tournament, it was a fitting strike from the Liverpool star.
18. Christie O'Connor's Ryder Cup 2 iron (1989)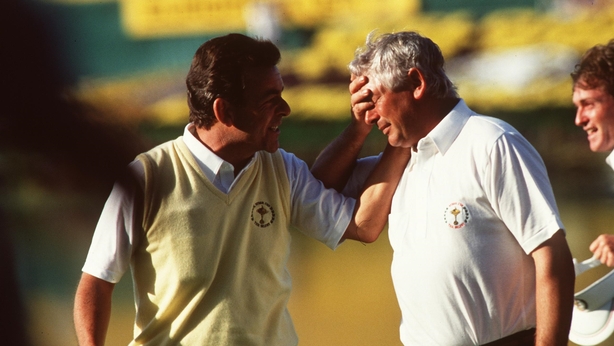 Christie O'Connor Junior went into his singles match against Fred Couples as a massive underdog. All-square coming up the last O'Connor had 229 left to the green, while Couples stood way up the fairway with a 9 iron in his hand. With Captain Tony Jacklin's words "One more good swing for Ireland" ringing in his ears, O'Connor entered Ryder Cup folklore when his 2-iron approach landed 4 feet from the pin and won the point which secured Europe a 14-14 draw and saw them retain the trophy.
19. Offaly applaud Antrim off after historic All Ireland Hurling semi-final result (1989)
#Offaly players applaud #Antrim team off pitch after semi final of 1989 All Ireland SHC #gaa #nostalgia pic.twitter.com/o07wnlWPnY

— GAA Nostalgia (@gaanostalgia) June 28, 2015
After one of the greatest shock results in the history of hurling, Offaly formed a guard of honour for their unlikely conquerors.
Don't forget you can have your say when the public gets to vote for their number one moment from the Eighties on Ireland's Greatest Sporting Moment this Thursday.
Watch Ireland's Greatest Sporting Moment live on RTÉ 2 on Thursday at 9.30pm