United States president Donald Trump has launched a scathing attack on NFL players who protest during the American anthem, insisting their team owners should "fire" those who do.

Various players across the league have taken a stand by kneeling or raising their fist during The Star-Spangled Banner since the start of last season, including high-profile figures like Colin Kaepernick, Michael Bennett and Marshawn Lynch.

Kaepernick, who remains unemployed despite leading a team to the Super Bowl at the end of the 2012 season, was the first to protest over perceived racial injustice and police brutality, with Bennett recently admitting the scenes at a white supremacist rally in Virginia partially motivated his own decision.

Speaking at a rally in Alabama on Friday night, President Trump criticised those who have decided to take a stance during the customary pre-game anthem.

He said: "Wouldn't you love to see one of these NFL owners, when somebody disrespects our flag, to say, 'Get that son of a b**ch off the field right now. Out. He's fired. He's fired'. Wouldn't you love it?

"Some owner's going to do that. He's going to say, 'That guy who disrespects our flag, he's fired'. And that owner, they don't know it - they're friends of mine, many of them - they'll be the most popular person for a week in this country. That's a total disrespect of our heritage, that's a total disrespect of everything that we stand for. I know we have freedoms and freedom of choice and many different freedoms but it's still totally disrespectful."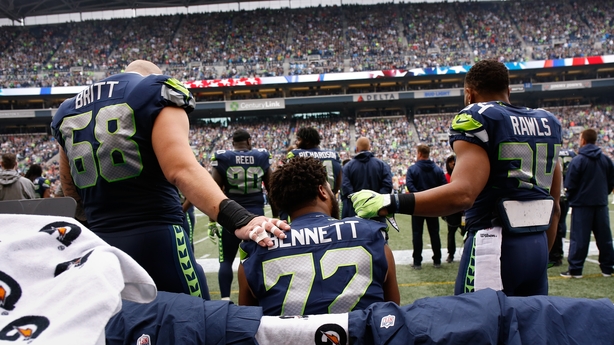 The president went on to suggest the NFL's television ratings are down because of their policy on punishing tackles where players lead with their helmets, action the league has taken in an attempt to cut down on the number of head-related injuries players suffer.

Trump then continued to tell the crowd about his view on those who protest during the anthem.

"Do you know what's hurting the game more than that? When people like yourselves turn on television and you see those people taking the knee when they're playing our great national anthem," Trump said.

"The only thing you could do better is if you see it, even if it's only one player, leave the stadium. I guarantee things will stop. Just pick up and leave. It's not the same game any more anyway."

A number of current and retired NFL players took to Twitter to express their disbelief at their president's speech.

Washington linebacker Zach Brown wrote: "Trump stay in ur place... football have nothing to do wit u smh".
Detroit tight end Eric Ebron said: "Does anyone tell trump to stick to politics, like they tell us to stick to sports? Smh."

Current Philadelphia Eagles defensive end Chris Long, one of the New England Patriots Super Bowl winners that did not attend a function at The White House earlier this year, appeared to allude to Trump's speech when he wrote: "Player- Let's promote equality, help our communities. Mad Guy- All talk. Player- Actually I do/have done X. Mad Guy- U just want attention!"
Going to the White House is considered a great honor for a championship team.Stephen Curry is hesitating,therefore invitation is withdrawn!

— Donald J. Trump (@realDonaldTrump) September 23, 2017
Meanwhile, Trump has apparently withdrawn his invitation for the Golden State Warriors to visit the White House, according to a tweet published on his official account.
His announcement comes in the wake of comments made by Stephen Curry in which he told reporters that he will vote no when the team makes a decision on whether they will observe the tradition of making an official visit to the US President. 
"I don't want to go," he told reporters at a press conference.
"That we don't stand for basically what our president has … the things that he's said and the things that he hasn't said in the right times, that we won't stand for it. 
"And by acting and not going, hopefully that will inspire some change when it comes to what we tolerate in this country and what is accepted and what we turn a blind eye to. It's not just the act of not going there. There are things you have to do on the back end to actually push that message into motion."
He also told ESPN's The Jump that by declining to visit the President, they can make 'a statement' against Trump.