Irish broadcasting legend Jimmy Magee has passed away at the age of 82.
Over the course of a 60-year career with RTÉ, the Louth man inspired and informed legions of listeners and viewers with his distinctive commentaries and interviews on everything from boxing to Gaelic games to soccer, covering 11 Olympic Games and 12 World Cups.
Reacting to the sad news today, Jimmy's former colleagues, fans and friends from the sporting world have been sharing their appreciation for a giant of Irish sports broadcasting.
Colleagues 
Jimmy Magee's friend and colleague @HamiltonRTE remembers a man who loved engaging with friends, colleagues and fans #RTEsport pic.twitter.com/wHWwFMbZk3

— RTÉ Sport (@RTEsport) September 20, 2017
"It's a very sad day and the end of an era really," said George Hamilton. "For so many years Jimmy Magee was the voice of RTÉ Sport, on radio and television."
Magee rightly had the nickname of the Memory Man for his encyclopaedic knowledge of sport. From 1987 to 1998, he and Hamilton co-presented Know Your Sport and every week members of the public would pose questions to try to get the better of Jimmy.
"He was the Memory Man and I was the Ordinary Joe in front introducing the Memory Man!" Hamilton recalled today.
"Of course I tried to catch him out - I tried every week. The public tried too, they came with the most obscure questions, and he didn't know what the questions would be. He was a showman and he'd often make out that this was the week he was going to be caught out, but he'd always just come out with the answer!
"People sought out Jimmy because he was a people person. He loved engaging with people, with his colleagues and above all with the fans who enjoyed their sport.
"Sausages and the sports pages were Jimmy Magee's breakfast and that was his secret. He just knew everything about everything and loved that knowledge, which he wore so lightly."
RIP Jimmy Magee. Our song was "Seven Spanish Angels"... the best travel companion ever. A pure rogue for the Craic.❤️ pic.twitter.com/PNJL9BlGaf

— Des Cahill (@sportsdes) September 20, 2017
Jimmy Magee #rip another gone from the sound track of our youth. Unbelievably supportive, always positive, different class..

— Ryle Nugent (@RyleNugentRTE) September 20, 2017
Heartbroken & saddened to hear the legendary Jimmy Magee has passed away. Jimmy was a great colleague & even better friend. I'll miss him. pic.twitter.com/hW2prMB6fd

— Marty Morrissey (@MartyM_RTE) September 20, 2017
Upsetting to hear that Jimmy Magee has passed away. What a great character. He loved a bit of craic and made people smile. A very sad day.

— Jim Beglin (@jimbeglin) September 20, 2017
So sad.He'll be serenading them up there tonight.What a voice and a lovely man. Great fun.Different class..Different class..Rip Jimmy Magee.

— Adrian Eames (@AdrianEames1) September 20, 2017
Sorry to hear of #JimmyMagee's death. On top of his skill & knowledge he was the greatest messer you'd meet. Will treasure the chats pic.twitter.com/y3cUI7TNAy

— Damien O'Meara (@damien_omeara) September 20, 2017
I'm gutted to hear of #jimmymagee death long time mentor he gave me encouragement and advice and I'm doing what I'm doing because of it RIP

— john kenny (@JohnKennyMedia) September 20, 2017
He really was Different Class. So good to me on and off air, sincere condolences to my ex team mate Mark and all the family. #RIPJimmy pic.twitter.com/mfLEgtf7jo

— Tony O'Donoghue (@Corktod) September 20, 2017
Heartbroken to hear #Jimmy has died. Never spent a minute in his company when I wasn't laughing. A rogue and a legend of Irish sport & RTE.

— Jacqui Hurley (@jacquihurley) September 20, 2017
So sad to hear about Jimmy. We will miss him so much. A great man and a great friend. Rest in peace Jimmy#differentclass

— Darragh Maloney (@DarraghMaloney) September 20, 2017
The sporting world
One of Jimmy's most famous commentaries was when Michael Carruth won Ireland's first ever Olympic boxing gold medal in Barcelona in 1992: "Michael Carruth is the champion of the Olympic Games! Michael Carruth is the champion, the champion, the champion!"
Carruth said: "When they say Muhammad Ali was the greatest of all time, you have to put Jimmy in the same category in the sense of what he did - he was the greatest of all time.
"He shared my sporting career, as he did with so many boxers, and he was an absolute role model for us all. 
"When I was around 15 or 16 years old I was a good boxer and Jimmy was a great guy because he knew all the up and coming kids. He always kept his eye out for me that I'd make the grade and thankfully I did. The times we spent together were only fantastic."
John Treacy, who Magee dubbed "the little man with the great heart" when he won silver in the marathon in 1984, said: "We're all very sad this morning. I am particularly sad that Jimmy gone. He was a great friend and also a great professional - we'll all miss him and our sympathies go out to his families.
Treacy, now CEO of Sport Ireland, added: "I have been living with Jimmy for the past 30 years because inevitably I meet people on the street, and this is one of the nice things about being an Olympic silver medallist, and the'll tell you where they were when they watched the race, how they got out of bed, and they'll always say how they remember Jimmy's commentary. It's a wonderful memory."
Speaking on Game On on RTÉ 2fm, Dublin's All-Ireland winning manager Jim Gavin described Magee as a phenomenal sports broadcaster.  
"He really excelled at the craft of broadcasting. He was just a phenomenal sports broadcaster. Great character, great wit, great fun. But I also the respect he had for sportspeople and they gave it back to him in kind. He is a voice of generations of Irish sport. 
"He certainly forged my early sporting memories. John Treacy in the '84 Olympics, the World Cups, Barry McGuigan's fights, even Sean Kelly and those classic Nissan time trials.
"Those great iconic moments were told by Jimmy and in his unique style. He'd a great ability to capture the moment... His pieces of art, that's what they are now, they'll be timeless."
Kilkenny hurling great DJ Carey recalled meeting Jimmy first when he was a participant on Know Your Sport.     
"I was lucky enough. I met Jimmy on a number of occasions. I was a participant one time on Know Your Sport. I can go back that far with him. That's a while ago," Carey told Game On on 2fm.
"He was just an encyclopedia of knowledge on sport. And he knew more about you than you about yourself!"
Jimmy Magee - a voice that will never be forgotten in Irish sport. A great character, a gentleman and my biggest supporter. RIP. pic.twitter.com/CpctrT0jit

— Katie Taylor (@KatieTaylor) September 20, 2017
Sad to hear the news of Jimmys passing. Thoughts and prayers with his family and friends. What a gentleman of Irish sport #legend pic.twitter.com/1UoUlihkSH

— Paul McGrath (@Paulmcgrath5) September 20, 2017
My heart felt sympathies to the family of the Legendary JimmyMagee who died today RIP. Amazing commentator & a great man #godbegoodtohim

— Barry McGuigan (@ClonesCyclone) September 20, 2017
Sad news to hear that Jimmy Magee has passed away. One of the best commentators of Irish sport ever RIPJimmy 🙏

— Shay Given (@No1shaygiven) September 20, 2017
Saddened to wake this morning in New York City to learn the sad news of Jimmy Magee's passing. This is the city where he was born. RIP Jimmy

— Eamonn Coghlan (@EamonnCoghlan1) September 20, 2017
Such sad news this morning. A national treasure is lost  #RIPJimmy https://t.co/10pgEPPe6j

— colm cooper (@colmcooper13) September 20, 2017
In honour of Jimmy 'Memory Man' Magee, flags are flying at half-mast at FAI HQ #RIPJimmy pic.twitter.com/eJgrd2jKt9

— FAIreland (@FAIreland) September 20, 2017
Uachtarán Chumann Lúthchleas Gael Aogán Ó Fearghail has given his condolences to the family of the late Jimmy Magee https://t.co/npaxvy6lmw

— The GAA (@officialgaa) September 20, 2017
The Political world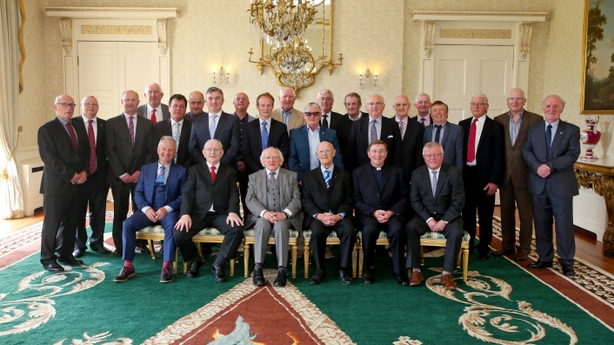 President of Ireland, Michael D Higgins has led political tributes.
"I have learned with sadness of the death of the legendary sports broadcaster, Jimmy Magee," he said. "His contribution of more than 60 years of sports broadcasting is immense and earned him the deserved moniker of the "Memory Man".
"He reported on some of the most iconic moments in sport but also had a genuine interest in the human side of everyday sports.
"His encyclopaedic knowledge of the world of sport enabled audiences to "Know Your Sport" and his love for sports, in particular boxing, Gaelic and soccer, was deeply infectious - as were his persuasive powers, which he demonstrated so ably when coaxing sporting heroes out of retirement for the All Stars football games and music evenings in Ballyjamesduff.
"Sabina and I express our condolences to his daughters and son, his wider family and friends. He will be missed by all those who appreciate and care for the world of sports."
Taoiseach Leo Varadkar said: "For many Irish people, Jimmy Magee's voice is the soundtrack of their sporting memories. From Maradona, to Michael Carruth, to Eamonn Coghlan and John Treacy and many, many more, he covered all the great events with a warmth, clarity and infectious enthusiasm. Jimmy was part of the very fabric of Irish sport.
Former President Mary McAleese added: "'I used say, I'm President, but Jimmy is king! He used to visit us in the Aras and he'd talk about the loneliness of life after his wife died. But life was for living and he just got on - he had a real relish for life.
"I got to know him particularly well during that time because we had a series of sports receptions for stars from years gone by and the obvious go-to person was Jimmy because of his compendious knowledge of all sport. He became the absolute heart and soul of all of these events.
"He was the MC and whenever people were coming in he'd stand beside me to introduce them and he'd to a 30 second introduction - he knew every goal they scored, every horse they rode, dog they trained, puncture they had. "
Very sad to hear of the passing of broadcasting legend Jimmy Magee. His voice captured the great moments of our childhood days and much more

— Micheál Martin (@MichealMartinTD) September 20, 2017