Two of Ireland's leading sportswomen have called for greater education to help young people - particularly girls - develop healthy relationships with food.
European 1,500m bronze medalist Ciara Mageean and World Championship silver medal winning boxer Kellie Harrington know the pressure on young girls to look a certain way.
This can lead to negative body image, poor diet and bad health - something they feel can be tackled by better education.
"Not alone female athletes, all women worry about their weight," said Harrington, who has to weigh herself four times-a-day when she's in training.
"The media paint this picture of a size four model, long blonde hair, nice tanned legs. Everyone is going to the gym thinking this is what they want to look like, but that's not what it's about - it's about being strong, fit and healthy.
"Weight means absolutely nothing to me - I could box at 75kg and as long as I was fit and healthy I wouldn't care what my weight is. The only reason I'm boxing at 60kg is because it's an Olympic weight - I'm not saying 'oh, I want to be 60kg'.
"If they had put 64kg in the Olympics it would have been great for me, but they haven't."
I go to races and you see girls and you think they don't look healthy - Ciara Mageean
When she started out Harrington was winning medals at 69kg - a weight she struggled to make because of her poor diet. Her walking around weight is 63kg and she was fighting in the 64kg light welterweight division before dropping to 60kg in the hopes of qualifying for the 2020 Tokyo Olympic Games.
"I think for young girls coming up, they need to be educated properly; education on what to eat, what not to eat," said the 27-year-old Dubliner.
"I won my first title at 69kg when I was 20 and my diet was absolutely horrendous. I had to cut to make 69 so I have lost a lot of weight, but that's purely because I'm eating right.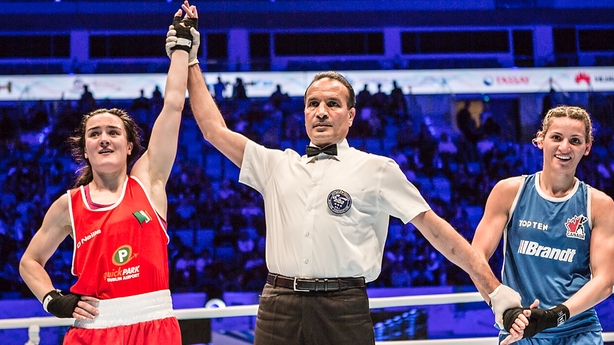 "I still couldn't live without my treats, I love my treats, biscuits and cakes - I have a really sweet tooth. For me, three or four weeks out from a competition I need to cut that out, not completely, just cut down, and that's rough, but that's what you need to do if you want to be a top athlete."
Harrington and Mageean, who also admits to a serious sweet tooth, both say that people would be shocked at how much they eat every day, but they have to consume a lot because they burn off so many calories with twice and three times daily training sessions.
The pair were speaking recently at a National Dairy Council sponsored event called Fuelling Wise for Sport and Exercise.
Mageean thanks a balanced upbringing at home in Portaferry, County Down for her happy relationship with food and exercise, but she knows that not every young girl is as fortunate.
"I go to races and you see girls and you think they don't look healthy," said the recently-qualified physiotherapist. "People think they have to be super, super lean.
"If I'm training well and racing well I don't need to worry do my abs look the same as the girl next to me.
"Believe me, sometimes I look in the mirror and I can be self-conscious and society breeds this thing, but it's great that young girls are getting more educated. You want girls to develop a healthy attitude to food - eat healthy food, go out and exercise. It's about having a healthy balance.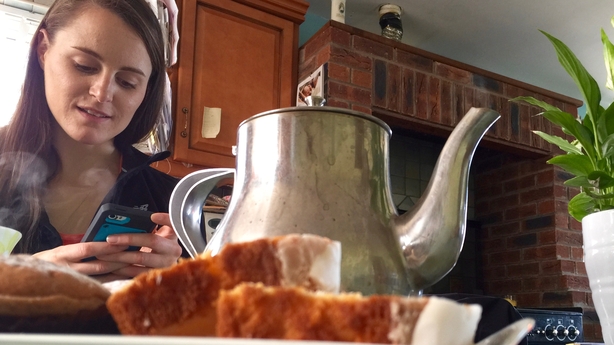 The 25-year-old continued: "It is a pressure that's there, not only for young female athletes and there is a lot of research into the unhealthy triad - BMI decreases, menstrual cycle stops and bone density is affected.
"You tend to find a lot of young girls in sports such as my own whose diets aren't sufficient for their training loads.
"Then they start getting stress fractures and you hear a lot of 19, 20-year-olds who get stress fractures and they are out for a while. There are a lot of reasons for getting stress fractures, but when you hear it in a young girl and they're very skinny it is a worry."
When she is cutting weight in the last two or three days before a competition, Harrington drops from constant grazing to two meals a day.
She struggles with this because she eats so much the rest of the time and admits that she's not a lot of fun to be around.
I won my first title at 69kg when I was 20 and my diet was absolutely horrendous. I had to cut to make 69 - Kellie Harrington
"I'm used to eating so much. If you lived with me you'd be saying 'that's a lot of food, do you need all of that?' and I'd tell you that I really like food!" she laughed.
"I'm burning it off because I'm constantly training so I'm always picking up something and eating it. Then when you're down to two meals a day you feel like you're starving.
"I get really cranky then too. If we're in the hotel room I'll tell all the girls that there's phones off, no one is spraying deodorant in the room - go outside if you want to do it - no eating in the room!"
Mageean doesn't have to make weight as a track athlete, but she does echo Harrington's comments about the amount of food she consumes daily.
"I run every morning, 20, 30 minutes, I'll run for maybe an hour in the evening, I'll have a gym session, physio and other aspects of my life - I might go for a walk - so I need a few more calories than most people," she said. "If someone wanted my diet, they might find it quite a lot!"