International Women's Day and the big decision for us revolved around one of our own ladies. You will probably know by now that we've decided not to run Limini in the Champion Hurdle next week and will instead take up her entry in the Mares Hurdle.
I've said all along that there was no point supplementing for the sake of it unless we thought she'd have a big chance of winning. I never had an interest in running just to get my money back.
Last year, when we supplemented Annie Power, we knew she'd go very close to winning, but it was difficult to say that about Limini given the fact she's had only one run this season and was taking on a field of very experienced horses. It was going to be a big ask.
I want people to understand: I was clear all along that the decision would be made this morning and that it was far from a certainty all along what we would do.
It's difficult when you're sitting on preview night panels to avoid being definite about things when decisions genuinely have not been made, so I sincerely hope I managed that.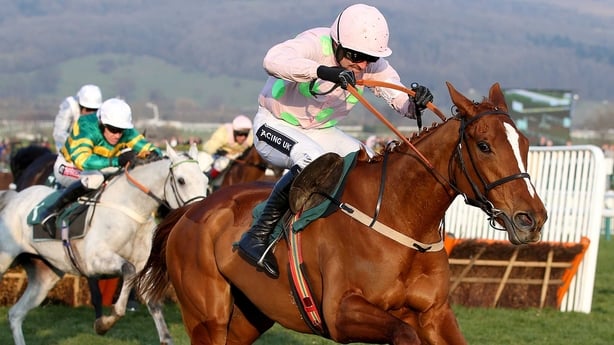 What the decision on Limini means for Vroum Vroum Mag is unclear. I remember last year when we were supplementing Annie I said I wasn't sure we were supplementing the right one considering how well Vroum Vroum was working.
So I don't know what to do. She's in the Champion Hurdle, the Mares Hurdle and the Stayers Hurdle. What you can do is to be too clever by half, spread yourself too thin and walk away with nothing. I'm not interested in that after the year we've had so, although it wouldn't be my usual stance, I wouldn't be against both Limini and Vroum Vroum Mag taking each other on. Both are working well, there is still a week to go and we won't be calling that until the weekend I'd imagine.
Of the rest Douvan is in cracking form, in really great order. Royal Caviar is well and heads for the Arkle while a few people have asked about Arbre De Vie and the four-miler: he could end up there - I think he'd definitely stay - but Willie has a couple in the race and Arbre has other options too, including the RSA.
Let's Dance is in good form and will work either this afternoon or tomorrow. I'd imagine like a lot of my entries she will remain in all of the races including the Neptune when that gets cut back tomorrow, and we'll be making a decision on her race as late as possible.
*BetBright sponsor the BetBright Cup at Cheltenham next week, a competition marking the intense rivalry between Irish-trained horses at the festival, and the home contingent.