After 13 tough years, often struggling unsuccessfully against the tide, the highs of Rio felt like sweet justification for Scott Evans.
The 29-year-old Dubliner left school at 16 and moved to Denmark to pursue a professional career in badminton, hardly the highest of profile sports and one which makes very few people rich.
Evans made appearances at the London and Beijing Olympic Games, but they were all-too brief - crashing out in the first round.
And there was also the incident in the 2011 Norwegian Open when he earned himself a black card and almost unheard of, tournament disqualification, for using foul and abusive language.
Looking back Evans admits that he has a self-destructive streak that he is now much better able to keep in check.
Travelling to Rio his form wasn't good though and it even occurred to him that the 2016 Olympics could be his final tournament.
It certainly felt that way when he was a set down and trailed badly in the second against fancied German Marc Zweibler.
But the Dundrum man staged an epic comeback, ripped off his shirt in an impromptu celebration, since labelled the Full Evans, and this opened the way for an unforgettable few days in Brazil's Marvellous City.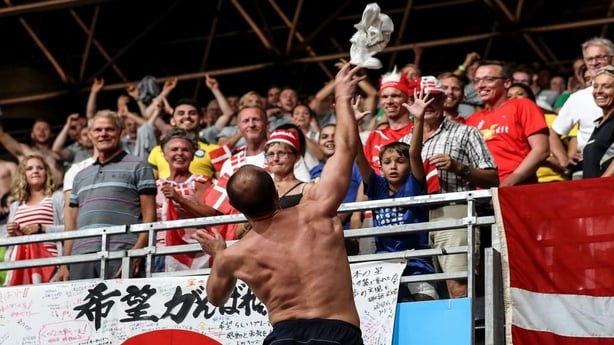 "I look at my career and I have had so many periods where it has been really, really hard for me - I have had a lot more difficult periods than I feel I have had good periods," explained Evans.
"I had lost to Marc eight out of eight times and you know if you are going to beat him you have to bring your absolute best. It was a huge, huge result, it was in the Olympics, I had worked so hard in the years up to it and all my emotions just came out.
"Watching it again, I don't remember from when I served (to win) to when I'm standing over on the side and pulling on a different top to walk off the court. I don't remember what was going through my mind, what I was feeling. People asked me was it planned, but I had no plan at all."
His next match was against home-town favourite Ygor Coelho de Oliveira in one of the few events at the poorly attended Rio Games which was sold out. Amongst those in the crowd were the Irish hockey team, who were giving it the Full Evans too.
There were also nearly 5,000 partisan Brazilians, not all of them exactly thrilled that Evans was getting the better of their man.
"They're cheering their guy on and then there's me ripping my shirt off, going crazy and telling the crowd to 'come on and give me some more'! It could have gotten out of hand and that they could easily have jumped over the barrier. It was nuts!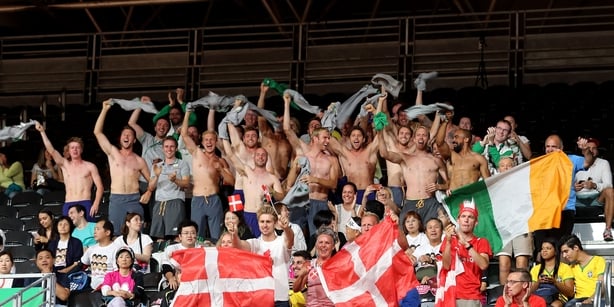 "When I was walking off the court there were a couple of people doing this (he mimics a throat-slitting gesture) and giving me the finger."
At one point after the match he looked into the crowd to where he knew his parents had been sitting and couldn't see his mother Cheryl and father Martyn. This is when he got worried for the first time.
He dispatched coach Tom Reidy to find them and it was ten anxious minutes before he learned that they had left quickly to escape the hostile atmosphere and were safe and sound.
During the Games he took a break from social media and afterwards he found some pretty nasty messages and threats on his Facebook account, though none of this can take away from his Rio experience.
I have had a lot more difficult periods than I feel I have had good periods - Scott Evans
"I've played in all the big events and Indonesia would be known as the craziest atmosphere; from Tuesday morning at 9am for qualifying the whole stadium is full and they just shout and cheer," he said.
"But this was a totally different ball game - the Brazilian fans were just amazing. That's something that went through my mind; I had to appreciate this no matter how tough it was, it was something that was very, very special.
"It's hard to describe the noise whenever he got a point and there were times when they booed me like crazy. It's a very, very special memory and not one I'll forget," he smiled.
For those who don't know too much about badminton :-) some fun facts about how fast badminton is. #badminton #FunFacts pic.twitter.com/cAnGq55zwl

— Scott Evans (@Scott_Evans1) October 28, 2016
Crashing out early in Beijing 2008 and London 2012 were tough experiences. Moving to a foreign country as a teenager where he didn't speak the language and knew next to no-one was even tougher.
Evans has known difficult and hard times in his career, but that black card in 2011 is probably the darkest place he has had to visit.
"In that period of time, over three or four months, I had a lot of difficulty with eating and sleeping, my training was really up and down, and in that period I spent a lot of time trying to get to know myself better and the type of person that I am. Who did I want to be?" he recalled.
"Because I felt now was the time to make some changes. I'm very happy that the whole thing happened, though of course I would have preferred if I never got a black card, and I am very happy with how everything has turned out.
"I really worked a lot on myself over those months and I still am. I know who I am now and I know what I need and what I want. I know the personality I have, the person I want to be and all of these things have helped me get to where I am today.
"I know it sounds funny, or weird, but a lot of athletes go through these periods so maybe I knew that it would have to come at some stage. It's better that it happened in 2011 rather than 2016 or 2017. I am grateful for the things I have experienced and the people who have helped me along the way."
Evans still calls Dublin home and has returned for this month's Irish Open and to spend Christmas with his family. He has a tattoo on his left arm of a stickman smiling and holding an umbrella to remind him of happy times in rainy Dublin.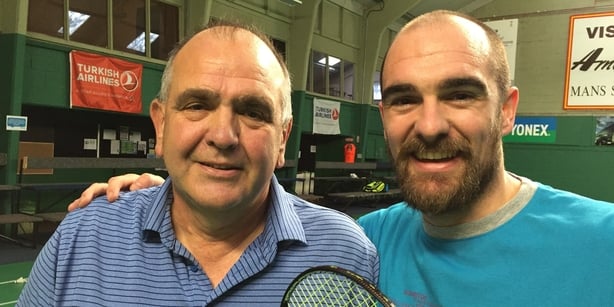 But he is settled in Copenhagen, for now at least, after 13 years in the Danish capital. He has a girlfriend and a growing women's fashion line that they run together, a home and a dog.
It's also the hotspot in Europe for badminton so he knows he has to be there to ensure the best quality 'sparring', the term for practice matches in the business.
Evans will be the first to admit that he hasn't always made it easy on his folks and this is one of the reasons he's so happy that they didn't listen to his advice to stay at home in August.
"I didn't want them to go to Rio and I'm delighted they were there to share the experience with me," he said.
"They were in Beijing and London and I lost in the first round of both of them. Of course it's a big achievement to get there and they were very proud of me for getting that far, but to have an experience like Rio and for them to be there, I was delighted we could share those experiences together."