The Western Bulldogs ended 62 years of hurt with a 22-point victory over the Sydney Swans in a pulsating Australian Football League grand final played out in front of a crowd of 99,989 at the Melbourne Cricket Ground on Saturday.
The first team to reach the final having finished seventh in the regular season, the team from Melbourne's western suburbs belied their underdog status with a huge team effort to become premiers for the second time since their 1954 win as Footscray.
Two late goals from Liam Picken, whose father Billy played and lost in four grand finals, and a long-range effort from the outstanding Tom Boyd settled an epic battle in which the lead had changed hands with regularity.
"It's just an amazing performance from our boys," Bulldogs coach Luke Beveridge said as his players shed tears and hugged each other on the field after the final siren.
"Some of those efforts in the last quarter were just sensational."
The Sydney Swans were looking for their third title in 11 years but were hampered from the fifth minute when their star forward Lance "Buddy" Franklin turned his ankle in the frenetic early exchanges.
The pace of the contest never waned but, fired by inspired inside forward Josh Kennedy, the Swans were always in it until the three late goals ensured the Bulldog's 13.11 (89) to 10.7 (67) victory.
"Huge congratulations to the Bulldogs, it's been a really even year but you guys play footy the right way," said Swans co-captain Kieren Jack.
"We couldn't get the job done but we're coming back."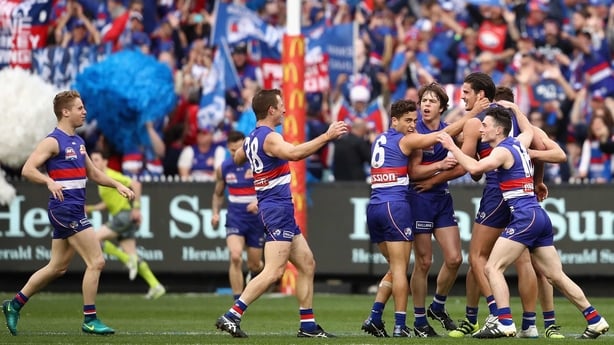 Boyd's late goal was his third of the contest but it was South African-born team mate Jason Johannisen who won the Norm Smith Medal as the best player on the field.
A club that almost went out of business in 1989 and lost inspirational captain Bob Murphy to a season-ending knee injury in April secured the title despite having to win playoff matches in Perth and Sydney.
The loudest cheer of the day came when Beveridge called Murphy up onto the presentation dais to hang his own winner's medal around the skipper's neck.
Earlier, the national anthem was played without incident despite indigenous rights campaigners calling for Australians to follow the lead of NFL players and boycott the pre-match formalities.