Eighteen-year-old Ellis O'Reilly is currently trying to combine the final few weeks of her schooling and preparation for the Rio Olympics.
The London born gymnast qualified for the Games last week at the test event in Rio so now she has three months to get herself ready for the biggest competition of her life.
But before that, she has to finish her A Levels, the equivalent to Ireland's Leaving Certificate, so that she can earn a place in university to study physical education from September as she plans.
"I'll be finished school this year," explained O'Reilly, who qualifies to represent Ireland through her Armagh-born grandfather and has been wearing the green for the past four years.
"It's tough fitting it all in. I'm doing coursework at the moment, so whenever I finish that I'll be done. 
"I'm hoping to go to university in September - I want to study physical education and I might do a bit of gymnastics coaching as well.
Massive ty 2 everyone tonight for making it so special when I walked into the gym, the 1st time since Rio ❤️❤️❤️ pic.twitter.com/qsD5K9SDKg

— Ellis O'Reilly (@EllisOReilly1) April 22, 2016
"I'm in school every day from 8.30 to 3.30 and then I'm in the gym from 4.0-8.0. I have quite a few free lessons during the day so that's when I try to get my homework done because it makes it easier if I don't have more work to do when I get home.
"I usually do that five days a week and some weeks I'll train six days," she said, speaking to RTÉ Sport.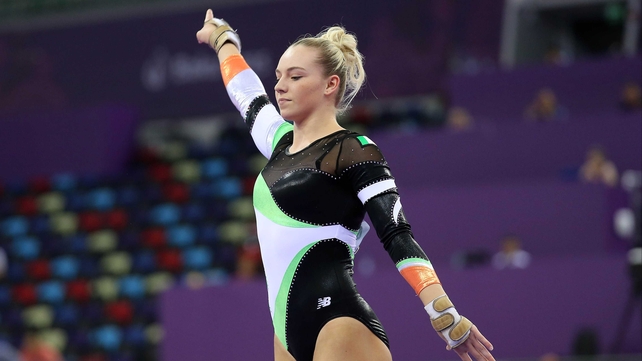 She continued: "The school is really supportive - they know that I need time to train and time off to go to competitions.
"The teachers have given me extensions so I have a bit of extra time to get work in and they email me with what's coming up. I didn't get time to check that when I was in Rio!"
O'Reilly will be the first Irish female gymnast to compete at an Olympics when she takes to the floor to compete in artistic gymnastics.
Happy St Patrick's Day 🇨🇮🍀💚 pic.twitter.com/5nin01Fpc1

— Ellis O'Reilly (@EllisOReilly1) March 17, 2016
"I don't think it has really sunk in yet," she said.
"I went back into the gym yesterday and they all clapped me in, which was really nice, and it's all a bit more real now. That was very nice of them to do that - totally unexpected.
"I knew that there was a possibility that I could qualify so I knew that if I had a really clean competition I'd have a chance."
But she won't be the first of her family to take centre stage at an Olympic Games.
Her sister Jenna, 20, is a four-time amateur British boxing champion so she was given the honour of leading Katie Taylor into the ring for her gold medal fight in London 2012.