In 2012 Arthur Lanigan O'Keeffe was very much an accidental Olympian.
He missed out on qualification by one place and was 'pondering life' on a Greek beach when he was told that a Polish qualifier had failed a drugs test. He was in with four weeks' notice.
For the 24-year-old from Thomastown, County Kilkenny, London four years ago was all about the experience. Rio 2016 is about finishing on the top step of the podium  -  and he makes no secret of his ambition.
"My goal is gold, otherwise I wouldn't be doing it," he said, speaking to RTÉ Sport.
"It's a very big year; Olympic year, so it's the biggest year for any athlete really. It's going well, I qualified last year in the European champs and it means this year is all prep for the Olympics.
"I'm currently European champion and pentathlon is a European-dominated sport so winning that gives me huge confidence going forward for Rio and backs up all the hard work I've been putting in the last few years."
Despite being one of Ireland's hottest medal prospects for Rio, Lanigan O'Keeffe is flying towards Brazil very much under the radar in his home country.
That's probably because modern pentathlon is most definitely a minority sport in Ireland.
Developed by the father of the modern Olympics, Baron Pierre de Coubertin wanted an event that would test the complete all-round athlete. He also had a cavalry officer caught behind enemy lines in mind when he chose to combine running, shooting, fencing, swimming and horse riding.

Trying to excel at all those difference disciplines means a hell of a lot of training. Lanigan O'Keeffe spends nearly every walking hour, six days a week either training, recovering or getting ready for his next session.
His family are heavily involved in horses and his mother Carolyn encouraged him to swim as a child to improve his poor coordination.
He got picked up by a triathlon (swim, bike, run) programme, but his mother didn't fancy him cycling around the country roads near his school in Glenstal Abbey, County Limerick, so when he found out about pentathlon he threw himself into that.
IT'S OFFICAL I'M PREGNANT #Faultproof #AprilFools #ItsABoy pic.twitter.com/eyOT2H4NXv

— Arthur LOK (@ArthurLOK1) April 1, 2016
Lanigan O'Keeffe, who has been a full-time athlete for the past two years having put off the final year of a degree in sports management at UCD, then won a scholarship to the Millfield school in Somerset, England, which unusually has an elite pentathlon unit.
"That allowed me to learn how to be a high performance athlete and that kick-started my dream," he noted.
"I moved over there when I was 16, I moved back here when I was 18 and the facilities in the National Sports Campus are second to none -  I couldn't be in a better place for my development right now."
London 2012 wasn't the Olympic dream Lanigan O'Keffee had hope for, but looking back it's the experience he needed heading to Rio.
This time around he won't even attend the opening ceremony and he won't spend much time in the athletes village, preferring to base himself at Ireland's training base in Uberlandia, a 90 minute flight from Rio, in order to remain focused on his event, which takes place on the last very day of the Games.
"London wasn't ideal preparation-wise, but experience and exposure-wise it was exactly what I needed and it will mean major brownie points for me going into Rio. It's an experience which I need.
"You hear about the Olympics when it finishes for athletes and it's big party time so it's about staying in the zone. Staying focused on your event is extremely difficult when other athletes are finished weeks before.
"I'm there to do a job and I think I'll be very focused  -  I don't think I'll even notice it, to be honest. It's still going to be an amazing experience and I'll have my fun afterwards."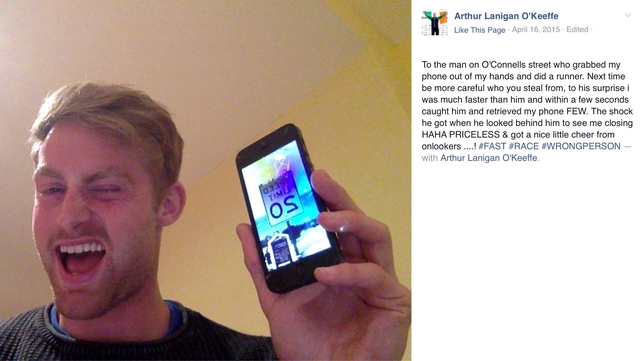 Lanigan O'Keeffe was recently in the news when he was asked to leave an Aer Lingus flight due to his fencing equipment. He has had similar problems before with some of his pentathlon gear.
He smiled: "It's always a challenge bringing guns and swords through airports. But luckily now we have a system that usually works and the guns don't have live ammunition any more, they're laser, so normally after a bit of chatting it's grand.
"You just need to leave the full two hours, maybe even two and-a-half hours before travelling!"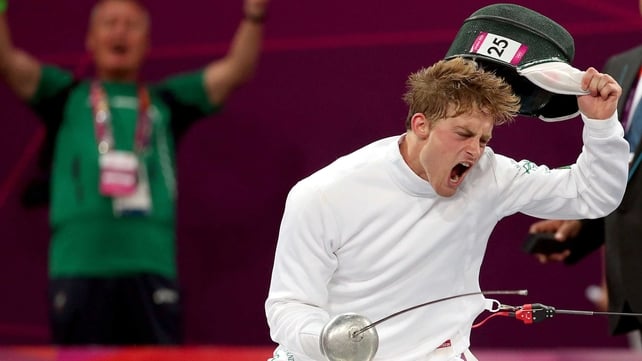 MODERN PENTATHLON EXPLAINED
The competition takes place on a single day, the final day at the Olympics, and consists of five sports  -  fencing, swimming, showjumping and a combined run and shoot.
*A competitor has to fence each of their opponents once. The target area is the whole body and a single hit wins. If no hits are scored inside a minute, both athletes record a loss. Points are awarded for each bout won.
*The swimming is a 200 metre time-trial and for every second above or below the standard time of two minutes 30 seconds, points are added or deducted to/from their overall pentathlon score.
*Athletes ride an unfamiliar horse over a 12-jump course. Each round is timed and points are lost for every second over the optimum time, each error, knock down, refusal, fall or act of horse disobedience.
*The combined run-shoot is the last event and athletes start in their competition positions  -  the more points an athlete has, the less their time handicap behind the leader. So the person in first position goes out first and the first person over the line wins the competition outright. Athletes run four 800 metre circuits and between each they have to enter a gun range to shoot down five targets inside 50 seconds.