European Games, Baku, Azerbaijan
Boxing
Olympic champion and five-time world champion Katie Taylor beat Azerbaijan's Yana Alekseevna on a split decision to reach the women's lightweight final. 
In a close-fought battle, Taylor was pushed to the limit by Alekseevna, who was roared on by the partisan home crowd.
The three judges all scored the bout 38-38 but two of them, from Poland and Finland, opted to give Taylor the final decision to book her spot in tomorrow's final against France's Estelle Mossely.
The bout was a rematch of their clash at the World championships in South Korea last November, which the Bray woman won easily.
This encounter was the complete opposite however, with Taylor having to chase victory right up to the final bell. 
Although Taylor appeared to have settled into her rhythm early on, Alekseevna was in front by a point after the first round.
Taylor upped the pressure in the second round to even up the bout on the scorecards, with Alekseevna only showing herself as an attacking force with a late flurry. 
The bout swung back in Alekseevna's favour in the third round. Although Taylor landed the heavier shots, Alekseevna's workrate outpaced that of Taylor and judges had the local woman back in front.
The fourth round saw Taylor go for broke with a spot in the final clearly hanging in the balance and Irish woman showed her class and guile to take the round, and ultimately the fight.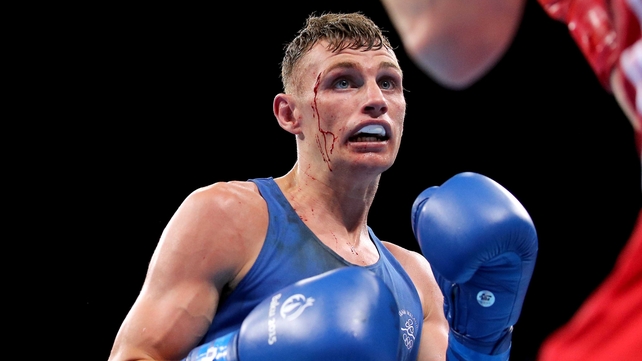 Meanwhile, Michael O'Reilly is assured of at least a silver medal after receiving a walkover into the middleweight final.
The Portlaoise fighter had been due step into the ring at 10am to meet Russian Maxim Koptyakov but a cut eye sustained in his quarter-final bout ruled Koptyakov out of the semi-final.
Sean McComb lost his lightweight semi-final to Azerbaijan's  Albert Selimov. 
The impressive and vastly experienced number one seed Selimov won on a unanimous decision over the Belfast 22-year-old.
McComb was on the back foot from the first bell with Selimov dictating proceedings. McComb hopes took a blow in the second round with a bad cut on his right temple from a clash of heads.
McComb regained his composure to edge the final round but by then Selimov had already done enough in the first two rounds to seal a final spot.
The judges gave Selimov the fight 3-0 on scores of 29-28, 30-27 and 29-28. 
Badminton
Chloe and Sam Magee are guaranteed bronze medals in the mixed doubles after beating Polish pair Aneta Wojtkow and Pawel Pietryja to advance to the semi-finals.
In a match that lasted 34 minutes, the Donegal brother and sister duo beat the Poles 21-18, 21-12.
26-year-old Chloe and 25-year-old Sam will face France's Gaetan Mittelheisser and Audrey Fontaine in the semi-finals tomorrow morning.
Sam Magee has already won a bronze medal with his brother Joshua after they bowed out in the men's doubles semi-finals.
Russian duo Vladimir Ivanov and Ivan Sozonov proved too hot to handle with the Magees losing 5-21, 9-21.
Dubliner Scott Evans suffered a surprise exit to Denmark's Emil Holst in his men's singles quarter-final.
The top seed crashed out to world number 52 Holst on a score of 17-21 14-21.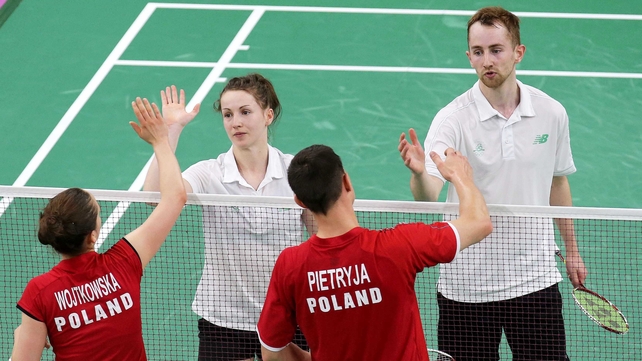 Swimming
Emma Reid withdrew from the starting line up in the women's 100m butterfly final this afternoon, while none of this morning's Irish competitors were successful in qualifying from their heats.
Benjamin Doyle suffered heartache after having seemingly won his 100m butterfly heat. The 17-year-old Dubliner was subsequently disqualified.
Also in the 100m butterfly, James Brown swam a personal best time, clocking 56.33 seconds, placing 32nd overall, while Alan Corby was fifth in his heat in 57.91 seconds.
Danielle Hill finished 21st overall in the 100m backstroke, missing out on a place in the semi-final by just 0.6 of a second.
Hill was over a second off her Irish junior record time of 1:03.72, touching in 1:05.49. Issie Hayes was also off her best time in the event touching in 1:06.18.
Rory McEvoy was also six tenths of a second off a semi-final place in the heats of the 50m backstroke, he swam a time of 27.34 seconds while Alan Corby (27.43) also competed.
In the men's 100m breaststroke, Andrew Moore swam a lifetime best 1:07.51 while in the women's event Mona McSharry (1:13.20) and Niamh Kilgallen (1:14.03) could not match their best times placing 22nd and 26th.
Hill, Hayes (27.69), McSharry (27.59) and Rachel Bethel (27.51) all competed in the heats of the 50m freestyle with Hill the best of the Irish in 27.25 seconds.
Judo
Eoin Fleming suffered defeat to Turkey's Hasan Vanlioglu in the men's 73kg class elimination round of 64.