Tony Romo engineered a stirring second-half comeback to lead the Dallas Cowboys to a nail-biting 24-20 NFC wildcard win over the Detroit Lions on Sunday and a trip back to the divisional round to meet the Green Bay Packers.

With a postseason record of 1-3 and haunted by a reputation as a big-game flop, Romo withstood a ferocious Lions defense, tossing a pair of touchdown passes to Terrance Williams, including an eight-yard strike with 2:32 to remaining to give Dallas their first playoff win since the 2009 season.

"You just have to stay in the moment and understand the game, it doesn't end after the first quarter or second quarter, it's a long way to go," said Romo. "It wasn't going well...you just have to stay calm, I've played enough games to understand that. I think I didn't do that as well when I was younger."

After an 11-5 regular season it was more postseason disappointment for the Lions, who have not won a playoff game since January 1992, losing seven wildcard contests.

Romo, sacked six times by Detroit's top-ranked defense, would not be kept down, completing 19 of 31 passes for 293 yards while DeMarco Murray, the NFL's leading rusher, ran for 75 yards and a touchdown.

The Lions shocked the home crowd at a packed AT&T Stadium, scoring on their first possession when Matthew Stafford hit Golden Tate with a 51-yard touchdown pass, then followed up with a 14-play, 99-yard drive capped by Reggie Bush scampering into the end zone for a 14-0 lead.

Kept in check by a swarming Detroit defense, the Cowboys finally got the big-play lift they needed when Romo hooked up with Williams with a 76-yard touchdown strike with less than two minutes remaining in the half but the Lions would answer back with 39-yard Matt Prater field goal to take a 17-7 advantage into the intermission.

Stafford was intercepted by Kyle Wilber on the Detroit 19 in the third quarter but Dallas could not convert the turnover when Dan Bailey missed on a 41-yard field goal attempt.

Having dodged a bullet, the Lions answered immediately with a 37-yard Prater field goal but the Cowboys would not throw in the towel.

Trailing 20-7, Dallas turned to their top guns and another big play, Romo finding Dez Bryant for a 43-yard gain and Murray bulling over from the one.

After a 51-yard Bailey field goal, the momentum was squarely in the Cowboys' corner when Dallas linebacker Anthony Hitchens was called for pass interference only to have the penalty waved off and end a Lions drive.
In a post-game interview, referee Pete Morelli ran through the play, saying the back judge had made the call but after consulting with other officials on the field, it was decided there was no interference and the flag was picked up.

"The back judge threw his flag for defensive pass interference. We got other information from another official from a different angle that thought the contact was minimal and didn't warrant pass interference. He thought it was face-guarding," Morelli said.

He added that while face-guarding, which involved a defender raising his hands in the face of receiver and blocking his vision without playing the ball, is a penalty in college football it is not a foul in the National Football League.

Morelli's reasoning, however, did little to satisfy Lions head coach Jim Caldwell.

"It wasn't good enough," he said when asked about the explanation.

"I'm not going to sit up here and act like that was the call that made the difference in the game. We still had our chances."
That was followed by a Detroit 10-yard punt with Romo taking over and engineering the game-winning drive.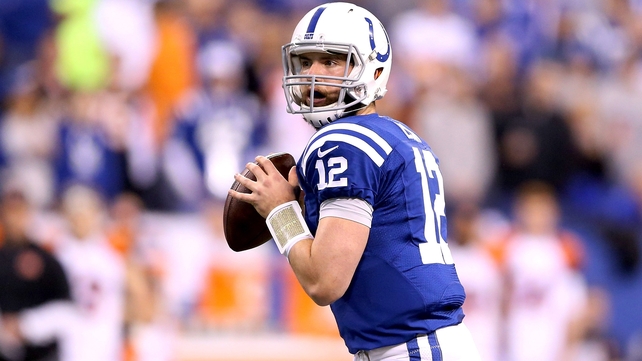 Earlier, quarterback Andrew Luck led the Indianapolis Colts to a 26-10 win over the Cincinnati Bengals in the AFC wildcard game on Sunday to set up a divisional round clash with Peyton Manning and the Denver Broncos.
Luck, who was drafted to replace Manning at the Colts, threw for 376 yards and one touchdown on 31 of 44 passing in a game in which the Colts rarely looked in danger of losing.
The Bengals have not won a playoff game since the 1990 season and have now lost in the wildcard round for the past four years.
Cincinnati were without two of their main receivers with wideout A.J.Green ruled out with concussion and tight end Jermaine Gresham missing with a back injury and without those targets quarterback Andy Dalton struggled.
The Colts set the tone with the first drive of the game - the confident Luck marching 71 yards on nine plays ending with a two-yard touchdown run from back Dan Herron.
Cincinnati responded strongly with a one-yard run from Jeremy Hill finishing off a 74-yard drive from the visitors.
Colts kicker Adam Vinatieri converted two field goals in the second quarter with Mike Nugent replying for the Bengals with a 57-yard kick that flew in off the post to hold the Indianapolis advantage at halftime to 13-10.
Luck extended that lead in the third quarter with a superb 36-yard touchdown pass, on the run, to Donte Moncrief in the end zone.
The Colts thought they had another touchdown when Luck found Coby Fleener but a penalty for an illegal block in the back wiped out the score and Indianapolis settled for another field goal from the 42-year-old Vinatieri.
The Bengals offense was unable to progress, failing to make a first down in the entire third quarter.
Another Vinatieri field goal, in the fourth, pushed the Colts well beyond a Bengals team that never looked capable of launching a comeback.