By Tadhg Peavoy
It's been a life-changing few months for Cathal Pendred - the Irish UFC welterweight fighter from Whitehall, on Dublin's Northside.
Pendred took his bow in the UFC on 19 July at Fight Night 46, in a packed house at the O2 Arena, where he delivered a sensational comeback victory over American Mike King, which won him plaudits from critics and fans alike. It was quite an introduction to the top tier of MMA and immediately put the Dubliner on the map, both in terms of brand recognition, as well as rubber-stamping him as a true up-and-coming star.
He followed that victory up with a trip to Stockholm, where he went 2-0 with a victory over Russia's Gasan Umalatov in UFC Fight Night 53, in which he had to make all the running, as his opponent backed off, and tried to catch the Irish fighter on the counter. The win gave him valuable experience of fighting a tricky counter-attacking opponent, ahead of new, as yet unknown challenges, that lie ahead in the UFC.
When I meet Cathal in a Drumcondra coffee shop, with his head freshly shaved and beard grown-out, he tells me how that comeback against King was, in his mind, a testament to his mental fortitude, and how that aspect of his game is a facet that will keep him alive in fights long after other fighters have succumbed to the pressure of being caught in difficult situations.
"I think a lot of fighters often have questions in the back of their head if they're put in bad positions. I don't think I'll ever have that question. I'll always know that if I'm in a rough spot in a fight I won't give up on myself," said Pendred.
"I never have doubts [when in bad positions in fights]. I know other fighters do, but I don't. I know I'll keep going until the bitter end."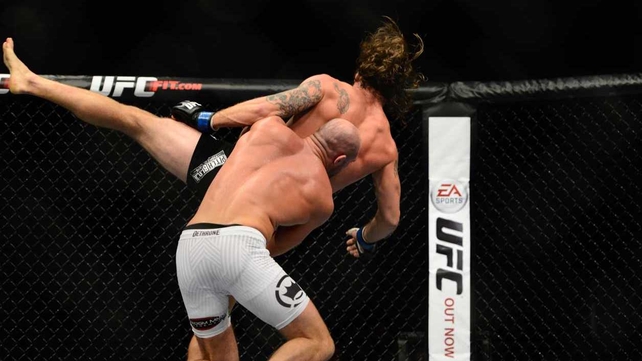 An oft repeated mantra in sport is 'focus on your game plan, not the opposition's', and that attitude was what Pendred applied during a first round where King dominated.
"I wasn't thinking about him. I never focus on my opponent," said the 27-year-old. "It doesn't matter whether he's tired, or has energy, I focus on me.
"I'm only in control of what I'm involved in. I wasn't badly hurt. I was just focusing on getting back in there and doing what I planned to do from the start.
"I made some silly mistakes and ended up getting punched and dropped. When I was back in my corner I was focused on making a fresh start."
Going over the game plan with @PendredMMA http://t.co/qfLLkDBi8J pic.twitter.com/XHtYSJuGjj

— Coach Kavanagh (@John_Kavanagh) October 2, 2014
Subsequently, King tested positive for steroid use before the fight, and has been released from the UFC, with a nine-month ban. Interestingly, King contacted Pendred personally to let him know of the news before it broke publicly.
"I was pretty pissed off. Going into that fight I was friends with him. I'd never fought someone who was my friend before. If we were competing in cycling or sprinting, if one athlete takes a performance enhancing drug, it doesn't directly effect the other competitors," said Pendred.
"But in contact sport it has a direct edge. You're punching stronger, you can take more shots. It affects the health and safety of your opponent.
"I've spoken to him a couple of times. He was the one that actually told me. He said he wanted to tell me before it was announced.
"The best way I can describe it is that it was like being held under water and  you are suddenly let out and can breath again" - Cathal Pendred on his financial troubles easing after his UFC debut
"He's sent me a couple of messages since apologising and what not. I don't hold it against him. He's lost his bonus and ruined his career in MMA. I'm not going to kick him while he's down. He's paid the price, I've moved on."
Prior to his UFC debut, things were tough financially for the Irishman, with bills racking up, and pressure building for a badly needed influx of cash. The fight win has, in his words, 'made everything easier.'
"I always had in my head, 'Where is the next month's rent coming from? Where am I going to get the petrol money to get to training next week?' he said. 
"I always had these issues in the back of my head. Even in training I could feel myself drifting off when my coach was telling me something. I was thinking, 'I've got this bill to pay.' It affected every bit of my life. I was constantly trying to block it out. Now I don't have that and it's made everything easier.
"The best way I can describe it is that it was like being held under water and you are suddenly let out and can breath again. I knew I would get to this point, but it lasted a lot longer than I would have liked. But money is not my focus, my focus is to succeed and move forward, and the rest will take care of itself."
After such a win, a break, and some rest and relaxation would be expected, but Pendred was straight back into the thick of it and fought Umalatov at the start of October.
"I was back training the week after, on the Wednesday, and then I fought ten weeks later. My girlfriend was going mad at me because she wanted to get away on holiday. I love the slog of it and training hard. That's why I do it."
Ready for battle... http://t.co/U7OSapoifE pic.twitter.com/9xyTowq9nI

— Cathal Pendred (@PendredMMA) October 16, 2014
That fight against Umalotov was a frustrating one for Pendred as he had to constantly be the aggressor against a fighter that was highly reluctant to engage in close combat.
"This guy just kept on backing off me. I couldn't even get a jab in because every time I took a step forward, he took a step back. When I went for takedowns he'd back off," said Pendred.
Delighted with the win. But I had a lot more to show. Hopefully next time I'm given someone who engages with me. #UFC pic.twitter.com/aIXoKFcgN5

— Cathal Pendred (@PendredMMA) October 6, 2014
"Even when I'm sparring, you have sparring partners that engage with you. I learned a great deal because looking back I saw what I used well. My kicks worked well as they have greater reach, and I can use them again in that situation for example.
"Because he refused to come in, we both started circling around the ring, and nobody wants to see that. UFC is a business as well as a sport, and nobody wants to see that.
"So I had no other option but to commit to what he wanted me to do – to attack him, and try not to get clipped by his shots."
Pendred's style upon entering the ring is to lock eyes with his opponent and pace the octagon. That eye contact pre-fight is a crucial psychological element in what he deems is a primal build-up.
"I always lock eyes with guys and never let go. Maybe it's a primal thing. I remember hearing Mike Tyson talking about it," he said. "I always feel the urge not to do it [look away]. 
"It's a primal thing because I feel this is the purest form of competition. Sport is a massive part of human nature because of the competitive side of us, because we have always competed to survive through combat. So, it is primal."
Pendred admits that he loves that element of testing himself, and that after secondary school he considered the life of soldier. "I wanted to join the marines. I think it was always the discipline side of things that made me want to do that. But it's the best decision I ever made - not to do that."
Calm is key in combat, and keeping one's nerves icy. Time in the octagon and in the gym, going over tecnnique, is crucial to bringing about calm on fight night for Pendred.
"I think it gets easier every time and the first few times you fight you can't help but get hyped up. But the more fights you have the more you can control it. But the real thing is the hard work you put in before fights, that gives you confidence and makes you relaxed, because that's what you're counting on. I train for a fight for three months and for that period of time I'm slogging in the gym and putting in the hard work.
"And then when it comes to fight night it's just 15 minutes of doing in the gym what I've been doing for hours and hours, days and days, months and months. That's what makes me relaxed – reflecting on all the hard work I've done."
Belief and self-confidence are pillars of a martial artist's armoury and Pendred feels his sense of those skills has come about as he has grown as an athlete; as well as being born from the use of a sports psychologist when playing schools rugby and seeing his father overcome serious illness when he was in his teens.
"You have to believe you are going to do something, otherwise all those hard hours in the gym aren't worth it," Pendred insisted. "I've built up my self-confidence as a man and as a competitor. The first time I worked with a sports psychologist was when I was in schools rugby, it provoked my mind. And then my father was sick [when I was 19] and I saw that belief can get you through anything.
Success is a result of not giving up.... And failure is just part of the process. Keep going! http://t.co/GR9rKYgk1E pic.twitter.com/DH2exhdtEN

— Cathal Pendred (@PendredMMA) October 8, 2014
"In my MMA career I was always seen as an underdog because I took up the sport so late [after school].  But each victory overcoming the odds built up my belief.
"Recently I've actually decided I might do a masters degree in psychology. But at the moment I'm too busy fighting, training and travelling the world."
Pendred is known for his wrestling and grappling due to his rugby background. However, he believes he needs to improve his stand-up striking game, something he has been working on of late.
"I'm fine tuning everything, but I'm really focusing on stand up. I really took to the wrestling side of things because of my background in rugby," he said.
"I'm working with Owen Roddy at the moment on that. He was one of the first MMA fighters in Ireland. He's got his own gym, which is not too far from where I live - Primal MMA in Charlestown.
"I'll go down and work the pads with him two or three times a week. I've done a lot of pad work before, but it was with boxing coaches, which is great for hand speed and movement. But it's different because they want you to stand taller. And in MMA you need to get lower because you're worried about the takedown."
Improving that stand up game, and moving up the rankings are the goals for Pendred, as he prepares for his next bite of the UFC cherry. 
"My next short-term goal is to break into the top 15 rankings, but most importantly keep moving forward. Lots of things will change in the meantime, but that's circumstantial. What's important is to keep moving forward."
Follow Cathal Pendred on Twitter: @PendredMMA