Russian Alexander Zubkov secured a golden finale for the Sochi Games hosts on Sunday by adding the Olympic four-man bobsleigh crown to his two-man title.
Zubkov held on to his slim overnight lead to take gold by nine hundredths of a second ahead of Latvia's Oskars Melbardis.
American Steve Holcomb, the 2010 champion, won bronze, three hundredths of a second ahead of Russian Alexander Kasjanov in the RUS-2 sled.
The last man to win the Games bobsleigh double was now-retired German Andre Lange in Turin in 2006.
Elsewhere, Russia swept the medals after a dramatic finish to the 50 km cross-country race, with Alexander Legkov edging out compatriots Maxim Vylegzhanin and Ilia Chernousov to claim gold.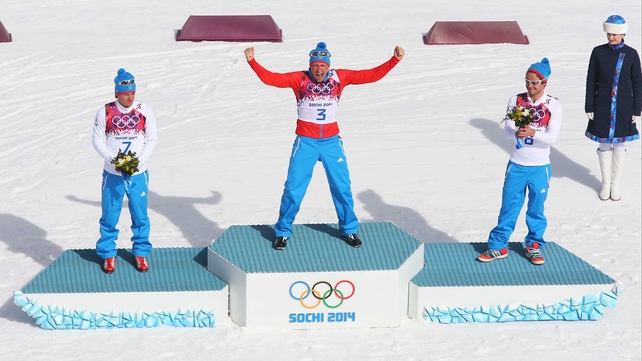 Just 0.8 seconds seperated the top three. The result meant Russia could be caught at the top of the medals table.
Legkov started a breakaway with less than two kilometres to go and was pursued by team mates Vylegzhanin and Chernousov as well as Norway's Martin Johnsrud Sundby.
With 100 metres to go, Legkov increased the pace and crossed the line 0.7 seconds ahead of Vylegzhanin, with Chernousov finishing 0.1 seconds further back to take bronze.
Coach Elena Vyalbe said: "Legkov proved he is the king of skis for at least four years.
"We didn't manage to fulfil our medal plan. In sprints we should have had completely different results."
Russia won a silver in the men's team classic sprint, the women nothing in either team or individual sprint
It was the second consecutive tight finish to the event after Norway's Petter Northug won by 0.3 seconds in 2010.
Dario Cologna of Switzerland, going for a third gold medal in Sochi, was well placed with 2km to go but broke a ski and ended up in 27th place.
Vylegzhanin won his third silver after picking up medals in the team sprint and relay.
Northug finish in 18th, capping a disappointing cross country competition for Norway's men. They started as one of the overall favourites but managed only one a gold and a bronze.
The Russian clean sweep more than doubled their medal tally on the cross-country track. Until Sunday they had won just two silvers in team events.
Earlier in the race Anders Soedergren of Sweden and then Matti Heikkinen on Finland had taken the lead but were both quickly caught by the pack in the warm sunshine.