China's Zhang Hong ripped up the form book with a stunning upset to win the Olympic women's 1,000 metres speed skating title at a canter on Thursday.

Zhang clocked one minute, 14.02 seconds for her two-and-a-half laps, with women's 3,000 metre champion Ireen Wust of Netherlands claiming silver some 0.67 seconds back.

Dutch skater Margot Boer took bronze and was the only other competitor to get within a second of the 25-year-old Zhang.

Skating in the seventh heat of 18, Zhang produced a blistering pace over the final half of her race to move top of the time sheets by three seconds.

She then sat and watched on from inside the oval with her coach as the medal favourites and big names struggled to get anywhere near her time.

Americans Heather Richardson and Brittany Bowe were both tipped for the title but neither threatened and they finished seventh and eighth.

Olympic 500m champion Lee Sang-hwa went in the final heat and she skated under Zhang's time over the opening lap but she tired in the latter stages and could only finish 12th.

Zhang raced around the Adler Arena draped in the China flag before leaping on to the podium and hugging her Dutch opponents.

In an incident-packed race, South Korean Lee Bo-ra and Germany's Monique Angermueller both crashed out in their heats
France's Martin Fourcade earned his second Olympic biathlon gold medal by winning the 20km individual title.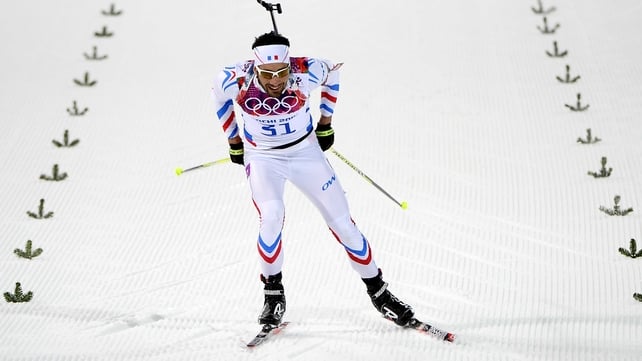 Fourcade, who won the 12.5km pursuit on Monday, made one mistake on the shooting range but was too fast on the skis for his rivals.
German Erik Lesser shot clean but had to be content with silver, finishing 12.2 seconds behind Fourcade.
Russian Evgeniy Garanichev took the bronze, 34.5 off the pace, on his 26th birthday.
Germany completed a clean sweep of luge gold medals at the after winning the inaugural team relay.

Men's champion Felix Loch, women's winner Natalie Geisenberger and doubles gold medallists Tobias Wendl and Tobias Arlt combined to comfortably land the debut event.

Russia, led by men's silver medallist Albert Demchenko, secured silver and Latvia took bronze.

The event features one woman, one man and one doubles team from each nation sliding back-to-back-to-back runs. At the finish each athlete must touch a special touch pad, which automatically opens the start gate for the next team member.