Carina Vogt of Germany made history when she won the women's first ever Olympic ski jumping competition, marking the triumphant end of a 13-year fight by female athletes to take part in the Games.

The 22-year-old German world number two collapsed to the snow in tears when she the scoreboard showed that her second jump of 97.5 metres, the last of the competition, had been just enough to beat Austrian veteran Daniela Iraschko-Stolz.

The 30-year-old had landed a monster jump of 104.5 metres - the longest of the night - in the second round to move up from fifth place into the provisional lead.

Vogt, who has never won a World Cup jumping event, ended the night with 247.4 points. Iraschko-Stolz, who played a major part in the campaign to have women jumpers included in the Games, amassed 246.2 for silver.

In a major surprise, 18-year-old Coline Mattel of France took the bronze with 245.2 points, edging out runaway world number one and favourite Sara Takanashi of Japan. Takanashi, 17, had been third after the first round.

World Champion Sarah Hendrickson of the United States, who made the Games despite suffering a bad knee injury last August, looked tentative and put in two mediocre efforts to end in 21st place of the 30 competitors.

Women had pressed the International Olympic Committee since 1998 to be allowed to take part, even going to court to challenge their exclusion from the 2010 Vancouver Games, but were repeatedly rejected on the dubious grounds there were not enough good female jumpers.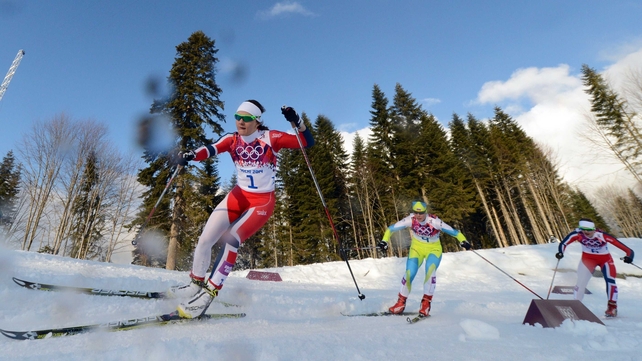 Norway's Maiken Caspersen Falla snatched her maiden Winter Olympic title when she won the cross-country sprint event after compatriot, defending champion and hot favourite Marit Bjoergen crashed out in the semi-finals.
Bjoegen, who won the individual sprint in Vancouver four years ago, was seeking her fifth Olympic title but failed to make the final where Falla was never threatened.
Team mate Ingvild Flugstad Oestberg produced a late surge to catch Slovenian Vesna Fabjan on the line and take silver by two hundredths of a second.
Bjoegen, who won the skiathlon on Saturday, had taken third place in the qualification round as several skiers fell on the 1.3km circuit on melting snow in warm conditions at the Laura Biathlon and Cross-country Complex.
German Denise Hermann and American Kikkan Randall, first and second in the sprint World Cup standings, were eliminated in the semi and quarter-finals respectively.
Poland's Justyna Kowalczyk, second behind Bjoergen at the Vancouver Olympics, is sitting the event out as she nurses a micro fracture in her foot to be ready for the remaining disciplines.
There was more good news for Norway in the men's cross-country sprint as Ola Vigen Hattestad won his first Olympic gold in a chaotic men's cross-country sprint.
Teodor Peterson of Sweden took silver and another Swede, Emil Joensson, came through to claim the bronze after a tricky right-hand bend on a descent sent three skiers tumbling.
Joensson, Norwegian Anders Gloeersen and Russian Sergey Ustiugov all fell and although the host nation athlete was quickest to get back on his skis, he realised he had broken a ski pole and had to settle for fifth.
Marcus Hellner, another Swede, was never in contention and was already way behind when the crash happened and Norwegian Petter Northug's miserable Olympics continued when he was eliminated in the semi-finals.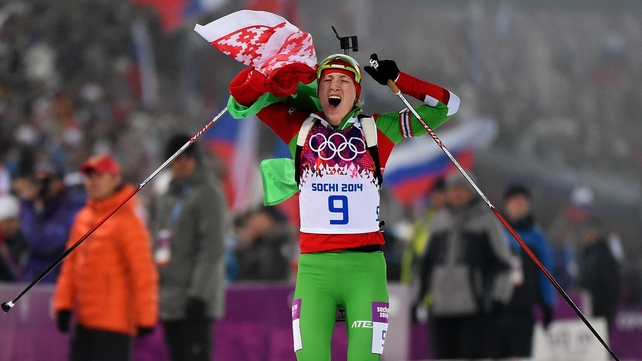 Darya Domracheva became the first woman from Belarus to win an Olympic gold medal at a Winter Games when she powered to victory in impressive fashion in the biathlon 10km pursuit.
Domracheva, who won bronze in the individual event at the Vancouver Olympics, quickly made up a 32-second deficit at the start and never looked back, shooting an almost perfect 19 out of 20.
Norway's Tora Berger made up for Saturday's disappointing sprint as she took silver and Slovenian Teja Gregorin claimed bronze, giving her country its first Olympic medal in biathlon.
Slovak Anastasiya Kuzmina, who won the sprint, made two mistakes on the shooting range and came sixth.
Domracheva finished with a massive 37.6-second advantage over Berger and Gregorin was 42 seconds off the pace after being cheered on by the Russian crowd.
Natalie Geisenberger blew apart the field to claim the women's luge gold.
The 26-year-old German finished 1.139 seconds ahead of German compatriot Tatjana Huefner, who took silver.
American Erin Hamlin became the first woman from North America to win an individual medal in the women's luge, picking up the bronze medal.