Ben Roethlisberger shone for Pittsburgh Steelers after they came from behind to beat the Detroit Lions 37-27 on Sunday.
Roethlisberger passed for 367 yards and four touchdowns, including two in the final five minutes while Antonio Brown caught seven passes for 147 yards and two scores.
Matthew Stafford threw for 362 yards with two touchdowns and an interception to become the Lions' all-time leading passer.
Philadelphia Eagles snapped a 10-game home losing streak with a 24-16 victory over the Washington Redskins.
Nick Foles threw for 298 yards and ran for a touchdown and LeSean McCoy had two TDs rushing.
AFC North leaders Cincinnati Bengals set a new team record as they brushed aside the Cleveland Browns 41-20.
Andy Dalton threw two touchdown passes and Cincinnati returned a blocked punt and a fumble for touchdowns during a 31-point second quarter that set a Bengals record.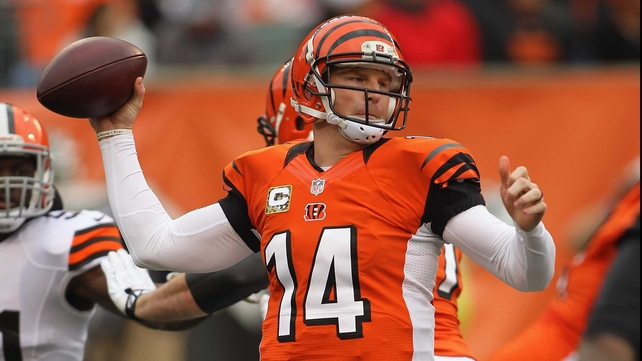 The game ended as the most lopsided game in the intrastate series since Cincinnati's 30-0 win in Cleveland in 2006.
Rookie Matt McGloin threw three touchdown passes in his first NFL start as the Oakland Raiders beat Houston 28-23 on the Texans' coach Gary Kubiak's return following a mini-stroke.
McGloin, like Houston quarterback Case Keenum a free agent, was 18 of 32 for 197 yards in place of an injured Terrelle Pryor.
McGloin threw touchdown passes of five, 16 and 26 yards to help the Raiders score their most points of the season.
Kubiak was not on the sidelines but instead coached upstairs from the booth on doctor's orders two weeks after collapsing at half-time of Houston's game against Indianapolis.
The Arizona Cardinals claimed their third successive victory as they beat the Jacksonville Jaguars 27-14.
It was the first time the Cardinals had ever won twice in Florida in one season after their victory over Tampa Bay.
Carson Palmer was a standout performer for the Cardinals while Michael Floyd scored on a 91-yard catch-and-run that embarrassed the Jaguars' secondary and the Cardinals' defence stiffened in the second half.
Kyle Williams was the stand-out performer for the Buffalo Bills as they enjoyed a 37-14 win over the New York Jets.
Williams led the Bills defence amid gusting winds in Buffalo, with two sacks as well as forcing a fumble while Jairus Byrd had two interceptions as the Bills turned four turnovers by Geno Smith into 17 points.
Bobby Rainey rushed for 163 yards and scored three touchdowns to lead Tampa Bay Buccaneers to a 41-28 win over struggling Atlanta Falcons.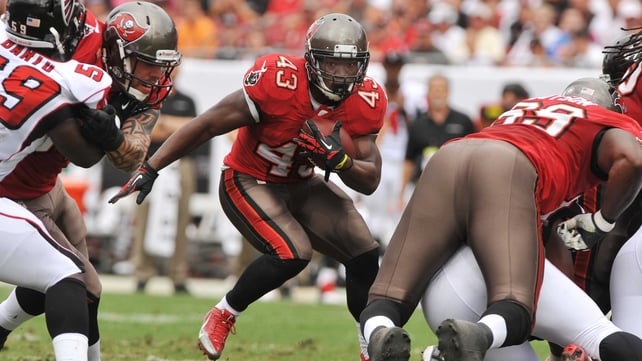 Rainey scored on first-half runs of 43 and three yards. He caught a four-yard TD pass from Mike Glennon in the third quarter to help the Buccaneers to their second successive victory.
Robbie Gould kicked a 38-yard field goal to guide the Chicago Bears to a 23-20 victory over Baltimore in a game delayed for two hours by a torrential downpour.
Justin Tucker had tied it for the Ravens with a 21-yard field goal at the end of regulation.
Gould won it with a 38-yarder on third-and-8 with 8:41 left in overtime.
The Miami Dolphins beat the San Diego Chargers 20-16, the New Orleans Saints won 23-20 over the San Francisco 49ers, the New York Giants beat the Green Bay Packers 27-13, the Seattle Seahakws won 41-20 against the Minnesota Vikings and the Denver Broncos won 27-17 over the Kansas City Chiefs.