Jon Lester shut down St Louis and Mike Napoli hit a key three-run double as the Boston Red Sox pounced on an error-strewn performance from the Cardinals to win game one of the World Series 8-1 at Fenway.
Lester hurled 7 2/3 shutout innings while Napoli led a Boston offence which made the most of three Cardinals fielding errors to go 1-0 up in the best-of-seven series.
Napoli's big hit put the Red Sox on top in the first, coming after a key moment which saw a controversial umpiring call overturned.
Pete Kozma dropped the ball as he attempted to turn a double play, but Dustin Pedroia was erroneously ruled out at second.
Sox manager John Farrell came out to challenge the ruling that the miscontrol had come during the transfer rather than the catch and the umpires eventually - and correctly - overturned the call, leaving the bases loaded.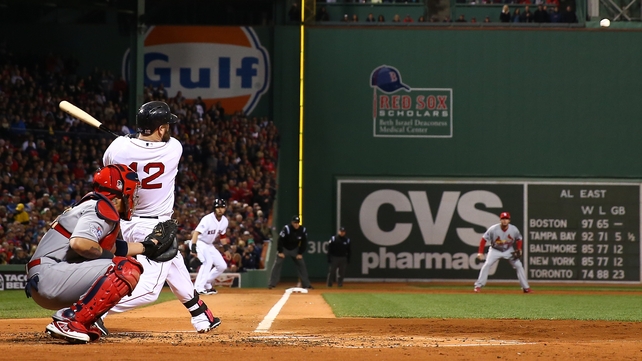 Napoli then cleared the bases, and the Sox got some more help as they added a couple in the second, Stephen Drew getting a hit when neither pitcher Adam Wainwright nor catcher Yadier Molina went for a pop-up and Shane Victorino reaching on another Kozma error.
That helped give Lester more than enough run support as he scattered five hits, striking out eight and walking one, with his only real moment of danger snuffed out in the fourth when he got David Freese to ground into a double play to get out of a bases-loaded jam.
Red Sox slugger David Ortiz drove in three on two hits, including a home run, while Matt Holliday launched a solo shot in the ninth to put the Cardinals on the board.