Local boy Jacoby Jones scored two touchdowns, including a 108-yard kick return, as the Baltimore Ravens held off a heroic San Francisco 49ers fightback overnight to win one of the most eventful Super Bowls in recent memory 34-31.
Ravens quarterback Joe Flacco threw for three touchdowns, including a 56-yard pass for New Orleans native Jones, as the Ravens established a 28-6 lead - before a power outage caused a break in play during the third quarter which lasted more than half an hour.
The 49ers were transformed when play resumed and quarterback Colin Kaepernick, who had suffered a difficult start to the game, led the fightback, passing for a TD and running for another in a 23-3 run which put the 49ers tantalisingly close.
No team in Super Bowl history had ever come back from more than 10 points down to win, though, and that record remained as the Ravens defence stood firm.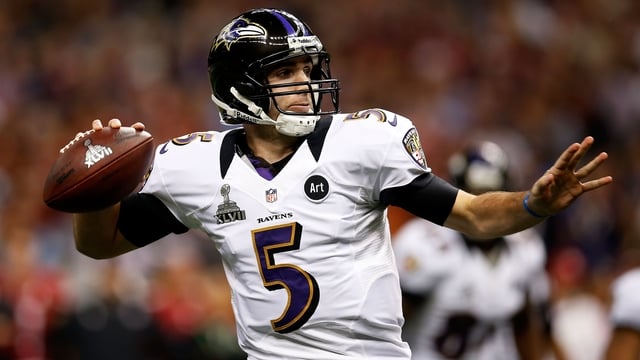 Flacco, who threw for 287 yards in total and was voted MVP, got the ball rolling on Baltimore's first possession, nailing a 13-yard pass on the third and four for wide receiver Anquan Boldin to make a routine catch.
David Akers pulled three points back with a field goal, but it could have been better for the 49ers as Kaepernick's throw to Michael Crabtree for what should have been a touchdown was too high.
Flacco made them pay early in the second as he picked out Dennis Pitta with a one-yard TD pass, while his opposite number struggled - Kaepernick threw the first ever interception by a 49ers quarterback at a Super Bowl into the hands of Ed Reed.
But it was two plays from Jones either side of Beyonce's half-time show that really sealed the Ravens' fate.
First he got on the end of a 56-yard pass from Flacco with a tumbling catch, before getting back to his feet and making it to the end zone.
Then just seconds after the half-time break, Jones caught the ball at the back of San Francisco's end zone and ran the length of the field for his second touchdown and a 28-6 lead.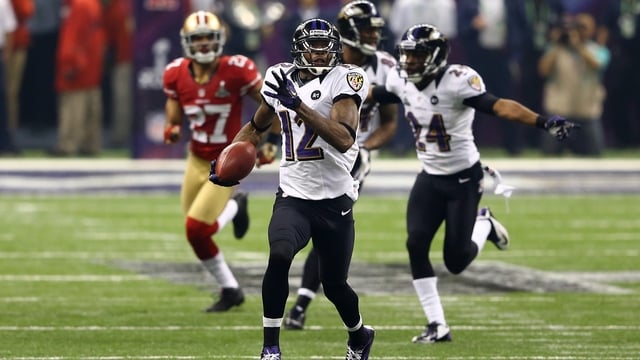 The run was initially measured at 109 yards, which would have been the longest kick return in NFL history, but was later scaled down to 108 yards by the NFL, tying the record mark.
In between Jones' two scores was - as well as Beyonce's spectacular show - another field goal from Akers, but there was little from the 49ers to suggest they were capable of a comeback.
That all changed moments after Jones' second score, as the Superdome was plunged into darkness.
The power outage caused a 34-minute stoppage - and when play resumed, the complexion of the game changed completely.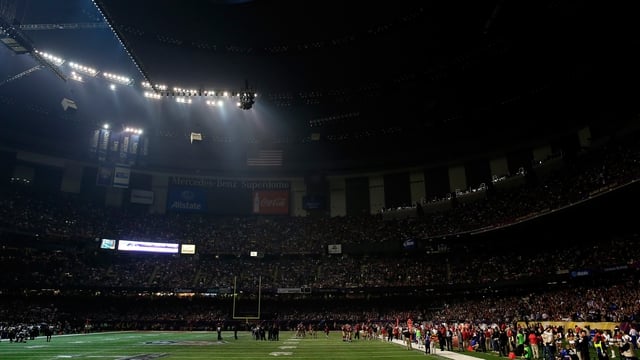 First Crabtree, who had fumbled his reception moments earlier, received a 31-yard pass from Kaepernick for the 49ers' first touchdown.
Then Frank Gore made the most of Delanie Walker's heroic block to score on a six-yard run.
And another field goal from Akers - completed at the second attempt after he was fouled first time around - ensured they were within a touchdown of their opponents heading into the final quarter.
That made it 17 unanswered points for the 49ers since the outage, but Justin Tucker stopped the rot as he opened the fourth with a field goal.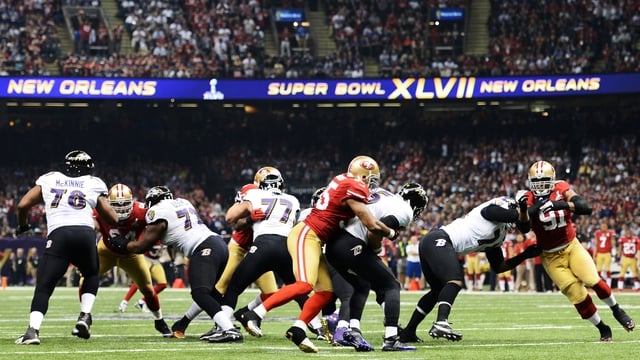 Kaepernick then took the Ravens defence by surprise as he ran for a 15-yard TD, putting the 49ers within two as their attempt at the two-point conversion was unsuccessful.
Another Tucker field goal made it 34-29 and the 49ers knew they would need a touchdown if they were to complete their comeback.
But the Ravens defence held firm, conceding two points late on via a safety as they ran down the clock, and Baltimore claimed Vince Lombardi Trophy.
Joe Flacco said afterwards: "We don't make it easy."
"It's unbelievable I tell you what, we don't make it easy.
"But that's the way the city of Baltimore is, that's the way we are. We did this for them back home."
As to the future, Flacco added: "There's no about it, I'm going to lead this team into the future, but this is a team. We get the misconception in Baltimore that this is a bunch of individuals playing for the victory.
"You do everything you want and you finally realise that everything was worth it" - Ray Rice
"There is not a closer-knit group of guys that I've ever been around."
Ravens head coach John Harbaugh was just relieved: "I just knew with Jim Harbaugh being on the other sideline and all of those years we have been together that game was going to be a dog fight right to the end. Those guys were coming back."
Ravens linebacker Ray Lewis added: "I was tested through this journey, it was an up-and-down rollercoaster, the injuries, the people, and we stayed together.
And now, I get to ride off into the sunset with my second ring. Honestly, when God is for you, who can be against you? No weapon formed against us."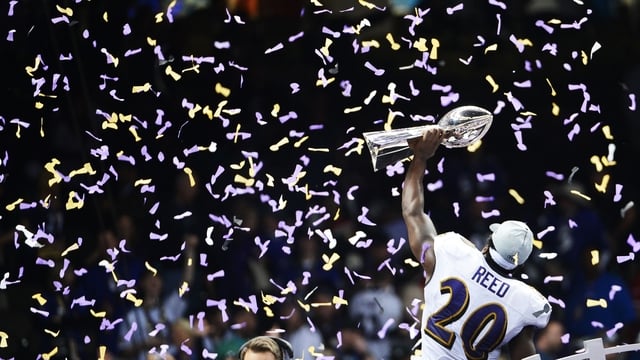 Ravens running Ray Rice said: "One thing about winning the Super Bowl is that you do everything you want and you finally realize that everything was worth it.
"No team is going to be the same. After the season is over and after we do all our stuff, next year the locker room is going to be different. This is the one thing that's not going to separate us for life. We'll forever be champions because we won the Super Bowl."
49ers offensive tackle Joe Staley: "Five yards short, all the work we did in the off season, the whole entire season, everything came down to five yards and we weren't able to get it done".