By Tadhg Peavoy
Becoming the first woman to surf in Iran is quite an accolade, and it belongs to five-time Irish surf champion Easkey Britton.
The Donegal native has recently filmed a short documentary with French filmmaker Marion Poizeau for the France O TV station, with the aim of bringing her sport to a new audience and a different part of the globe.
"It kind of started off as one of those mad ideas between a group of friends who like to travel to off-the-beaten-track places in search of waves," said Britton.
"It's hard to find places that haven't been surfed nowadays. But the whole appeal of Iran and being a woman going there is the challenge.
"We get fed so much about Iran in the media that is really negative about what's coming out of Iran and oppression in particular. But I just thought that rather than carry my own fears I should go and see it. It was just myself and Marion in the end as the other people fell by the wayside."
Surfing is clearly something that is close to the heart of this woman that has been riding waves since she was four years old. And it was the passion of bringing that to others that was the main inspiration behind her trip to the Middle East, not feminism.
"Marion went with her camera; I went with my surfboard. It was pretty much self funded" - Easkey Britton
"I really didn't consciously think about feminism; I thought I'm just a surfer going to see if we can find waves in this place we know so little about.
"In the Islamic Republic of Iran it would be difficult to surf as a woman, and this part is pretty isolated, near the Pakistan border, and we needed the protection of the army. There are a lot challenges there if a woman wants to surf.
"But I suppose the really positive reaction from people there thinking, 'It would be cool for women to do that', then it sort of made us think that this might have a wider effect than just going looking for waves."
Britton made the trip to Iran with the bare essentials on a true pioneering mission in every sense of the word.
'Marion went with her camera; I went with my surfboard. It was pretty much self funded and we just wanted to do it anyways," she said.
"Time was running out too, Iran has a short swell window from from June to September, and we just thought we'd give it a lash and then see. Once the documentary got recognised it got a good reaction."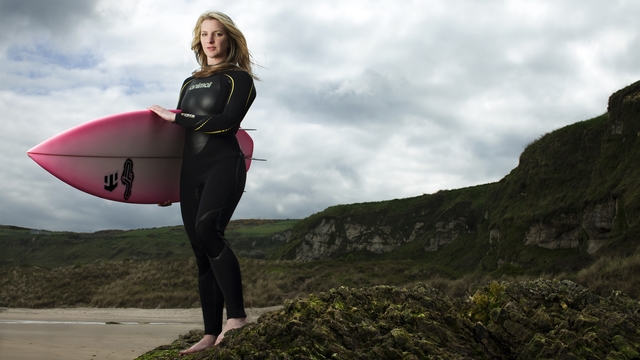 Following on from the success of surfing at Chabahar in southern Iran, on the border of the Indian Ocean and the Sea of Oman, Britton hopes to teach her sport in the west Asian nation.
"The reaction has been so overwhelmingly positive," said Britton.
"The whole aspect of women in sport wasn't at the forefront of our minds until women and girls all across the world started emailing and writing to us.
"We were there for such a short period of time and I didn't speak Farsi. But we're planning to go back there with more support and engage with women more in a surf camp. We definitely think it's doable, it's just about rallying support now."
Turning point in surf career
Britton highlights surfing the legendary big wave Aileens, off the Cliffs of Moher, which was included in the surf film Waveriders, as a major turning point in her career.
"That would have been a major turning point," she said. "That opened up the world of big-wave surfing and looking for these different kind of waves.
"Since then there's been a huge learning curve. You need a lot of support and backup from other people. It's a real team thing. With big-wave surfing it's just a matter of being patient and being in the right place at the right time."
Britton also highlights big-wave surfing as something that should feature heavily in her future: "That's something I want to do more of, certainly in terms of paddling in, and going back to the Cliffs of Moher. It's certainly this weird pull to go back there but it's also really scary."
As part of the Milk It For All It's Worth – Bring On The Pros campaign, Britton will teach surf skills to a group of surfers.
"I've had the advantage of surfing all my life, since I was really young," she said. "And I think when you're a kid too you have a lot more fearlessness, balance and enthusiasm. I intend to draw all of that out for the training day."
The surf champion also highlights yoga as part and parcel of her training and a way to keep her body in great shape: "The post-recovery part of surfing is really important. So, I do a lot of yoga and stretches. It's great for balance and flexibility. The two always go hand-in-hand for me.
"Sometimes I just use yoga to unwind and relax. I just chill out in a pose for a while, and not get too tied up in knots."
A chilled-out statement from a chilled-out, yet focused, woman.
Twitter: @TPeavoy