Madison Bumgarner made a stunning return to the starting rotation on Thursday to help the San Francisco Giants move to a commanding two-game lead in the World Series.
The crafty southpaw baffled the Detroit Tigers' hitters for seven innings, giving up just two hits while striking out eight before giving way to relievers Santiago Casilla and Sergio Romo.
Bumgarner's effort helped the Giants beat the Tigers 2-0 in front of 43,000 at a boisterous AT&T Park and pushed the club closer to its second title in three years in the Fall Classic.
"He had great poise the whole game and just did a tremendous job" - Bruce Bochy
"I was excited that I was going to get a chance to go out here and try to pitch good for these guys and these fans, and glad it worked out," said Bumgarner.
The lanky 23-year-old nearly didn't get the chance, having been banished to the bullpen after allowing 10 runs and 15 hits over eight innings in his prior starts against the Cincinnati Reds and St. Louis Cardinals.
"The biggest thing was just mixing it in and out and up and down, trying to keep them off balance the best we could," he said. "So I mean, every pitch felt pretty good tonight. Felt a lot better than it has been the last few games."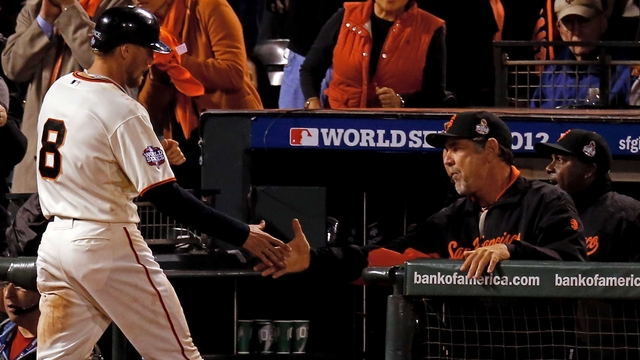 Giants manager said Bumgarner's delivery was a "a little simpler, more compact" than it had been.
"Sometimes you get out of sync, whether you're a hitter or a pitcher, and tonight he was right on with his delivery, his rhythm, and just had a good tempo out there and kept it going," said Bochy.
"He had great poise the whole game and just did a tremendous job. He hadn't pitched in a while, but he was right on tonight."
Bumgarner gave up a double to Delmon Young in the second and an infield single to Omar Infante in the fourth. Other than that, he was nearly flawless. He credited catcher Buster Posey and a little luck for his superior outing.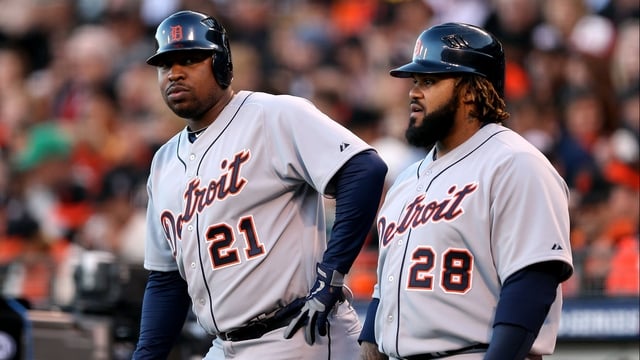 "The only difference was being able to make pitches," he said. "I hadn't been able to do that this postseason. Buster caught a great game, defense did great.
"They hit some balls hard, and (the defense) just happened to be in the right spot."
With the Giants up 2-0, the best-of-seven series now shifts to Detroit for the next three games, if necessary.
Being ahead is unusual for the Giants this postseason after they fell into holes against Cincinnati and St. Louis and had to win six do-or-die games to reach the World Series.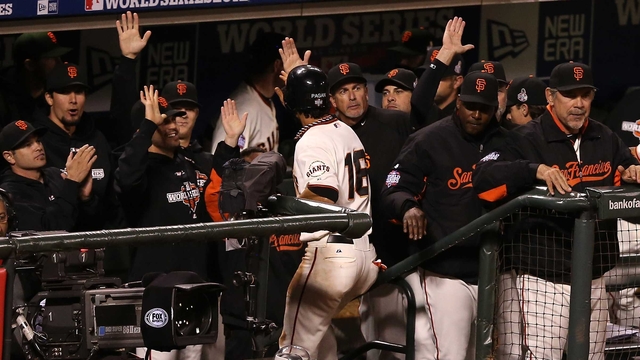 "I don't think we can stop pushing or we're going to find ourselves in the same spot we've been in in the last two series," said Bumgarner.